Biker Friendly Cafes - New for 2016
Posted on
Over the past few weeks we have been checking and updating the extensive list of Cafes, Meets and Pubs that are included on THE BIKER GUIDE website, popular with Bikers as a place to head to for coffee & cake, mugs of tea and bacon butties, along with bike nights, where you are sure to meet like-minded folk and lots of lovely motorbikes and motorbikers...
As we checked (hours and hours of work) we found a lot of places have sadly shut, changed hands (so not Biker Friendly anymore), changed from cafes into houses, pubs into restaurants and some which have even been demolished.
However we have also discovered new cafes and pubs, who welcome Bikers, have bike nights and many offering quality food and drinks in lovely surroundings.
NEW places we have included for 2016
GMEC Motorcycles - Scarborough, North Yorkshire
With a friendly atmosphere and where the owners have a passion for motorcycles. Predominately selling used Motorcycles, with a Bike Café. Also clothing, helmets, parts and tyres, with a workshop for repairs, paintwork, servicing, rebuilds, MOT and much, much more… GMEC are proud to present the ex-Barry Sheene,1979 Dunstall Suzuki GS1000 F1 on display. A Bike Night every Wednesday from 5pm – everyone welcome!
Roadkill Motorcycles & Grill - Norfolk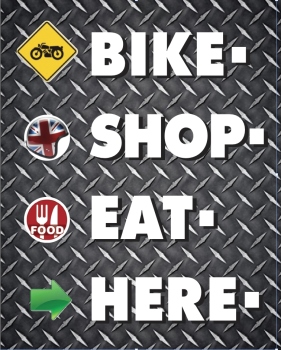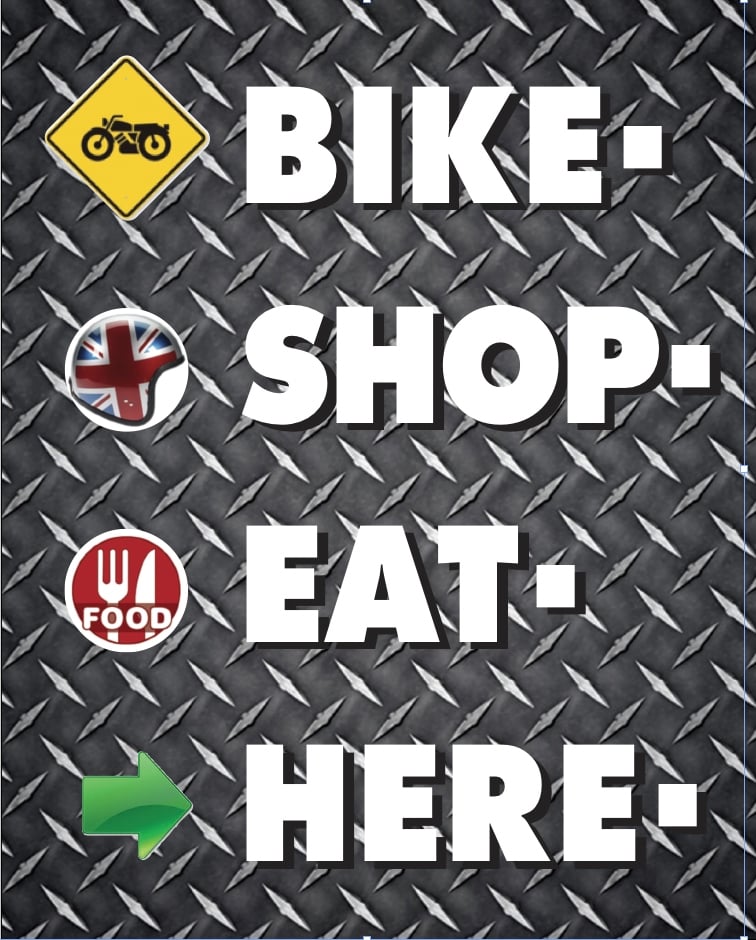 ROCK TUNES, BIKES AND BACON ROLLS! Biker cafe/shop, run by bikers for bikers, a great place to head to for a jolly good cuppa, baps and burgers, cakes, drinks and more. Indoor and outdoor seating where you can relax, listen to some rock tunes and watch the bikes come and go. A popular meeting place for before/after/during ride-outs and a must visit destination on the North Norfolk coast. Also at Roadkill HQ, a well-stocked shop for quality clothing, parts and accessories, and in the workshop, motorcycle customising, MOT, tyre fitting, servicing etc. Hosting various events/ride-outs.
The Haven - Wiltshire
An independent, family run roadside restaurant on the A30 London Road, where the friendly Haven team provide service with a smile and a warm welcome! Serving all day breakfasts, baps, sandwiches, burgers, pies, desserts, cake, cream teas and various home-cooked meals. Quality tea and coffee, along with soft and alcoholic drinks.
A popular Bike Night on the 1st Thursday of the month (summer). The large café is able to cater for 80+. Situated just three miles outside of Salisbury and easily accessible. Huge parking area.
The Empire Diner - Witham, Essex
A brand new American themed diner which is already gaining an excellent reputation with Bikers…
Serving a great choice for breakfast, including various pancakes, a hearty omelette, hotdogs, ribs, burgers, steaks (locally sourced), sandwiches, wraps and if there is room - home-made Blueberry pie, Reeces Pieces cheesecake and waffles topped with a variety of sweet stuff. Various coffees, soft drinks, lovely milk shakes and licensed.
A regular bike meet on a Wednesday evenings from 7 (ish) to late, with a discounted menu. Becoming popular as a ride to on Sundays for a great breakfast and biker banter!
The owner is a biker and is open to suggestions for other events and meets. Large parking area.
Notable places include
Loomies Moto Café - A favourite place for many Bikers to head to for many years, where a warm welcome, great food and lots of biker banter awaits.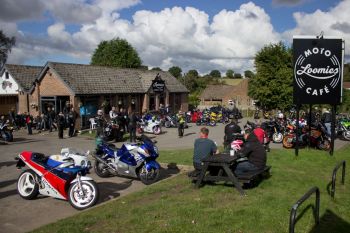 The Doof Café - Ruthin, Denbighshire, Wales - A favourite café, for the great roads to get there, good homemade food and friendly atmosphere.
Whiteways Café, Bury Hill, West Sussex - Popular meet for ride outs or place to stop for refreshment break. Sundays are most popular with 3,500+ Motorbikes in and out during the course of the day.
Woodleigh Coach House, Exeter, Devon - On the edge of Dartmoor National Park and close to Exeter, a lovely café within a Grade II listed building, located just off the main A30 dual carriageway.
See THE BIKER GUIDE website for extensive listings.
www.thebikerguide.co.uk/bikerfriendlymeetingplaces.html
If your favourite place is not included then send us a recommendation
www.thebikerguide.co.uk/iwanttorecommend.html
If you have a café, pub or meet you would like to include then send it to us for inclusion