Excellent motorcycle packing from Ray F Walton
Posted on
"Just packed the Wing ready for a Dads and Lads Big Adventure to Spain. I do like to travel light!"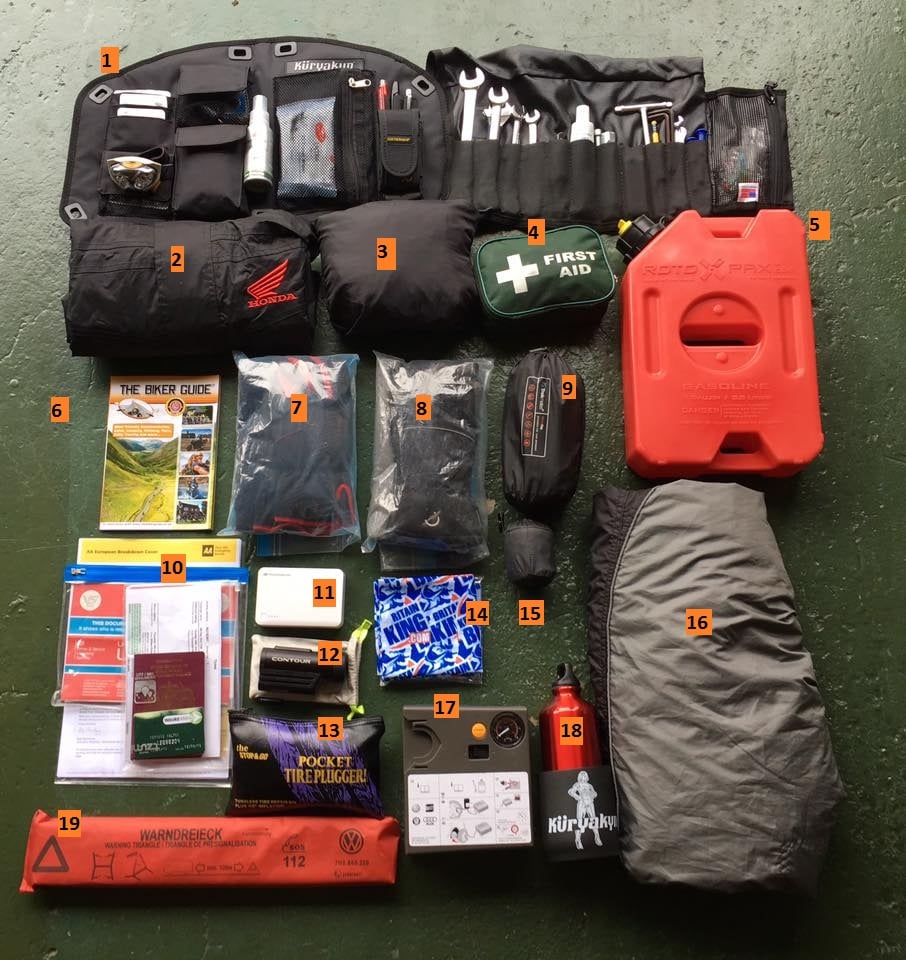 1 Kuryakyn Trunk Lid Organizer Bag and The Wolfman Tool Roll*
2 Honda waterproof jacket
3 Another Honda waterproof jacket (packed inside its own pocket)
4 First Aid kit
5 4.5 litre Petrol Can
6 THE BIKER GUIDE booklet
7 SealSkinz Winter gloves, plus a thermal neck tube
8 SealSkinz waterproof gloves plus fleece neck tube
9 Bivi Bag - for sleeping in on floor at side of bike if it rains (hopefully not needed)
10 Passport, AA roadside, log book, insurance documents, E111, travel insurance (all in plastic covering)
11 GP PowerBank for charging mobile and iPad
12 Contour helmet camera
13 Stop and Go Pocket Tyre Plugger
14 Neck tube
15 Micro 35 litre rucksack
16 Motorbike cover - faded and still does a great job
17 VW Compressor (Fantastic bit of kit)
18 Water bottle
19 Warning triangle

* Inside includes fuses, sockets, cable ties and heavy duty tape wrapped around a pencil sharpened at both ends. Also a selection of pain killers, Gaviscon, ear plugs, mosquito repellent, face wipes and tissues. USB car socket adaptor, pens, head torch, Leatherman Pro Multi tool AND two plastic pegs for ferry and tunnel tickets.
THE BIKER GUIDE would like to thank Ray for this excellent picture and very detailed list of items inside.