Hapless Biker' Donates Royalties to Blood Bike Charity
Posted on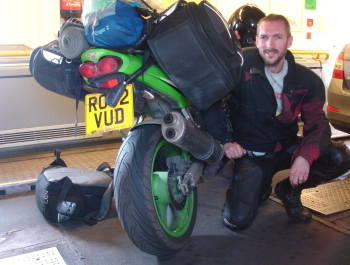 Kevin Turner, author of the Hapless Biker series of travel books, will be donating his royalties to Shropshire and Staffordshire Blood Bikes (SSBB), his local group of life-saving riders, for all book sales from 1st November 2016 to 30th April 2017. Kevin's publisher, Veloce Publishing, will match the author's sales royalties, essentially doubling Kevin's donation.
Kevin's books, Bonjour! Is This Italy? and From Crystal Palace to Red Square tell of his adventures throughout Europe, Scandinavia and into Russia, first riding a Suzuki SV650S and then on his '02 Kawasaki Ninja.
Explaining why he'd chosen to donate to this worthwhile cause, Kevin said: "I really wanted to do a charity ride or a sponsored adventure, but I have twin boys that have just turned two and finding time for a big ride was out of the question. But I realised I could essentially recycle my past journeys in the sense of donating the sales from my books; it's not quite as exciting as getting out on the road but at the end of the day, it's about supporting my local Blood Bikers, not going on holiday."
SSBB is a volunteer service, providing emergency transportation of blood products, for free, to NHS hospitals across Shropshire, Staffordshire and South Cheshire.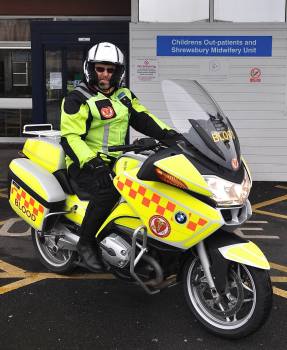 Nigel Howells, Fleet Manager at SSBB said: "Shropshire and Staffordshire Blood Bikes rely on donations to maintain our machines and support our riders. Our riders embark on mini-adventures every time they head off on a potentially life-saving journey; although we like to think we're a little better prepared than Kevin seems to be! We're delighted to accept this donation; we're sure readers will enjoy Kevin's entertaining books while at the same time supporting our life-saving work."
If you'd like to support Shropshire and Staffordshire Blood Bikes and enjoy a good read in the process, Kevin's books and e-books, Bonjour! Is This Italy? and From Crystal Palace to Red Square are available to buy from Amazon.
You can find more information about them on Kevin's website.