Africa's 1st Ladies Motorcycle Maintenance Workshop needs your help!
Posted on
3 years ago, Claire Elsdon arrived into Capetown, having left London a year earlier alone on her Suzuki DRZ 400s to ride the length of Africa. Along the way, her understanding of how high quality motorcycle maintenance can play a major part in reducing the soaring road traffic death toll in Africa was born, along with her appreciation for the importance of giving opportunities to women to learn practical skills, which they can earn a sustainable living from for their families. As a result, earlier this year she moved to Tanzania to set up Africa's first motorcycle maintenance workshop staffed by female apprentices, called Pikilily.
The good news is that Pikilily now has a workshop space near Lake Victoria in Mwanza, Tanzania, just a stone's throw from town. This workshop will provide a place for women apprentices to learn their very first motorcycle maintenance skills and before too long, open the gates to paying customers, enabling them to earn an income.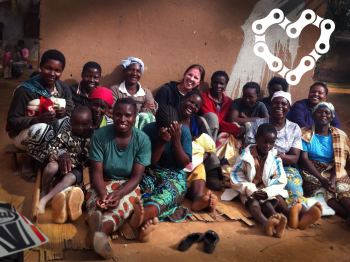 Many of Pikilily's customers will come from the 4,000 motorcycle taxi drivers in Mwanza, who are in great need of a reliable, safe & good value motorcycle maintenance service - impossible to find at present. Consequently right now, poor maintenance is costing riders precious time and take-home pay, but also sadly too often, their own lives and that of their paying passengers.
Claire and the team can't wait to help and get started in our workshop but first, they need to raise some money to make it possible!
They need to raise £500 to complete the refurb of the workshop. This would pay for watertight roof on entire premises, secure door and metal grill window to store room plus gates to main entrance, levelling and concrete the floor smooth in apprentice working area, fitting seating and working space in training room/office area and painting the Pikilily mural.
In addition, they need to raise the funds to pay the next 12 months worth of rent - its £50 a month.
They need tools, materials and equipment to equip each of the 5 workbenches in the apprentice area. The list is long but to give you an idea, a spanner would cost roughly £5, pliers £10, brake bleeding kit £30, set of torque wrenches £50.
Ideally they would also like 2 small motorcycles on which to train the ladies in motorcycle maintenance. Such motorcycles retail at around $1000 each.
To say thank you, a "Wall of Thanks" will form the backdrop to their work area. Names, countries and messages of support of those donating to this campaign will be written on there, nestled around the Pikilily logo mural, reminding apprentices each day of their friends across the globe who helped make this community project possible. The wall will appear in the regular workshop vlogs that Claire has been putting out since the start of the campaign.
If you would like to donate, here is the link - www.justgiving.com/crowdfunding/pikilily
www.pikilily.com