Henry Cole rides Route 66 in its 90th Anniversary year
Posted on
Orange & Black motorcycle tours is pleased to announce that Henry Cole is riding Route 66 with them in celebration of the 90th year of its opening.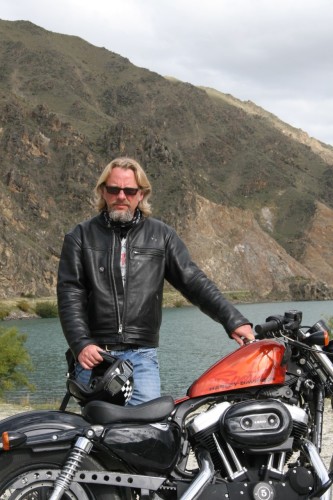 The 15 day guided tour from Chicago to Los Angeles starts on 30th September. Henry is riding with a small group of riders and passengers including the winner of the 2015 Motorcycle Live competition.
Henry Cole, TV presenter, commented "Route 66 was a road that changed my life. There is no ribbon of road like it and every mile is steeped in automotive history. The 90th Anniversary seems like the perfect opportunity to celebrate the World's most iconic road especially in the company of Bear, Orange & Black's walking talking all-American Route 66 encyclopaedia. Bear's travelled it nearly 150 times and if you speak to anyone he's been on tour with they'll tell you just how much of a unique experience it is."
Orange & Black director David Grist explained "a chance encounter between Henry Cole and our US tour guide, Gary 'Bear' Fleshman, at the NEC 2 years ago planted a touring seed. This has crystallised into a special guided tour for customers and we're delighted that Henry was able to make time to join us."
Orange & Black offers Harley-Davidson® authorised guided tours, self-guided tours and rentals in the USA. It is an H-C Travel brand, uniquely positioned in the motorcycle tours market with professional travel industry accreditation, ATOL bonding & TTA membership to provide legal and financial peace of mind for our customers.