500 Veteran bikes ride out at nostalgic Banbury Run!‏
Posted on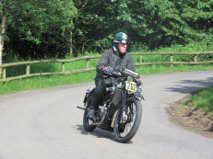 500 Veteran and Vintage motorcycles will ride out as a group when the British Motor Museum hosts the nostalgic Vintage Motor Cycle Club Banbury Run on Sunday 19th June. Now in its 68th year, it is the largest gathering of pre-1931 motorcycles & 3-wheelers in the world and visitors will be able to see the motorcycles start and finish at the Museum.
The Banbury Run is aimed at those who enjoy the thrill of riding with other Vintage, Veteran & Pioneer bikes. In addition to the Run, there will also be Club and Trade Stands, 100 Autojumble pitches and special interest displays within the Museum grounds. Camping is also available on the Saturday and Sunday night.
Tom Caren, Show Manager at the British Motor Museum stated "The Banbury Run is a celebration of vintage and veteran motorcycles. Seeing hundreds of vintage motorcycles ride together is a motoring spectacle that deserves to continue to flourish!"
The Museum will be open from 9am – 5pm with the Banbury Run beginning at 10am. Riders will start at 5 per minute. Spectators tickets for the Run cost £8 in advance or £10 on the day for adults, children and concessions and include entry to the Museum and new Collections Centre.
To find out more about the British Motor Museum please visit the website at www.britishmotormuseum.co.uk

facebook

facebook event