The Air Ambulance Saved My Life
Posted on
Bikesafe2016 is coming to Northamptonshire, a family road safety day with a difference.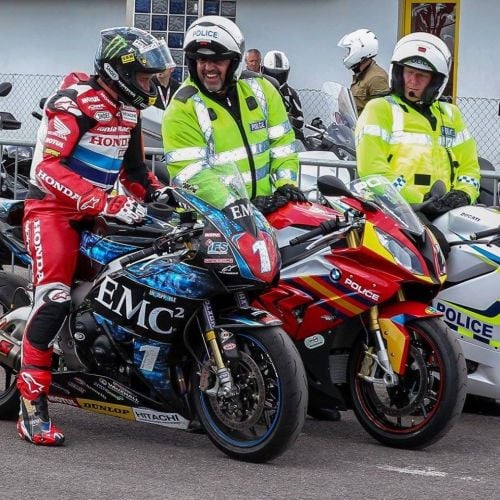 Organised by Bikesafe and Northamptonshire Highways, Bikesafe is a police led motorcycle initiative that is run by most forces throughout the UK. And this year we are bringing it to Northamptonshire and the iconic Rockingham Circuit in Corby on Saturday July 16th.
Not only bringing it to the county we are delighted to announce our charity partner will be The Warwickshire and Northamptonshire Air Ambulance. They will be there on the day collecting with proceeds from the gate also going to this cause.
Northamptonshire Highways are passionate about supporting the service and, not only close to our hearts, but close to Lee Anderson, whose life was saved by air ambulance staff after a serious bike crash.
Lee can't remember much about his life-saving helicopter journey from the A508 in Northamptonshire to Coventry Hospital, but he does know that without the air ambulance's help, he is unlikely to be alive.
He said: "What happened to me could happen to anyone. My wheel was faulty and I slid 40 metres into a telegraph post which broke a lot of my ribs and my collarbone in four places. I have thought a lot about it since it happened and the more I think about it the more I owe them. The last thing I remember is telling them that I couldn't breathe. I found out later that my lungs had filled with blood. The air ambulance came with a doctor who gave me pain-killing drugs, used a scalpel to get into my ribs and pushed into my lungs to release the pressure and I was taken to Walsgrave University Hospital. The journey would have taken more than 30 minutes by ambulance – by air it took six. I think that, with the help of the doctor who was also transported to the roadside by air ambulance, it made all the difference."
Mr Anderson, 48, was in a critical condition for 24 hours until he was moved to the cardio-thoracic ward for a week. He was fitted with a new metal collarbone and six weeks after the crash he was back to work.
He added: "I was saved by a team of people – not only the doctor and the pilot and paramedic, but also the people who shake collection tins on street corners, the fundraisers, which is why I think it is important to support air ambulance week. We need the pilot, the doctor the paramedic – the whole team to make it work, and that is expensive, but there's no doubt that it saves lives. While one-off donations are great we are desperate for companies to choose the air ambulance as their charity of the year."
Lee is urging people to visit the National Bikesafe Show and Track event at the Rockingham Circuit to support the air ambulance. The air ambulance receives no Government or National Lottery funding and needs to raise £1.7m each year just to keep flying and saving lives.
In August alone the specialist crew flew more than 80 times to save lives.
For more information about the air ambulance or to donate to the charity visit www.wnaa.co.uk or call 0845 130999.
The event runs from 10am until 5pm and parking is free.
Gates to the show open 10am. But to be first on the track he assessed rides start at 8am.
The police assessed ride and track experience can be booked at www.bikesafe.co.uk
The National BikeSafe Show & Track Experience @ Rockingham Motor Speedway, Mitchell Road, Corby, Northants. NN17 5AF
To register for information and updates please simply email [email protected]
For more details about the show see the event facebook page
Follow on Twitter @nnhighways @bikesafe
Northamptonshire Highways, the partnership between Northamptonshire County Council and KierWSP

www.northamptonshire.gov.uk

www.kierwsp.co.uk
BikeSafe is a Police led motorcyclist advisory, assessment and referral scheme. www.bikesafe.co.uk