Vote for your favourite cafe
Posted on
Where is your favourite Biker Friendly Cafe in the UK, that you head to for coffee & cake, mugs of tea, posh coffee and bacon butties, along with bike nights, where you are sure to meet like-minded folk, for lots of lovely motorbikes and where Biker banter is ensured...

To cast your vote for your favourite cafe, simply go to (join) our facebook group, then tick or add your favpurite place to the poll below - Go vote

We have lots of places popular with Bikers included on THE BIKER GUIDE website, from the south... to the north of Great Britain, into Wales and even on Shetland.

Please note, the extensive list is mainly put together from visitor recommendations as we encourage visitor feedback and recommendations, so if there is somewhere you have been and would like to tell others about it, then please do. (see link to form below)

See THE BIKER GUIDE website for extensive listings.

www.thebikerguide.co.uk/bikerfriendlymeetingplaces.html

The Poll will run until 3rd May. Pubs with meets can also be added.

We have lots of places popular with Bikers included on THE BIKER GUIDE website - If your favourite place is not included then send us a recommendation!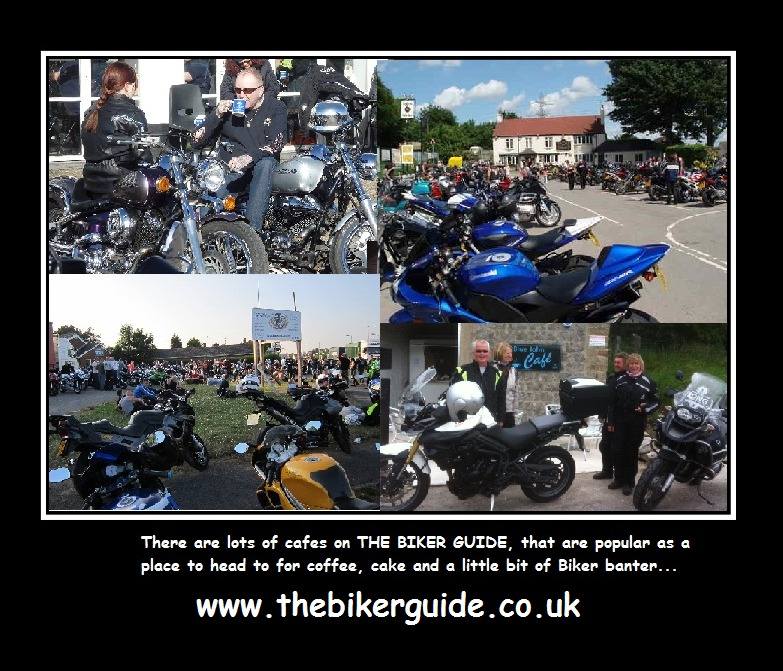 Update 3rd May


The votes are in for the favourite cafe/meet voted by members of THE BIKER GUIDE group!
The winner with over 50 votes is... Lynn's Raven Cafe (

Lynn Mills

will be happy!)
2nd place goes to Squires Bikers-cafe
We have a joint 3rd for the burger van @ Devils Bridge and a new place which has fast become a favourite place to head to - Good Fillers in Rochdale*.
Other places voted for were Ponderosa Café, Dom's Bike Stop, Super Sausage, Jacks Hill Cafe, Wessons Cafe, Whiteways Café, Chequered Flag, Loomies Moto Cafe, Pennys Beach Cafe, Route 59, Manor Bikers Café, H cafe, Knott End, AJ's Dinner, Whistlestop Café rhuddllan, Hartside Top Cafe, The Spitfire Cafe Biggin Hill, Rykas Cafe Boxhill, Oakdene Cafe and Ace Cafe.
Thanks to everyone who voted.
See an extensive list of cafes, pubs and meets to visit on THE BIKER GUIDE here
* By taking into account the votes made on different titles for Good Fillers