The Battle of Britain Memorial Flight salute to 25 years of the NABD
Posted on
Dakota FZ692 of No 233 Squadron will be making a low-level visit to the 25th You've Been Nabbed rally at 2:00pm on Saturday May 7th 2016 to salute 25 years of the National Association for Bikers with a Disability.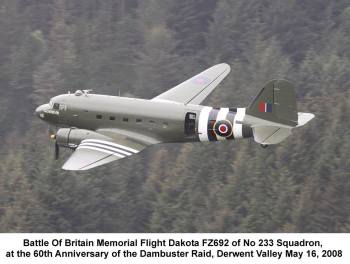 This aircraft, which was named 'Kwicherbichen' (Quit your bitchin') by her crews, was involved in Para-dropping operations on the eve of D-Day and subsequently in re-supply and casualty evacuation missions into and out of forward airfields in the combat areas.
The female nurses who escorted the casualties on these flights became known as 'The Flying Nightingales'. By the end of 1944, 1,092 stretcher cases and 467 sitting wounded had been evacuated to England by the 233 Squadron Dakotas.
It seems fitting that this historic aircraft, that had helped so many injured people to get back where they belonged, has been chosen to salute the work of the NABD who have helped thousands of injured bikers to get back in the saddle where they belong.
For more information on the 25th You've Been Nabbed rally see www.nabd.org.uk or facebook page
The NABD would like to thank David Starkey for helping us to secure this special visit by this iconic aircraft.