Get paid for giving your views and opinions on a future generation Motorbike!
Posted on
A famous motorbike manufacturer is looking for roadster/naked bike owners over 500cc+ who bought their bike from new and since 2013.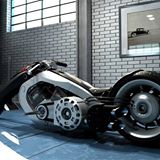 A group of riders will be given the opportunity and privilege to see a Motorcycle that has been designed for the future and before it has been released to the general public. You will be part of the development as your views and opinions will assist in this future generation bike.
This will be held in Birmingham next weekend (9th / 10th April). Those who take part will be paid for your time, which includes travel expenses. Refreshments will be provided. The session will last 2.5 hours during one specific time and day over the weekend. The times will depend on the bike you own.
Examples of qualifying bikes are: Ducati Monsters, Harley-Davidson forty eight, Harley-Davidson softail slim, Street Bob, Yamaha Bolt, Honda CB1000, Yamaha XJR1300, Kawasaki Z800/100, Asprilia, MV Augusta Brutale, BMW R800/R1200R among others.
If you have such a Motorcycle and fancy being part of this, contact Simon @

[email protected]

letting him know which model you own, along with contact details.