The new Touratech catalogue: The whole world of adventure riding
Posted on
Touratech presents the 2016 2,020-page catalogue with hundreds of new products...
Bigger than ever, packed full of products and featuring tons of new items, Touratech presents the world's largest accessory catalogue for adventure riding. It contains custom-made equipment and parts to suit many models that will soon enliven the 2016 season.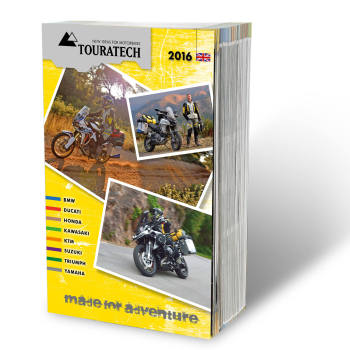 One of these is the Honda CRF 1000 L Africa Twin, a bike that has sparked the urge to travel in a whole generation of adventurers. With over 20 years of experience in developing and manufacturing special parts for the Africa Twin, Touratech has an extensive portfolio lined up for the long-awaited successor. From GPS mounting adapters to the Zega pannier system, every desire is fulfilled. Plus there is an exclusive report on the first Touratech test drive with the reborn 'Desert Queen'.
Bikes other than the classic touring enduro have inspired the motorcycle accessory specialists from Niedereschach as well – such as the Ducati Scrambler and the BMW S 1000 XR – and of course there are more interesting new developments for nearly every motorbike model.
Because both the bike and its rider need reliable equipment on the road, Touratech has significantly expanded the riding gear section: the AVENTURO Mod combines the advantages of flip-up and off road helmets, the COMPAÑERO World2 is an enhanced version of the tried-and-tested touring suit, and the DESTINO Adventure is Touratech's first very own motorcycle boot. All are the result of tens of thousands of kilometres of touring experience. This same expertise has also gone into developing 'Touratech Waterproof made by Ortlieb'. Another example of European manufacturing quality, this line of waterproof motorcycle luggage products is available now exclusively from Touratech.

With all of this and much more, including great photos and travel stories, Touratech's 2016/2017 catalogue makes an enticing read: the new Ducati Multistrada 1200 Enduro and Ducati Scrambler go on a test tour to Albania, Simon and Lisa Thomas (2 Ride The World) report on their round-the-world journey – now twelve years long – and Dirk Schäfer completes his preliminary Iron Butt trial on the 1,000-kilometre Touratech bike.

To help readers navigate through this mammoth publication, the catalogue includes a detailed index and a clearly structured table of contents. The first section is dedicated to special parts for specific motorbikes, with individual models sorted alphabetically and in descending order of engine size. It is followed by sections on the cockpit, luggage, seats, the new windscreens, Touratech Suspension and universal motorcycle accessories. Finally there are rider equipment, navigation and outdoor sections.
Two hundred thousand copies of the 2016/2017 Touratech catalogue with its 2,020 pages have been printed in five different languages and will be available at all major trade shows and events where Touratech is represented, as well as from Touratech distributors.

Copies can be ordered by telephone, e-mail or via the internet – free of charge, as always and the catalogue is also available online at www.touratech.com