SUCCESSFUL FIRST TEST FOR WILLIAM DUNLOP WITH MSS COLCHESTER KAWASAKI
Posted on
William Dunlop and MSS Colchester Kawasaki enjoyed a successful first outing at Cartagena in Spain this week, as they continue their preparations for the 'Roads' and selected National Superstock rounds.
The experienced Northern Irish rider worked through a number of engine, chassis and tyre evaluations on the all new Kawasaki Ninja ZX-10R over 130 laps at the circuit. Most impressively Dunlop logged his fastest ever time round the track, despite the bike being at the very start of its development cycle and cool track temperatures.
Also present at the test was tyre company Metzeler who support the rider and team in their Roads efforts. Metzeler Racing Manager Jason Griffiths was in attendance bringing tyres and helping to analyse edge grip, feel and durability with the team. As part of MSS's Team Green technical support, the bike was also tested in standard trim giving valuable data for Team Green and Kawasaki Motors UK.
William will be riding the Superstock Kawasaki at the Isle of Man TT Races fuelled by Monster Energy, North West 200 and the Ulster GP along with Irish National road races. He will also be campaigning in selected National Superstock races at the MCE British Superbike Championship to work on his race pace.
William Dunlop commented:
"It was a really positive test and important to get a good run of track time on what basically started out as a road bike with some suspension on it. I would never have imagined to make my fastest ever laps around Cartagena on such a bike and to do that even with making changes and getting over small issues is a testament to the team."
He continued:
"Nick and Jeb have so much experience on what makes the bike work that they made the job easy and enjoyable for me. As everyone knows if you're enjoying riding you go fast. It's quite funny as that was the first time I'd actually properly met Nick!
It was also great to have the support of Jason and Metzeler out there, it gives me so much confidence having worked the tyres so hard. I'm happy and looking forward to the next test."
MSS Owner Nick Morgan added:
"I'll be honest we approached the test not really knowing what to expect as we weren't looking for an outright fast circuit lap, which is what made the result so satisfying. It exceeded my expectations, we got through so much testing and information while William is so methodical and professional to work with it was a pleasure."
He continued:
"We managed to maximise the available track time and No Limits were very supportive in that respect and worked on edge grip, throttle connection throughout the whole powerband plus the new 'fly by wire' on the 2016 ZX-10R. William had never ridden a ZX-10R so it was acclimatisation but we soon realised that we were into proper testing territory and it was great to see him achieve his fastest ever time round there, perfect!"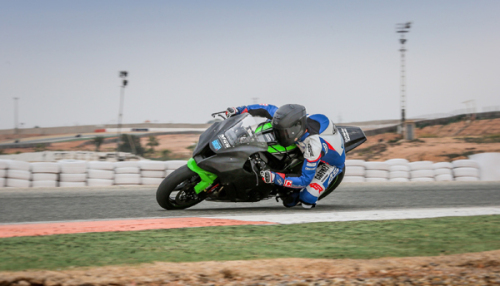 SUCCESSFUL FIRST TEST FOR WILLIAM DUNLOP WITH MSS COLCHESTER KAWASAKI - Credit Photography to Pete Wileman