Kawasaki UK re-launch Team Green for the 2016 race season‏
Posted on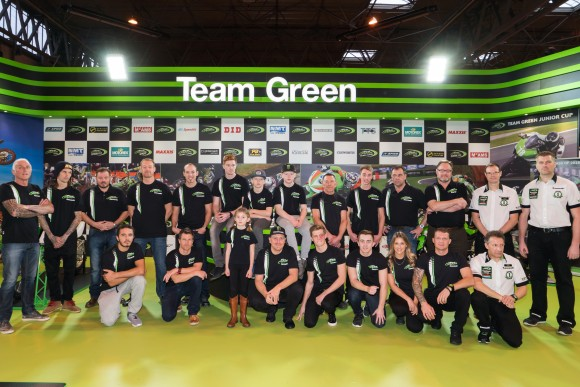 After a record breaking season for Kawasaki, which includes winning the World Superbike Championship, the Manufacturer's Championship at British and World level and being top of the table in Superstock 1000 and 600, Kawasaki UK has today launched Team Green – a banner to cover both the on-road and off-road racing efforts at all levels.
Originally launched back in the 1980s by Alec Wright – Racing Manager at Kawasaki Motors UK Ltd – Team Green represented the pinnacle of racing. Back in the day, Team Green became the name on everyone's lips and something everyone wanted to be part of, both on the dirt and tarmac, and success followed with John Reynolds winning one 600 Championship and two 750 titles and other riders sweeping the board winning all the UK schoolboy championships plus the AMCA 125 and 250 titles in 1985.
In 2013, Team Green Youth MX Team was launched and represented Kawasaki UK at all major British Youth Championships. There was success on track with the team winning the Small Wheel 85 Championship in 2013 and the Big Wheel 85 Championship in 2014.
Mark Spiller, Kawasaki UK Marketing and Brand Development Manager, said: "Racing has always been an indulgence and the personal pleasure of many and that is certainly very true of all at Kawasaki Motors UK. However, the KMUK Team Green approach to racing includes more than the action on the track. We have reinstated the values of the past and this means we operate in a true working partnership with all our officially supported teams at every level."
"2015 saw the re-launch of Team Green in the UK, an umbrella brand supporting all UK off-road race activities from Youth to GP's. Team Green is a community that introduces the Kawasaki brand to the youngsters at club level, providing the "ladder of opportunity" to help achieve aspirations and remain with the family at every level of the sport."
For the 2016 season, all on-road and off-road teams will be under the Team Green umbrella, a term that also covers the Team Green Sport partners, including: stunt performer Lee Bowers and Freestyle MX rider Jamie Squibb as well as Team Green Kids Ambassador seven-year-old, Lottie Trenchard.
Ross Burridge, Senior Racing Co-ordinator, said: "We've created a team that's very much akin to how Team Green was in the 80s and 90s in that the riders – despite some being young – operate in a very professional manner. This has helped, not only our success on track, but also created a desire for many other riders to want to be a part of it. For 2016, I'm personally very excited to see Team Green feature in the road racing scene too with GBMoto and I feel that the ethos of Team Green will be replicated at the highest level of road racing in the UK. Roll on 2016."
With the Ninja 300 Cup run by the British Motorcycle Racing Club entering its fifth season, now known as 'The Team Green Junior Cup', and with Team Green being represented in a number of British Championships – including: Superbike, Superstock 1000 and 600 and Supersport – and across a number of off-road disciplines, Kawasaki is the team on track to watch out for in 2016.
Keep up to date with the latest Team Green news on the website at: www.kawasaki.co.uk