Real Life Wacky Racers join the Prescott Bike Festival Line Up!‏
Posted on
Prescott Bike Festival will take place once again on Sunday 17th April 2016 at Prescott Hill Climb, near Cheltenham. The Festival prides itself on its diversity and celebrates engineering excellence; from rare, classic, modern, customised to hand built bikes, this year the organisers have secured some pretty eccentric contraptions including the World's fastest motorised shopping trolley.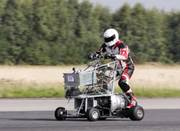 Owner and creator Matt Mckeown from Plymouth found the trolley abandoned in a ditch, and with the help of a modified second-hand Chinook helicopter starter engine, a set of go-kart wheels, his motorcycle leathers and nerves of steel - raced into the history books claiming the Guinness World Record for the World's Fastest Shopping Trolley. The jet-propelled shopping trolley has reached a staggering average speed of 70.4mph/ 113.298kmh (faster than the national speed limit). We are looking forward to seeing Matt do a trolley dash up the legendary hill climb course!
Another wacky contraption joining us for 2016 is Tom 'The Atom' Anable, a British Monowheel top speed record holder. The Lincolnshire based stunt rider, designed, built and engineered several Monowheel machines. Over the past 8 years, Tom has been working on his own single wheeled vehicles, after a university project got out of control! The 2014 Winner of the Wheel Whores 'Best Wheels' trophy will be another great spectacle, when he completes an extraordinary run of the renowned hill climb course.
We also welcome the return of MADMAX Race Team and their 'Streetfighter' Bike Madmax which will take to the hill in spectacular fashion. The Madmax currently holds a land speed record for the World's first jet turbine streetfighter street legal motorbike, having set a record of 224.9mph from a standing start. Racer Zef said 'I attended the event for the first time last year and it was a fun and friendly informal atmosphere, I particularly enjoyed meeting such a diverse age group of motorcycle enthusiasts, who are genuinely interested in the engineering of our bikes. It's also nice to put a smile on people's faces, when they see the bike in action. I look forward to returning again.'
Also in the paddock, will be Nuclear Research Engineer and iconic motorcycle builder Allen Millyard who will regularly fire up, and take to the hill on his home-built 'Flying Millyard'. Despite resembling a classic 1920s sedate two-wheeled Chitty Chitty Bang Bang, this beast has two cylinders from a Pratt and Whitney 1340 radial, and a 5.0-litre V-Twin, engine designed for an aeroplane.
Prescott Bike festival is a big celebration of man and machine with large displays of historic, modern and race bikes, plus a Paddock Specials Show 'n' Tell area and the unique opportunity for members of the public to take part in the spectacle by 'running the hill' or participating in a thrilling passenger ride experience. There's also a whole raft of entertainment too from live music, stunt shows, biker celebrity appearances and hundreds of trade stands, motorcycle manufacturers, dealer zone, motorcycle clubs, demo areas - what's more it helps to raise vital money and awareness for the Bloodbikes charities.
Prescott Bike Festival is a 'Must Do' day out for all motorcycling enthusiasts. What's more, all event proceeds of the event go to The Nationwide Association of Blood Bikes and Severn Freewheelers.
Gates Opens at: 08:30am, Track starts at: 10:00am, Festival closes at: 17:00.
Advance general admission tickets cost just £12 and are available online at: www.prescottbikefestival.co.uk
Free parking, free motorcycle side stand puck and free helmet park for bikers.

All details of exhibitors and celebrity appearances are available on the website.