The Ring of Red started as an idea by Julia Stevenson, a respected biker who many people know from the Ride of Respect at Royal Wootton Basset, now Carterton.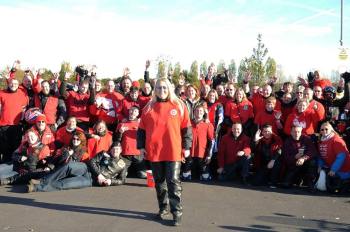 The idea was to create the biggest poppy ever attempted on Remembrance Sunday, in respect of our Armed Forces, past and present. Thousands of bikers met at service stations and designated nine meeting points at junctions around the M25 and by 1230 hours on Sunday 10th November 2013, the bikers, all wearing something Red, rode onto the M25 Clockwise at 55mph. Section by section the riders met up and completed the circle, which if seen from the air would show the massive Ring of Red, symbolising the Poppy.
The ride is now an annual ride and as from November 2014 there are now two rides, one on the M25 and another one up north on the M60 Manchester. The bikers also now all meet at one point for the M60 and ride round, the first riders meeting up with the last to form the giant poppy on the M60.
We would like to stress that this event is not a protest in any way shape or form; it is a coming together of the biking community, as it does on many occasions, but this occasion is out of respect for the Armed Forces, past and present, many of the bikers having been in the Armed Forces themselves. It will be a very proud and humbling moment, but will also be a great show of how big bikers hearts really are!
Ali Scott is the organiser of the M25 ride and has a team of volunteers all working together with their specific roles helping her to organise the event, and oversees the M60 ride which Gavin Vitler organises. Everyone is busy all with the same aim in mind, to make the day a major success, however all this could not happen without the attendance of the bikers.
This year's ride is in the process of being organised as per previous years and will be on Sunday 8th November aiming by 13:30 hours all riders will be on the M25 and 1230 hrs for the M60, both hopefully completing the Ring of Red and raising money for our nominated Armed Forces charities.
This year the charities are the UK Homes for Heroes and the Armed Forces Bikers charity for the M25 and SSAFA (Soldiers, Sailors, Airmen and Families Association) for the M60 ride.
Hopefully this year will be bigger and better as with more riders than previous years it will be easier to complete the full ring.
For details as they become available for this year's ride there are two facebook groups Ring of Red M25 and Ring of Red M60 and also the Ride of Respect website