Pre-Honeymooners at Portland House Keswick​ - winners of our competition!
Posted on
At the Manchester Bike Show 2015, we ran a competition to win a 2 night stay for 2 @ the very biker friendly Portland House, in Keswick and our winner was Jo Rigby, however she could not make it so asked if she could pass on the holiday to her friend and work colleague Moira Warburton as a pre-wedding surprise.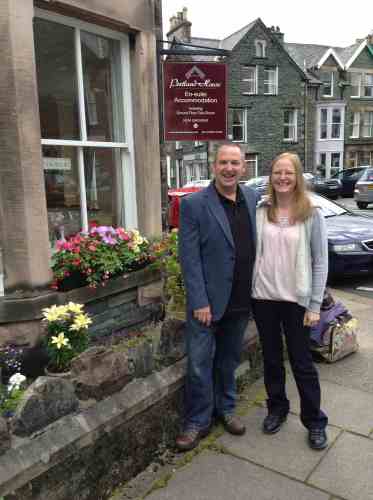 Normally prizes are non-tranferable, however under such circumstances Denise and THE BIKER GUIDE thought it was a kind gesture from Jo, so Moira and her fiancée Stephen Smith were booked in.
Moira who works for Neurosupport (the Brain Charity), who organise the annual event, the Great Brain Ride said "We have had a wonderful time and enjoyed our stay at Portland House. Brilliant hosts, fantastic breakfasts. Very friendly from the moment you walk through the door. Lovely room with great surprises such as homemade shortbread in your room. Rod and Denise have thought of everything and Portland House would be a wonderful place to stay for any biker".
Both Portland House and THE BIKER GUIDE wish Stephen and his future wife Moira a wonderful wedding and future together!