John Surtees announces auction and star-studded line up for Henry Surtees Foundation Team Karting Challenge‏
Posted on
John Surtees announces auction and star-studded line-up for the 2015 Henry Surtees Foundation Team Karting Challenge | Tuesday 30 June 2015 | Mercedes-Benz World Circuit, Brooklands
The fourth annual 'Henry Surtees Foundation Team Karting Challenge' will take place at the Mercedes-Benz World Circuit, Brooklands on Tuesday 30 June. The prestigious event will see approximately 30 teams consisting of over 100 competitors from the world of motorsport; business and entertainment battle it out in a 2hr endurance race in Daytona's high-performance, two-stroke Dmax karts.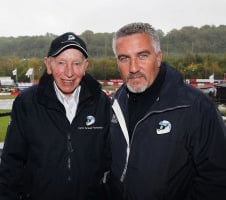 The race will be officially flagged off by five-time Le Mans winner Derek Bell and closed by Former Formula 1 World Champion Damon Hill OBE. Also pledging his time and support to the foundation is 'Great British Bake Off' TV presenter Paul Hollywood.

During the karting interval will be a fabulous parade – as Damon Hill OBE will take to the circuit in the 1965 Tasman 2.5 litre Climax Lotus type 32B that Jim Clark won the Tasman Series with (Courtesy of Classic Team Lotus) to commemorate the 50th anniversary of Jim Clark winning his second Formula One World Championship. Derek Bell MBE will be reunited with the Surtees TS7 that he successfully raced for the team; Scott Malvern will drive the Surtees TS10 Formula 2 car that John Surtees won the Japanese Grand Prix and Imola Gold Cup in 1972. The ex-Alan Jones TS19 will be driven by a driver nominated by the Racing Steps Foundation.

John Surtees OBE said "There are still a limited number of places available for teams to participate in the HSF Team Karting Challenge. Why not put a team of four together and come and join us at Brooklands - the original home of motorsport, where you will be able to enjoy the superb facilities of Mercedes-Benz World in the company of the Henry Surtees Foundation and our star guests".
Aside from the karting action and celebrity driver parades, visitors are being actively encouraged to attend the event, which is FREE to spectate!, and provides a great opportunity to explore the impressive Mercedes-Benz World visitor attraction featuring interactive displays, racing simulators and motorsport exhibits.
The HSF Team Karting Challenge event culminates in a prize giving Champagne reception courtesy of G H Mumm in the impressive state-of-the-art Mercedes-Benz World venue where the prestigious 'H' trophy is awarded to the 2015 karting champion. A trophy will also be judged and awarded to the highest finishing corporate team, to compete without a race license holder within the team.
Tickets are also available to attend the Champagne and canapé reception (£65 per person). The reception will be hosted by Steve Rider and feature trophy prize giving, interviews with racers and celebrity guest participants plus a fabulous fundraising auction hosted by Malcolm Barber of Bonhams featuring exclusive artwork, memorabilia and experiences. G.H. Mumm Champagne will, once again, be poured by generous arrangement with the House and Bernie Ecclestone. The reception is open to all paid guests. To purchase tickets, please email: [email protected]
Event Address: Mercedes-Benz World, Brooklands Drive, Weybridge, Surrey, KT13 0SL

Event Schedule:

10:45 – 11:00 Drivers Briefing
11:15 – 11.45 Kart Tests
12:00 – 12:50 Practice (50mins)
13.10 PRESS CALL: Group photograph
13.30 PRESS CALL/INTERVIEWS AVAILABLE WITH JOHN SURTEES, DAMON HILL, DEREK BELL, SCOTT MALVERN and OLIVER ROWLAND
14:00 – 14:10 Qualifying (10mins)
14:15 – 14:45 On-track demos with Derek Bell, Damon Hill, Scott Malvern and Oliver Rowland
15:00 – 17:00 Race (2 hours)
18:00 – 20:00 Champagne Reception including Awards Ceremony/Auction.