APRILIA ON THE PODIUM WITH LEON HASLAM
Posted on
GREAT RETURN FOR MAX BIAGGI: HE BATTLED SHOULDER TO SHOULDER WITH THE CHAMPIONSHIP PROTAGONISTS AND FINISHED THE WEEKEND WITH TWO EXCELLENT SIXTH PLACES AND... 20 POINTS IN THE CHAMPIONSHIP STANDINGS
Misano Adriatico (Italy), 21 June 2015 – It was expected to be a celebration and a celebration it was. Max Biaggi – who will be 44 on Friday, wild card three years after retiring from racing – brought the skills of a six-time World Champion to the track: speed, precision and an always impeccable riding style.
Max finished both Race 1 and Race 2 in sixth place. Despite hindrances due to tyre wear problems, Biaggi raced an exceptional second race, keeping pace with the leading protagonists of the World Superbike championship and finishing just 2 tenths of a second behind Sykes and about 5 seconds behind the winner.
"Today Max did something wonderful for us at Aprilia and for all motorcycle racing fans" commented Romano Albesiano, Aprilia Racing Manager. "His domination on Friday was understandable, even if it was extraordinary. But today Max battled on the same level as the riders who fight for the World Championship in every race and he did it at a fantastic race pace. I'm pleased with the way everyone here at Aprilia, from the first to the last, interpreted this occasion. There were no problems, the riders and mechanics did great and Max had fun battling even with Leon and Jordi, our factory riders. We wanted to give ourselves, and everyone, a brilliant moment which has already gone down in Superbike history."
Albesiano also expressed his satisfaction with Haslam's podium, third in Race 2: "I'm happy about Leon's nice podium finish, especially because he finished very close to the leaders. Really a great performance. Without the tyre wear problems we had in Race 1, the RSV4 showed its potential and Leon was able to demonstrate all of his great personality on the track." Romano Albesiano was also pleased with the Superstock 1000 results where Lorenzo Savadori and his RSV4 RF rode to victory: "A great job as always. Once again, he proved himself authoritatively in his home round."
As for the Aprilia Racing - Red Devils riders, Leon Haslam – once the tyre wear problem that hindered him in the first race was solved – rode the second race as a key player, battling with Davis for third place and finishing on the podium at just under 2 second behind the leader. Jordi Torres finished his Adriatic weekend with seventh place in Race 2 (battling with Biaggi) which is excellent in consideration of the tiny gaps behind the leaders, and thereby redeeming himself for his sliding crash that put him out of Race 1 in the third lap.
Max Biaggi files away the Misano Sunday with 20 points in the championship standings: for statistics lovers, in his first wild card race he has already won the long-distance duel with Troy Bayliss, who in the four races at Phillip Island and Buriram earned 15 points in all.
Max Biaggi: "I'm happy with this weekend. Everything went well and we didn't make any mistakes. Once again I'd like to thank the Piaggio Group, Aprilia and the guys from Noale who helped me take perfect advantage of this fantastic opportunity. Race 2 went better than the first. I finished about 5 seconds behind the winner, which is really not much at all. It's a shame about the first laps when you find yourself following from behind it's a struggle. I am still unable to take full advantage of the tyres straight away, whereas from mid-race I felt fast but struggling to overtake I lost a few tenths every lap. This type of return is definitely not easy, but it was a great weekend, tackled with a different spirit than someone who races full time in the championship. Now I'm hoping for the cherry on the top: Sepang. This round was sort of a running-in and we can consider it to be truly satisfactory. Next time we'll be able to do well."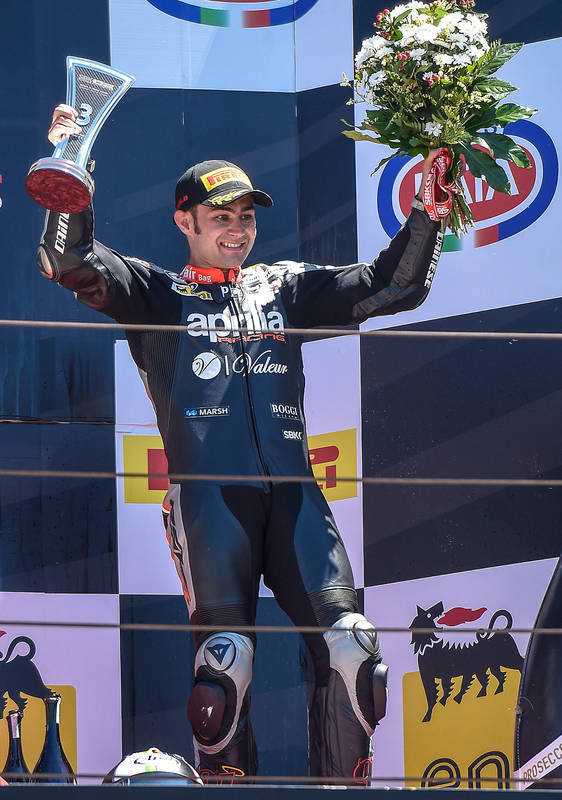 Leon Haslam: "In Race 2 we took a big step forward, especially thanks to the higher temperature where my Aprilia RSV4 RF performs really well. It was a shame about the first phases. We were all very close and I lost a few precious metres in traffic. In Race 1, on the other hand, I made a few small mistakes. Grip wasn't the best and even though I felt fast on most of the track I lost ground at some points. Of the two available rear tyre options we went with the one that gave us more confidence even if the second, used by a few rivals, proved to work well in the this morning's conditions. All things considered I'm pleased with the two results. A podium in front of Italian fans is always a nice feeling. We were able to grow consistently throughout the weekend, improving precisely those critical points of our package. In hotter races like Malaysia and the USA we'll be able to do well."
Jordi Torres: In Race 1 I made a small mistake and unfortunately I crashed. In the second race, on the other hand, I learned from my mistakes and didn't repeat them. I started well and I wanted to stay with the leaders, but I was hindered by a strange vibration from the front wheel only at maximum lean in the left-handers that kept me from riding the way I wanted to, taking advantage of my best riding quality which is the way I ride in turns. In any case I think it was a positive weekend for me where we took a good step forward to stay with the leaders for the entire race."
SUPERSTOCK 1000: A GREAT SAVADORI, ONCE AGAIN AT MISANO AN APRILIA IN FRONT OF THE REST
Lorenzo Savadori's masterpiece season continues, with the rider taking his Aprilia RSV4 RF to the lead in the Misano race as well.
The Team Nuova M2 rider is dominating the category thanks to 4 wins out of the 6 races held thus far, with just two left in the season. His team mate, Kevin Calia, just missed the podium, taking the lead at the start and finishing fourth under the chequered flag by just one tenth of a second.