John McGuinness takes historic Senior TT win at the Isle of Man‏
Posted on
The 2015 Isle of Man TT races drew to a close yesterday with Honda Racing's John McGuinness storming to victory in the Senior TT race aboard the Honda CBR1000RR Fireblade SP. Team-mate Conor Cummins crossed the line in sixth.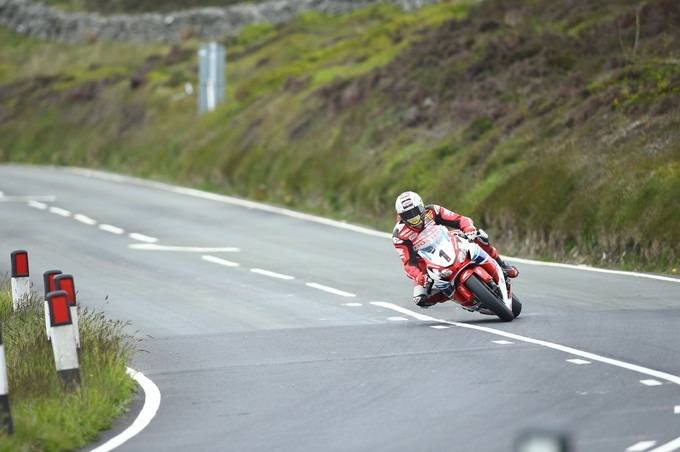 The six-lap battle originally got underway in perfect conditions at 12.30, however a red flag incident on the second rotation meant the race was restarted at 14.45 and shortened to four laps of the 37.73-mile Mountain course.
On a mission from the start, McGuinness had claimed the lead by the end of lap one and in a superb display of his renowned skill around the Isle of Man TT, he proceeded to increase the gap sector by sector. After a super-slick pit stop by his crew at the halfway point, McGuinness had opened his lead to 12 seconds.
During the epic race, the 'Morecambe Missile' broke the outright Senior TT lap record with a 132.701mph lap and was just a fraction off a sub 17-minute lap. He crossed the line in first place, 14.214 seconds ahead of James Hillier in second and Ian Hutchinson in third. The victory is McGuinness's 23rd TT win and his seventh in the Senior TT.
Honda Racing team-mate Cummins put in a solid performance following some adjustments to his machine before the re-start. After a tough start, the 'Ramsey Rocket' found his rhythm by lap three and managed to catch up with the leading pack to finish sixth.
It's been another successful Isle of Man TT for Honda, with four race victories (in the Superbike, Senior and Sidecar races) secured on Honda machinery, taking the manufacturer's tally of TT wins to 176. Honda also received the manufacturer's trophy for another year.
John McGuinness

Today was a new day. I've been struggling a little this week, which is no-one's fault. I have been slow off the line and losing a bit of time, and I needed to find the form I had a few years ago.
In the restart I didn't want James Hillier to catch me, so off the start I gave it my all, got my head down and pushed as hard as I could. Lap two I really did give it everything I could and the reaction coming in to the pits was amazing – it felt like it did when I broke the first 130mph lap. My team got me through the pits perfectly and going into the third lap the reaction from the crowd was great and I did think I'd taken the outright lap record.
I'd like to say a huge thanks to the marshals and the medics out there around the course, who do a fantastic job, and of course to my team and Honda for believing that it was still possible. Riding round the Isle of Man with a 17-second lead felt pretty special!

Conor Cummins

I had a better race today and it's safe to say it was an electric pace over the four laps. We made an adjustment to the Fireblade after the red flag, which made things a lot better, but it took me some time to adjust and the pace was so fast. I did my best and my team put a lot of work in to make things better for me out there. The last two laps I started to pick up my pace and was making up time. I'm happy with my race and huge congratulations to John for his win - he rode a great race. Also, thanks to Honda for giving me a great bike to ride around here.
Neil Tuxworth

What a great day for John, the team and of course Honda to win what I suppose is the most iconic race of the week, the Senior TT. John rode superbly and, as I told him, he's still the man who holds the race record round here on that bike and I knew he had the ability to win the race if he set his mind to it. It was obvious he was in the right mindset today. On lap one when he got to Glen Helen we knew he was fighting for a win and I'm just so pleased for him. He's been a bit down on himself this week and lost a bit of confidence, which he didn't need to do, as he's very strong, along with the CBR and the team. Our lads did an excellent job in the pits and pulled about 10-seconds back. We're so pleased it was a superb performance an d we're over the moon for him.
Conor started off a little bit slow but became very strong towards the end and was making up time. A sixth place is very good, the pace was very hot in that race and his average speed was nearly 130mph and he finished in front of some very good riders. To have both machines come home is fantastic.