MAGIC MICHAEL - A profile of Michael van der Mark, 2014 World Supersport champion
Posted on
On 7th October 2012, Michael van der Mark won that year's Superstock 600 UEM European championship in only his second season on the Ten Kate Honda Junior Team's Honda CBR600RR.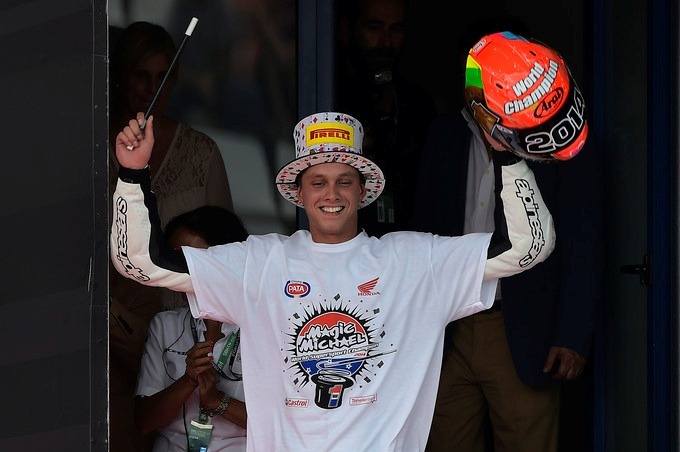 It was an especially impressive and outstandingly mature performance from the then 19-year-old from Gouda near Rotterdam in the Netherlands. Needing only to finish ahead of his nearest rival, van der Mark rode an incredibly mature race for one so young in a 'winner-takes-all' final race at Magny-Cours in France in the face of some less-than-subtle intimidation
Just seven years earlier, the Dutch flyer's entry into motorcycle racing had been relatively late at the age of 12. Having been entered into the Dutch Junior Cup on an Aprilia RS125, he was taken to quiet industrial estate by his father, Henk, to try out the bike. This was just a week before his first race, and he had never ridden a motorcycle before. As he reached the end of his first straight-line run, shifting gears for the first time and with Henk following in the family car, the diminutive van der Mark discovered he was too small to reach the ground to turn round and gently toppled over with his bike.
His racing debut was, appropriately enough, at the iconic Assen circuit in the Netherlands and he learned fast – a trait that has become apparent more recently – and he finished that 2005 season in fourth place in the championship. He went two places better the following year before joining the Dutch Open championship on a Honda RS125 in 2007. He finished as runner-up in the series and was proclaimed Rookie of the Year.
Van der Mark's first championship title came the following season, winning the Dutch Open championship while gaining invaluable international experience by racing in select races in 125cc championships in Germany and Spain, and competing in the 125cc GP race at the famous Dutch TT in Assen, finishing in 26th place. Further success in Holland the following season led to back-to-back Dutch titles, fifth place in the IDM series in Germany and an improved 18th at his home GP. A full-time ride in 125cc Grands Prix beckoned for 2010.
However, poor funding led to van der Mark's team pulling out of GPs before the end of the season and a hurried conversation with Holland's famous Ten Kate Racing organization gave young Michael a ride with its Junior team in the European Superstock 600 championship.
Van der Mark finished in seventh place in his series debut at Magny-Cours in France, securing a full-time ride for the following season when he was third overall, with four wins from the 10 races, finishing just 11 points behind the championship winner. That season also saw him ride as a wildcard in the Moto2 GP at Assen.
The following year, he went to the top again, securing that hard-fought 2012 European Superstock 600 championship victory and earning himself a promotion to the World Supersport championship on a Pata Honda CBR600RR for the following year. He was on the podium in his first race at Phillip Island in Australia and, with two further visits to the rostrum in 2013, in spite of a broken foot sustained mid-season that affected results in at least three rounds, he ended his debut world championship year in fourth place. Along the way, van der Mark also became the first Dutch rider to win the prestigious Suzuka 8-hours race in Japan on the MuSashi Harc-Pro Honda CBR1000RR Fireblade with team-mates Leon Haslam (also a Pata Honda colleague) and Japanese ace Takumi Takahashi.
Now in his sophomore season in the series, Michael van der Mark is the 2014 FIM World Supersport champion with five victories and three further podiums to date this year and two rounds still remaining. It almost goes without saying that this year has marked a significant step forward for the 21-year-old, who came into the 2014 season with a renewed focus and a full-time dedication to his chosen profession and his ambition to become world champion.
Having obtained his HGV truck-driving licence at the age of 18, van der Mark went into the family business in order to earn a living and worked for his father – an accomplished endurance racer in his own right who is currently contesting the European Classic series on a 1980 Suzuki GSX-R1100 – who runs a transport company in Rotterdam.
However, even last year as a rookie World Supersport rider, van der Mark was still going back to driving trucks between races, leaving less time for personal training.
He has been able to dedicate much more of his time to fitness and conditioning this season, spending a lot of time with his personal trainer, an 80-year-old former boxing coach who, according to his young charge, can still deliver a devastating right hook! The commitment has paid off, however, with a leaner, fitter and stronger van der Mark, and one much better-equipped to handle the physical demands of a professional motorcycle racer.
Even during an extended two-month summer break from this year's championship, van der Mark was not idle, continuing to train hard and winning his second Suzuka 8-hours race with the same team as in 2013, impressing many in Japan with his improved endurance abilities, as well as his outright speed. But the hard work has been rewarded closer to home as well, his sheer domination of this season's World Supersport title race is such that he has finished no lower than second during the 2014 campaign to date – the only blip being a DNF in a foreshortened five-lap 'sprint' race in the opening round at Phillip Island in Australia.
'Magic Mikey' is the only third solo motorcycling world champion to come out of the Netherlands and the first in 40 years – the other two being Jan der Vries and Henk van Kessel, who shared three 50cc world titles between them from 1971 to 1974. Van der Mark has surely already secured his own place in Holland's motorcycling Hall of Fame by winning the 2014 World Supersport title at just 21 years and 316 days, second in age only to Ten Kate Honda's 2003 championship winner, Chris Vermeulen.
As we head towards the conclusion of the 2014 racing season, there is no doubt that he is hot property in the motorcycle world championship paddock, but one other thing is also certain: that further success at the very top level of the sport awaits Holland's and Honda's 'Magic' Michael van der Mark.
Michael van der Mark
Date of birth 26 October 1992
Place of birth Gouda, Netherlands
Home town Rotterdam, Netherlands
Race number 60
Race machine Pata Honda CBR600RR
First race 2005 – Assen, Netherlands, Dutch Jr. Cup
World Supersport debut 2012 – Moscow, Russia (wildcard)
World Supersport races 20
First World Supersport podium 2013 – Phillip Island, Australia
Total World Supersport podiums 11
First World Supersport win 2014 – Assen, the Netherlands
Total World Supersport wins 5
Career Highlights
2005 4th, Dutch Junior Cup – Aprilia
2006 2nd, Dutch Junior Cup – Aprilia
2007 2nd, ONK Dutch 125cc championship – Honda
2008 ONK Dutch 125cc champion – Honda
3rd, IDM 125cc championship – Honda
Selected CEV Spanish championship – Honda
26th, Dutch 125cc GP – Honda
2009 ONK Dutch 125cc champion – Honda
Selected CEV Spanish championship – Honda
18th, Dutch 125cc GP – Honda
2010 125cc Grands Prix – Lambretta
7th, Dutch 125cc GP
Debut, European Superstock 600 championship - Honda
2011 3rd, European STK 600 championship – Honda
Wildcard – Moto2 GP, Assen
2012 European Superstock 600 champion – Honda
2013 4th, World Supersport championship – Honda
Winner, Suzuka 8-hours – Honda
2014 Winner, Suzuka 8-hours – Honda
WORLD SUPERSPORT CHAMPION – Pata Honda CBR600RR