Soldiering On Awards Grand Raffle!
Posted on
Soldiering On Through Life Trust, have three incredible major prizes, along with 80+ runner-up prizes, in a raffle which will be drawn on the 18th April 2015 at the Soldiering On Awards at the Park Plaza Westminster Bridge hotel, London...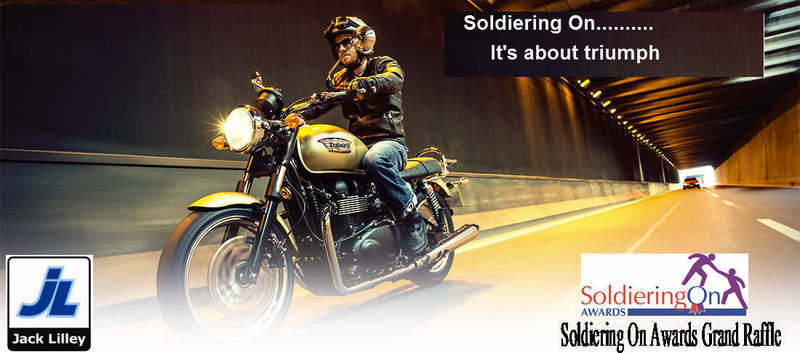 Prizes include a Triumph Bonneville, a Breitling Navitimer Watch, a Balloon Flight, a Bomber Command Memorial book signed by Air Commodore Charles Clarke OBE, Soldiering On Wear it with Pride Polo shirts and lots more!
With these fabulous prizes they are hoping to sell 50,000 tickets and raise an amazing £100,000. This will help recognise, celebrate and inspire those still Soldiering On.
Buy a ticket today and show your support for our Armed Forces.
Tickets are £2 each, available in books of 5 tickets per book. (One book £10.) Buy online
Soldiering On Through Life Trust are hoping the Biker community will support them in buying tickets, or selling them on their behalf. Funds raised benefit ex-servicemen and servicewomen who have been injured in the line of duty.
Can you and/or your Club help sell tickets on their behalf? Contact Adrian for more information @ [email protected]

Soldiering On Through Life Trust - Supporting our Military Heroes throughout life
SOTLT was established as a not-for-profit organisation to support injured Service personnel and their families throughout their lives by giving recognition of the outstanding achievements of teams or individuals from within the Armed Forces Community (AFC) through an annual awards ceremony.
Registered Charity No 1144828