IRVING & REDLINE GO WILD AT SILVERSTONE
Posted on
Moto3 Wildcard entry for 17-year old Joe at British Grand Prix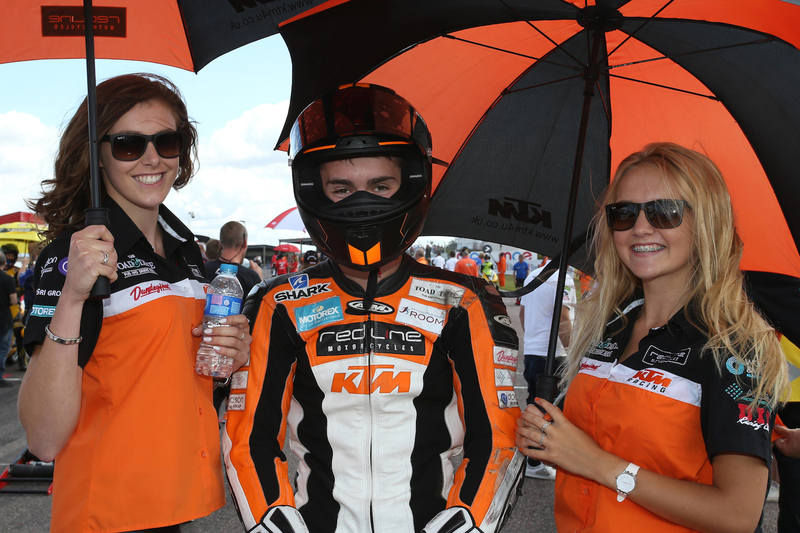 British Motostar championship contender, Joe Irving, will make his first appearance at a MotoGP event when he lines up for the Moto3 race at Silverstone on August 31.
The 17-year old from Holmfirth has been a consistent force in British Motostar - the national equivalent of Moto3 - on KTM RC 250 R machinery, taking three wins and nine podiums in 2013 and is currently battling for the championship lead after seven rounds of the 2014 season, with four wins and three other podiums.
Trainee chef Irving will be aiming to impress the partisan crowd at the Northamptonshire circuit when he lines up on his familiar British championship machine, supplied and run by Loughborough-based KTM dealer, Redline Motorcycles.
We grabbed a quick word with 'Joe Toad' ahead of his Grand Prix debut this weekend at Silverstone.
How are you feeling?

Joe Irving: I'm actually less nervous compared to a British Championship weekend. I've got nothing to lose and everything to gain. Well, that's what I've been telling everyone else! But honestly, there are no consequences and only good things can happen from this experience.
What you think the biggest challenge will be of riding at Grand Prix level?

I'm going to have to increase my speed dramatically to keep up with riders here, compared to British championship. The team and me will have to take really big steps this weekend to keep up, but we're up for that and as best prepared as we can be.
Do you have a personal goal?

To qualify! I want to improve on my best time from the British championship round from here last year. Another goal is to finish the race. That may sound daft, but a lot of wildcard riders have been known to crash out. To break the top 30 would be good as the pace is hot. I'm just going to ride my bike as fast as I can.
Are there any particular riders you want to beat?

There's a big group of riders that I've ridden against before. Jules Danilo beat me at Silverstone by 0.05 seconds when he did a wildcard in the British championship last season, so I need to get revenge on him. I've also raced against Ana Carrasco and Scott Darou before in Spain.
Do you like the Silverstone circuit?
It's my favourite circuit we come to in the British championship. I just really like how wide and big the track is; it's a proper Grand Prix circuit compared to the 'normal' tight and twisty British tracks.
Do you have any home advantage?

There are a few riders making their debut rides at Silverstone and, not including this weekend, I've ridden here three years on the trot so I'm reasonably comfortable here.
Have you made any changes to the Redline KTM RC 250 R?

We can run the twin exhausts from the KTM GP Race Kit as there are no noise restrictions here. They're so loud - 10db over the British championship limit! I really like them, you can hear the bike a lot better.
The biggest changes are a few different stickers on the bike from new sponsors that have come onboard, such as Halifax Glass.
We are running the same specification Dunlop tyres as we do in the British championship, so there's nothing new for me to get used to. Well, apart from the pace!
What have you been doing in the run up to the event?

Racing a lot! We were only just at Cadwell Park this past Bank Holiday weekend, but our race was rained off. But there have been a lot of British championship races in the past six weeks. I've been training on the push bike a lot in between working as a chef at my parent's pub and the only weekend the team had off we did some display runs on the bike at the Brackley Festival of Motorcycling.
I also held a fundraiser to help cover the big cost of doing this wildcard and the support we had from people and companies donating prizes was amazing. People really stepped up and the auction was a big success, so I can't thank everyone enough for making my Grand Prix dream happen.