Morris and Nutt share the spoils at Cadwell Park
Posted on
Leon Morris takes a win and a third as he increases championship lead
• Marty Nutt takes race two win
• Dek Crutchlow father of Cal Crutchlow guest rides in Ducati TriOptions Cup
• Jakub Smrz breaks wrist in free practice of British Superbikes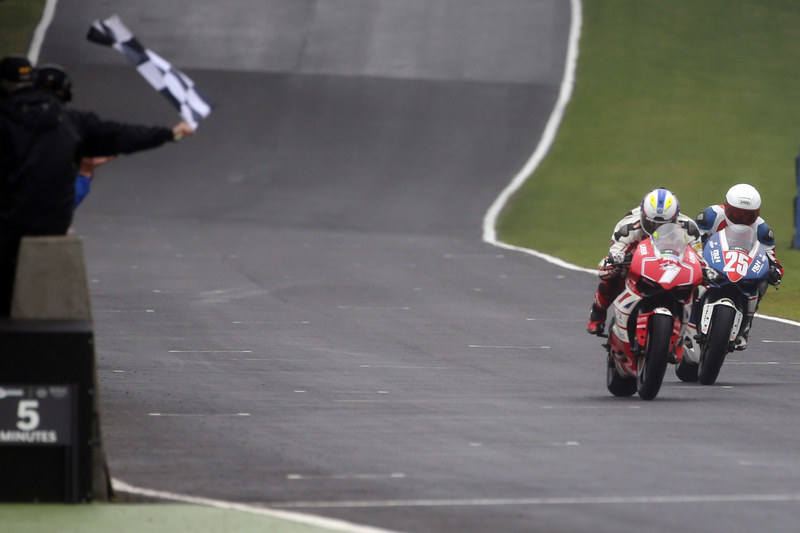 A packed Bank Holiday crowd were treated to two thrilling races over the weekend with Leon Morris and Marty Nutt taking a win each.
Leon Morris, Carl Cox Motorsport/ P&H Motorcycles increased his lead in the Ducati TriOptions Cup title fight with a win and a third place at Cadwell Park. Marty Nutt the Ducati Coventry rider took the win in Race 2 while Dennis Hobbs had to settle for two second places over the weekend.
In race one Morris lined up on the front row behind team mate Dennis Hobbs on pole with 2013 Champion Marty Nutt third on the grid. It was however Morris that led Hobbs and Nutt into the first corner and would hold this lead for the majority of the race, with Hobbs close behind and Nutt watching the battle unfold in third. Despite all three riders maintaining the same positions this was not a procession as Morris and Hobbs swapped places over the closing third of the race. Unfortunately Hobbs was unable to make any overtakes stick and he had to settle for second place behind Morris with Nutt coming home in a close third.
Morris went into race two with a 26 point lead and with only two more rounds was keen to consolidate his championship lead. Having set the fastest lap in race 1, Morris started from pole with the race being designated a wet race as the forecast rain made conditions and visibility tricky for the Ducati TriOptions riders.
It was Morris who again led into the first corner followed by championship rivals Hobbs and Nutt. Immediately the front three pulled out a four second lead over fourth placed Guiver with Nutt putting a fastest lap on lap 3. Hobbs was hounding Morris but Morris in turn responded with a fastest lap, the three were showing an impressive pace considering the wet track and had soon increased the gap between third and fourth by over seven seconds.
Dennis Hobbs' persistence paid off on lap six passing Morris through Coppice and immediately pulling away. Now Morris had Nutt to contend with as the Irishman put in yet another fastest lap and soon Nutt was to move into second place and close in on the P&H Motorcycles 899 Panigale of Dennis Hobbs. Meanwhile Morris was falling back on the leading two and could only watch as Nutt took Hobbs at Hall Bends on lap 8. Hobbs did his best to take the lead back but with backmarkers coming into play had to settle for his second 2nd place of the weekend.
Sean Neary (Mymate.co.uk) had a disappointing race one after crashing out on the first lap at Mansfield but recovered in race two with an 8th position. Rob Guiver (Hyside Motorcycles) put behind him a DNF at Oulton with a fourth and a seventh place, while the rider of the weekend was Fast Bikes journalist Al Fagan who continued his good form with two sixth places.
Not all the attention was on the championship leaders as one of the stories of the weekend was the return to racing at the age of 68 of Dek Crutchlow, father of Ducati MotoGP rider Cal Crutchlow. Dek rode the Ducati UK 899 Panigale guest bike to a 20th place in race one and 21st in race two.
Quotes:
Leon Morris
"Overall a good weekend with a win yesterday and a third today in really tricky conditions. The key for me is having dry conditions which are much more predictable whereas today was not. Today I felt really strong and felt like I could go with them and win the race. I have increased my lead by a couple more points over the weekend and won the event overall so it's been a blinding weekend."
Marty Nutt
"Yes, very happy and believe it or not we have not changed anything on the bike since Oulton. Obviously we backed everything off for the wet race but the bike is good now so we can take it to any circuit. I am looking forward to Assen and Silverstone which are mega tracks for me, but I think Dennis and Leon are good round those tracks too so there will not be much advantage there."
The Ducati TriOptions Cup returns for the penultimate round at Assen on the 19/20/21 September.
For the Millsport Ducati Racing team, the weekend came to a premature end when Czech rider, Jakub Smrz crashed out in the Superbikes free practice on Saturday. Smrz clipped a curb, causing him to high side and throwing the rider over the handlebars resulting in a broken left wrist. He was taken to the Hull Royal infirmary where the wrist was straightened and he will return to the Czech Republic for surgery. It seems unlikely that the rider will make Donington, but the team and rider have targeted Assen for his return.
Jakub Smrz
"I think I touched an exhaust or something on the curb and then it made the bike unstable and I highsided. I went to hospital where they put me under anaesthetic and they straightened the break. I think normally for this type of injury you would expect to be out for 5 to 6 weeks but I hope to be back in time for Assen. When I get home I will see my surgeon and see what he says.
"I am very disappointed. We knew it would be difficult here but we have Donington and Assen coming up that I hope to be fit for. I will call my surgeon and we will make a plan."