A brand new gauge concept from KOSO called the D1 OLED
Posted on
Digital Speedos are pleased to introduce a brand new gauge concept from KOSO called the D1 OLED, using the very latest OLED screen technology (like the iphone 5) it means it can be viewed from all angles and lighting conditions.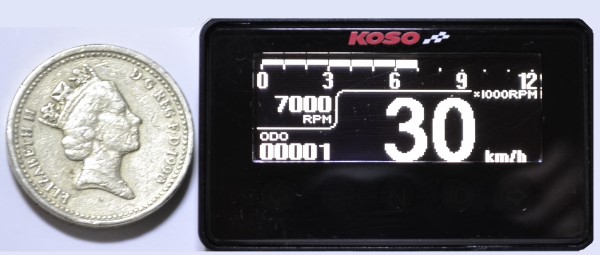 The Display has a very small footprint, only 46 x 22 x 9 mm, in fact so small it could be built into a handlebar clamp. The screen display unit is connected to the control unit by a 3 core cable so could be fed through the handlebars if required.
The control box is just 80 x 50 x 24mm so compact enough to hide under the seat or fuel tank.
The standard functions of the gauge are:
Speed MPH or KH
RPM programmable scale 8 – 20k
Total mileage – (settable to existing mileage)
2 x resettable trip meters
3 x temps – oil/water/ambient
Time Clock
Fuel gauge – multiple settings for sender
Low fuel warning setting
Volt meter
5 warning lights
Included in the package:
Display screen
Control Box
Wiring Looms
Speed sensor, magnets and brackets, the range of KOSO alternative speed sensors will also fit.
Temperature Senders
Remote Program Switch
Part Number BA032000
RRP is £224.95, inc VAT
www.digital-speedos.co.uk

See more here