Gloucestershire Steam and Vintage Extravaganza celebrates its 40th Show‏
Posted on
The Gloucestershire Steam & Vintage Extravaganza, now in its 40th year, will take place once again at South Cerney Airfield, Cirencester.
From Friday 1st to Sunday 3rd August 2014 the extravaganza will attract more than 15,000 visitors and raise money for local and national charities. The show has grown dramatically in recent years and is now widely regarded as one of the biggest and best Steam, Vintage and Countryside events in the UK. Attracting thousands of exhibits from all corners of the British Isles, as well as some from further afield - it really is a nostalgic road trip into bygone years.
The show was originally conceived for steam enthusiasts, but the range of exhibits has grown year on year. It now boasts a huge array of vintage transport, from buses and coaches, commercial vehicles, classic cars and motorcycles through to military vehicles, tractors, engines and historic caravans. A live action arena will be an integral part of the show with interactive demonstrations taking place every day.
This year the show celebrates its 40th year, an amazing feat and we want to celebrate with everyone especially those born on 6th or 7th September 1975 - the weekend of the very first show. If you were born on that weekend, we will send you one complimentary ticket for the show. (DOB ID will be required). Please contact: [email protected]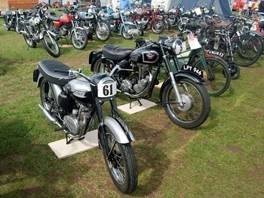 The popular motorcycle display features more than 130 models representing manufacturers from England, Italy, Japan, India, the USA and other countries. Among the marques on display is Honda, Yamaha, Harley Davidson, Moto Guzzi, HRD, AGS, James, Triumph, Royal Enfield, Rudge, Baker, BMW, Norton, Velocette, BSA, Panther, Francis Barnett, Matchless and Greeves. The popular Ken Fox Wall of Death, one of the last original Wall of Deaths dating back to 1929, will make a welcome return to wow the crowds as they perform tricks, acrobatics and high-speed chases on their 1920's Indian motorcycles. The classic car section alone features over 600 vehicles, showcasing veteran, pre-war, post-war, American to modern classics. Alongside regular exhibits are rare and remarkable stories of restoration projects and histories to be told.
Gloucestershire Steam & Vintage Extravaganza is packed full of exhibits, displays and curiosity stalls to keep the whole family entertained for hours with displays of Victorian memorabilia ranging from antique sewing and knitting machines and model dolls houses to vintage garden tools and 1940s to 1950s home wares. Alongside the hundreds of vintage vehicles, there will be the popular steam driven vintage fun fair, 'electric yachts', waltzer, big wheel, steam-driven 'gallopers', face painting, dodgems and traditional arcade games, plus an Animal and Countryside area with poultry, Shire Horses, rare breeds, Alpacas and Ferrets with an arena demonstrating Horse Logging, Falconry and dog agility.
There we will also be a vintage tea dance which will include lots of cake! If you are a lindy hop dancer, why not join us! A prize will be awarded for the best dancers, performing in vintage clothes. Lindy Hoppers to receive free tickets if taking part, please contact: [email protected]
The Chairman of the Stroud Vintage Transport and Engine Club, Martyn Slater, says: "The Gloucestershire Steam & Vintage Extravaganza is the biggest of its kind run entirely by volunteers and I am proud to be involved. As well as raising money for local and national charities, our aim is to provide a safe and happy environment for everyone to celebrate our unique transport history, in hope that we can inspire future generations to get involved in the preservation of historic vehicles."
The Gloucestershire Steam & Vintage Extravaganza is a great day out for all the family.
Admission Information: Show opens at 10 am.
Ticket prices Pre Sale On the day
FRIDAY Adult £5.60 Junior £3.20 Adult £6.00 Junior £4.00
SATURDAY or SUNDAY Adult £8.00 Junior £4.00 Family £20.00 Adult £10.00 Junior £5.00 Family £25.00
WEEKENDER Adult £12.00 Junior £6.00 Family £28.00 Adult £15.00 Junior £8.00 Family £35.00
Family tickets Includes two adults and two children. Juniors (Age 5-15)
Weekender tickets: Includes entry to all three days but no overnight camping.
Discounted tickets are available to buy online at www.glossteamextravaganza.com or from Cirencester Tourist Information Centre, located next to the Corinium Museum. Public enquiries contact T: 01453 890891
A free vintage bus service will be operating around the perimeter of the show site, and to and from Kemble railway station throughout the show to connect with selected First Great Western Trains.
The Gloucestershire Steam & Vintage Extravaganza, South Cerney Airfield, Cirencester
Friday 1st – Sunday 3rd August 2014