Michelin rider attempts 250cc World Land Speed Record
Posted on
Stuart Swift is about to embark on one of the biggest challenges of his life. A dream he has held for more than 40 years. The Michelin-sponsored rider will travel to the famous Bonneville Speedway in an attempt to break the 250cc motorcycle world land speed record.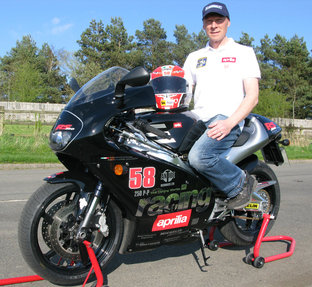 Lining up with world-class riders like Toseland, in the centenary year of Bonneville speed racing, Stuart, a 51-year-old RAC patrolman, is looking to take the top spot in the 250cc production motorcycle class.
Riding an Aprilia RS250 fitted with Michelin's new Pilot Road 4 tyres, Stuart will need to beat the current record of just over 136 mph held by British rider, Mark Jordan. To qualify for the world record, Stuart will have to ride faster than the existing record three times, and then an average speed of two runs over the three mile course will be taken for the final figure.
Stuart said: "I've been interested in Bonneville since I was seven years old, but it wasn't until I was thirteen that I got my first bike, a Honda ST50. This attempt will fulfil one of my lifelong dreams and I truly can't wait to line up on the salt in August this year. I'll be wearing number 58 in honour of one of my heroes, the late Marco Simoncelli 2008 250GP World Champion."
Stuart has spent years researching and developing the Aprilia's engine himself, being a firm believer that a world record beating engine tune cannot be bought – hence the difficulty in breaking these records.
Of course tyres will play a crucial role in the attempt. The surface at Bonneville is unique, as it can vary between compact, hard salt and softer, looser patches. In places grip can be reduced to as little as 20% when compared with asphalt. Using Michelin's new Pilot Road 4 tyres will help combat the wide variation in available grip.
Michelin Technical Manager, Tony Charlton said: "When Stuart contacted Michelin with his idea to break the 250cc World land speed record, we knew we could help. Michelin has a range of motorcycle tyres for every bike and surface, and the Bonneville salt is one very special surface. We chose the new Pilot Road 4 because it has been designed for optimum performance with excellent grip and stability over a variety of surfaces, whilst being able to cope with the extreme heat that Stuart will have to contend with." Talking of his Michelin sponsorship, Stuart said: "The support I have received from Michelin has been outstanding. I don't know why, but ever since I was a young boy I've always had a fascination for Michelin tyres. I had them on my pedal bikes and on all of my motorbikes. If it was on two wheels, it had to be Michelin. Now I just can't wait to get out to Utah and hopefully break records with the new Pilot Road 4 tyres – and have plenty of fun while doing it!"
Find out more about the new Pilot Road 4 at www.moto.michelin.co.uk