Website "Street Repairs" Expands Public Reach To Help Fix Britain
Posted on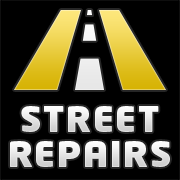 The developers of the online neighbourhood-problem reporting system, Street Repairs, have taken a further step towards linking local people to their local councils, with the launch of a free website API plug-in.
By installing the plug-in, website owners can assist with the number of faults reported to councils and gain access to key data including images, trends, hotspots, the number of unresolved problems, and the time taken to complete repairs.
Street Repairs is an intuitive online tool that enables residents to report street maintenance and repair issues via their mobile phone, at no charge. If something needs fixing such as potholes, street lighting, or fly tipping, local residents can report it quickly and easily to their local council via Street Repairs in real time, then receive instant progress updates via text message and email. This unique information gathering, monitoring and reporting system enables residents to more easily connect with their local council, empowering them to make changes in their neighbourhood. Local councils can integrate the Street Repairs system with their own internal processes to more efficiently record faults, prioritise maintenance issues, plan improvements and report progress.
Mr Colin Mahoney, software developer and MD of the non-profit system, said "streetrepairs.co.uk API plug-in will raise the online profile of Street Repairs and make information on street maintenance problems more widely available, which in turn will encourage residents, councils and key influential organisations to work together to fix Britain's streets".
Since its launch just a few months ago, Street Repair's popularity has exploded among members of the public via social media. It now has thousands of facebook fans and is receiving hundreds of detailed reports from concerned members of the public.
By installing the free API plug-in on their website, newspapers, community organisations, cycling groups, and other interested website owners, can encourage their audience to engage with local authorities, to improve their neighbourhood and community.
The new plug-in gives an unprecedented level of access to analytical data on a local and national level on the condition of our neighbourhoods. Data can be accessed in real time, and reports can be compiled instantly.
Analysis of the number and types of reports made, issues resolved, and images submitted, can identify local trends, such as the impact of a rising population, or budget cuts. This information can be reported back to the community, or used to assist the local council to make improvements.
The plug-in is free to install and use, and the Street Repairs team are available to give full technical support if needed. The cloud-based system will have minimal impact on the host website, and requires limited expertise to integrate. Once installed, residents will be able to report street maintenance problems to the local council via the plug-in, and the website owner will have access to all the data about reported problems, at no charge.
With the help of Street Repairs www.streetrepairs.co.uk/problems, local residents, local organisations and local councils can work together to fix their local environment. The new API plug-in makes it easier than ever to report neighbourhood-problems, and at the same time the plug-in provides data to community organisations who may be able to use the reports to influence local council policies and standards. The websites exists and funds itself thanks to generous sponsors.