new Motorcycle Events 2015 | August
Biker Rallies, Ride-outs, Motorcycle Shows, Swap Meets, Rock nights, Motorbike Charity runs, Toy Runs, Bike Meets, Biker Party, Bike Rally and more... Please check with organisers before you pack your tent! For facebook and twitter links - if it is in green click it! For more top tips on how to use the website - Go Click!
From 13th August | From 20th August | From 29st August | Bank Holiday Weekend | sept | oct | nov | dec | 2015 | list your event | end of August |
Rally opens 12 noon Thursday 13th, bar open from then. Simons food stall, plus hog roast, two late bars, two discos, trade stalls, plus return of the wild west show. Bands TBA. A flat disabled friendly site with full disabled access to both rooms. Showers available at Leisure center next door, where there is also a kidies play area.
venue: Shobnall Sports and Leisure Club, Burton on Trent, Staffordshire, DE14 2BB
price: Pre-book: £10. OTG: £13. Accompanied children under 16 free. Cars, campervans: £5. Blue badge holders free parking. Day tickets available.
tel: 07803 843688
facebook
e-mail: [email protected]
14th August
Madone des Motards - Blessing of the Bikers
Each year, nearly 20,000 bikers from all over France and Europe meet to the "Pardon of the Madonna " created in 1979 by Father Louis Prévoteau.
venue: Porcaro, Morbihan, Brittany, 56380, France.
website: www.madonedesmotards.com
facebook event
14th - 16th August
7th Ghost at Midnight
Free camping, showers, Late Bars, Bands & DJ both nights, Friday-Marauder, Saturday - Massive Wagons, Fancy Dress, fantastic raffle prizes, Tattooist, Butty-van, Well behaved children welcome. Gates open at 12.00 noon on Friday. Caravans & Trailers by arrangement,£10.00 each, Limited numbers. Children under 15 free.
venue: The Vale of Lune RUFC, Powder House Lane, Lancaster, Lancashire, LA1 2TT
price: Pre-book £12, before 31st July. OTG: £15. Free rally badge for first 100 bookings. Day tickets available at £7.50.
tel: 07908 271 504
website: www.shadowrc.co.uk
e-mail: [email protected]
14th - 16th August
Vosa Rejects
Vosa Rejects in aid of Air Ambulance and Cancer Research. Bands inc Dead Sense, Nameless & Suicide Blonde.
venue: Breighton Ferry, Breighton, Selby, North Yorkshire, YO8 6DH.
price: Pre-book: £12, by 7th August. OTG: £15. £5 permit required for 4 wheeled vehicles
tel: 07703 463 979
website: www.vosarejects.co.uk
facebook
e-mail: [email protected] p

14th – 16th August
BMF's NEW Scotland Rally
venue: The Stair Arms Hotel, Ford, Pathead, Midlothian, EH37 5TX
price: £14 per person. Limited to 500. No cars or caravans unless disabled blue badge holders and pre-booked.
website: www.bmf.co.uk
facebook
facebook event
e-mail: [email protected]
15th - 16th August
Guinness Worlds fastest 1kilometre wheelie competition
This year we celebrate the 10th Anniversary of the event with the best riders from USA, Australia, Europe and Great Britain competing for the Worlds first 200mph+ kilometre wheelie. The current record stands at 199.4mph,in addition the Worlds fastest woman will be hoping to improve on her world record of 264mph!
As usual there will be a a beer tent, entertainment on-site catering, toilet facilities and camping opens at 6pm on the Friday night if you wish to make a weekend of it. Come along and watch records get smashed .
venue: Elvington Airfield, Halifax Way, Elvington, York, YO41 4AU
price: £12.50. Kids go free. Camping over weekend £30.
tel: 01942 262 337 - 07540 847 950
website
facebook
e-mail: [email protected]
15th August
Maxey Classic and Thoroughbred Car, Motorcycle and 4x4 Show
Held at a picturesque lakeside venue. One of the most popular regional shows, the long-established Maxey event is sure to attract a large entry of gleaming two- and four-wheelers. It's also a great day out for all of the family - with live music, a real-ale bar, BBQ and children's amusements. Organised by the Maxey Charity Club and makes over £1500 each year for local good causes. The club has been running fund-raising events since 1998.
The show opens at 11am, with judging taking place between 12.30 pm and 3.00 pm. As usual, the organisers have recruited several national motoring journalists to help with the difficult job of picking the winners.
The Maxey Car Show started in 2001 with a 100 vehicle turn-out. It has become increasingly well-known over the years and last year attracted over 450 vehicles. These included a wide range of classics, exotics
like modern Ferraris, kit cars and a 4x4 category. Also classes for classic motorcycles and cycles to join the fun. The motto is: 'If you drive it or ride it and you love it – come along and show it.'
venue: Quarry Lane, Maxey, Cambs - one mile off the A15, south of Market Deeping, Caimbridgeshire.
price: Admission £4, with free entry for exhibitors and children under 14.
tel: 01778 346 780
website: www.maxeycarshow.wordpress.com
e-mail: [email protected]
15th August
North West Honda Blackpool's Massive Open Day and Charity Ride-Out
Free wheelie machine, Charity Raffle, free proffesional photographer, charity bike valet and much more...
venue: Blackpool Honda, Lytham St. Annes Way, Blackpool, Lancashire, North West, FY4 5PQ
price: free
tel: 01253 600900
facebook
e-mail: [email protected]
16th August
Popham Megameet & Jumble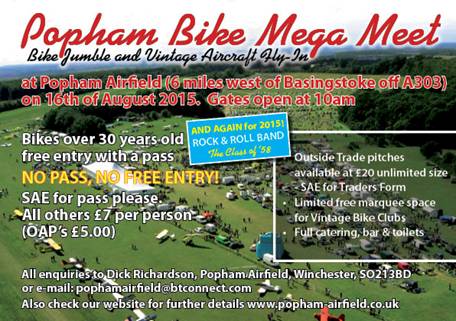 Classic & Vintage bikes on show in a big marquee and outside. Hundreds of bikes on show and club stands plus up to 100 bike jumblers. Licensed bar and food stalls. Class of 58 Rock & roll band will be playing during the afternoon.
venue: Popham Airfield, Coxford Down, Winchester, Hampshire, SO21 3BD. Gates open at 10am
price: Adults £7. OAP's £5. Bikes over 30 years old free entry, but only with a pass prior from Popham Airfield or email below.
tel: 01256 397733
website: www.popham-airfield.co.uk
facebook event
e-mail: [email protected]


16th August 2015
Ladies Day – Bring What Ya Run
venue: Ace Cafe, Ace Corner, North Circular Road, Stonebridge, London, NW10 7UD
price: free tel: 020 8961 1000
website: www.ace-cafe-london.com - www.acecafeevents.com
facebook
e-mail: [email protected]
16th August
Brackley Festival of Motorcycling
Stunt riders, trails bike action, cafe racers, custom show, classic racing solo, racing sidecar, legends part and present all major manufactures, wall of death, have a go area, fun fair, trade stalls, food mall. The event is run for charity with Air Ambulance being the main charity and a couple of local charity's are selected to benefit.
venue: Brackley Town Centre, Northants NN13 7AB
price: Tickets only available on the day. £5 for everyone, under 16's free
website: www.brackleyfestivalofmotorcycling.co.uk
facebook
e-mail: [email protected]

16th August
Bikers' Breakfast - Four Ashes Inn
A program of biker meets with several biker-related stands and interesting info. Free Bacon or sausage bap for all who attend.
venue: Four Ashes Inn, Station Road, Four Ashes, Wolverhampton, WV10 7BU
price: free
tel: 07855 336922
website: www.staffsbiker.co.uk/events
facebook
e-mail: [email protected]
20th - 23rd August 2015
Rock The Lakes Music Festival
Set up in 2011 going from strength to strength since then. 14 live bands over three fun filled days. Cheap beer, and probably the best fun you will have for the money!

venue: Leisure Lakes, The Gravel, Mere Brow, Tarleton, Lancashire, PR4 6JX
price: Pre-book: £ weekend by th August. OTG: £. Price includes three days of camping on the main field. Kids 12 and under are free but must be accompanied by an adult and supervised (or chained up) at all times. Space is at a premium and was sold out last year so book early.
tel: 07980 210101
website: www.rockthelakes.co.uk
facebook
twitter
e-mail: [email protected]
21st - 23rd August
Jays back on the road bash
Three 3 bands, hog roast, best bike, best rat, plus lots more. Free camping included in ticket price, in aid of Rainbows Childrens Hospice, Notts & Lincs Air Ambulance and NABD.
venue: The Moth & Lantern, Town Street, Cottam, Nottinghamshire, DN22 0EU
price: Pre-book: £10 by 14th August. OTG: £12.
tel: 01777 248352 - 07460 891703
website: www.retfordbnb.co.uk
facebook event
e-mail: [email protected]
21st - 23rd August
REDSKIN RALLY
The Renegade MC proudly present, The Redskin Rally, cold beer, hot food available all weekend, top live music, rock disco, custom bike show, silly games including the annual tug of war battle, trade stalls, raffle, free camping, clean toilets. More details to follow.
venue: New location..... Elite venue, Dunkirk Close, Gravesend, Kent, DA12 5ND
price: Pre-book: £12.50. OTG: £15. Kids £5.00 under 16. Car parking £5.
tel: Rich; 07912638157
website: www.renegademc.com
facebook
e-mail: [email protected]
21st - 23rd August
Rigbys Guardians MCC charity bike and family weekender
Live bands playing Friday and Saturday. Bike show on Saturday. Funfair rides, trade stands and much more, 24/7 toilets and showers free camping. Patches available at £5 each. Money raised goes to ssafa.
venue: Mayfield rugby club, Chadwick lane, Castleton, Rochdale, Lancashire
price: Pre-book: £5. OTG: £6.50. Price includes camping and entry to the bike show.
tel: 07947 103 570
facebook
e-mail: [email protected]
21st - 23rd August
5th Worcestershire Music and Custom Weekender
Bikes, trikes, scooters, custom cars and trucks all welcome. Trade stands, food and beer. Bands to be confirmed. Patch available to buy + sewing lady on site :-) Tattoo artist on site. Oh was beer mentioned?
venue: Coney Green Farm, Ribbesford Road, Stourport on Severn, Worcestershire, DY13 0TE
price: Pre-book: £10 includes of 1st beer until 7th August. OTG: £12 - sorry but no free beer. (No increase again this year) Day Ticket £5. Children under 14 years free entry. No extra charge for campers, caravans or cars. Free entry for exhibitor.
tel: 07412 873359 / 01386 556468 Mon-Sat 9am - 4pm
e-mail: [email protected] p
22nd August 2015
2nd Annual Northamptonshire Bike Show - Classic and Vintage
A Celebration of Vintage, Classic and Custom Motorcycle culture. In Aid of The British Motorcycle Charitable Trust (BMCT). Bike Show Best Classes include: British Classic Modern 1989 - 2014, Classic British 1965 - 1989, Vintage 1936-1964, Restoration, Japanese Classic, European Classic, Cafe Racer, Brat, Bobber, American, Best in Show and Locals Choice Best in Show.
venue: Star and Garter Country Pub, The Green, Wellingborough, Northants NN9 6AJ. From 11.30am until 5.30pm
price: £3, Cars £5.
website: www.northantsbikeshow.com
facebook
twitter
e-mail: [email protected]
22nd - 24th August
29th International Rally
Camping from Thursday night if required. Music Friday and Bands Saturday. Bar open all weekend or as long as someone wants serving! This is a proper old skool rally, ride, drink and have fun.
venue: Vagevuur, Vlezenbeeklaan 91, 1600 Sint-Pieters-Leeuw, near Brussels, Belgium. Follow signs MC Phantoms.
price: €5, includes weekend camping plus first drink.
tel: 07462 873713
website: www.phantomsmc.be
e-mail: [email protected]
23rd August
Rat, Brat, Bobbers & Chopper Day @ Ace Cafe
venue: Ace Cafe, Ace Corner, North Circular Road, Stonebridge, London, NW10 7UD
price: free
tel: 020 8961 1000
website: www.ace-cafe-london.com - www.acecafeevents.com
facebook
e-mail: [email protected]

23rd August
East Anglia's Summer Vehicle Fest
A fantastic and eclectic mix of bikes, trikes, car and trucks from all decades. Not to mention the Show and Shine competitions, vehicle club stands, trade stands, displays, children's activities, refreshments, car boot and auto-jumble. Why not come along and enjoy a great day out for all the family!
venue: Former RAF Coltishall, Lamas Road, Badersfield, Norfolk, NR10 5JR. 10am to 4pm.
price: Pre-book: £8pp before 21st August, children under 12 are free. OTG: £10pp, children under 12 are free. VIP Show and Shine competition is £30, with a £250 cash prize and trophies.
Standard Show and Shine free to enter with the opportunity to compete against vehicles in the same category for a trophy. Auto Jumble and Car Boot pitches just £10. Trade stand pitches available from just £70, please contact Caroline for more details on [email protected]
tel: 01603 626668
website: www.str.gb.com
facebook
e-mail: [email protected] p
23rd August
Hornsea Bike Event
Parking for 1000 bikes on site and more around town. 5 live bands, various food stalls and entertainment for adults and kids of all ages!!! Representation from Honda, Kawasaki, Yamaha, Suzuki, BMW and MV Agusta as well as Scorpion exhausts and many more. Sponsored by 5-Ways Motorcycle Centre, Hull and Pro-Bike Rider Training.

venue: Hallgarth Park, Hornsea, East Yorkshire, HU18 1PA
price: The event is free, but charity donations are being requested for Yorkshire Air Ambulance, Hornsea Inshore Rescue, Riders for Health & Care of Police Survivors. Dedicated bike parking is £1 and there will be side stand plates available as well as kit storage.
website: www.hornseabikeevent.com
facebook
facebook event
twitter @HornseaBikers
e-mail: [email protected]
23rd August
** BIG B ** Hosted by the Associated Sheppey Bikers
Bikes... beer ... BBQ.. bucking bronco... cash prize for the best rider in town. Raising money for the Harmony Trust.
venue: Layzells The Broadway Isle of Sheppey, Kent, ME122DF
price: £2. Under 5's free. Price includes free raffle ticket.
facebook
e-mail: [email protected]
28th – 30th August
Brothers over The Hill MCC (BOTH MCC) Dwent N Did it Rally And Custom Show
12 am Marquee, Custom Show, live bands in marquee, beer, late bar, Rock DJ Russ, silly games, Rally Virgin, fancy dress, Bands include 13th Floor and Glamatize and others TBC. Food, stalls, long distance F/M trophies. Familes welcome.
venue: Amber Valley Rugby Club, Lower Somercotes, Somercotes, Derbyshire, DE55 4NQ
price: Pre-book: Early Bird £13.50 by 10th June. Pre-book £15. OTG: £20. Children under 16 free. Car parking £5 donation to Air Ambulance. Blue Badge Holders free parking. Please Pre-book Cars. Free Rally Rally Badge 1st 100. No Fires (B.P.P.A)
tel: Dori 07837 11118516 or Melons 07557 539 465. Custom show Redlight 07770 474 448
facebook group
facebook page
e-mail: [email protected]
28th August - 30th August 2015
Orkney T.T.T Bike Rally
Camping. Trophies for best bike, furthest traveled, rat bike etc. Raffle including some awesome prizes. Club mugs, T-shirts etc. Live bands. Silly games - old favourites - dizzy sticks, musical chairs and others
Cheap cheap bar. Home cooked food. Tattooist on site. Beautiful surroundings of Orkney.
venue: Sandwick Community Hall, Sandwick, The Isle of Orkney, Scotland, KW16 3JE
price: Pre-book: £15 by 10th August 2015. OTG: £20. Includes wristband for entry for the weekend, minimum of two live bands. One free nip of Whisky per person and free rally badges (First come first served if not pre-booked).
tel: 01856 841502
facebook
e-mail: [email protected] p
28th – 30th August
Ogri Rally 2015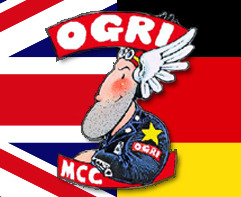 This event always sells out to get your tickets asap! Any queries and to see what to expect, see the website.
venue: Kemble Airfield, Kemble, Cirencester, Gloucestershire, GL7 6BQ - Local Accommodation
price: Pre-book only: £25. Via the website or by cheque. Cars are by prior arrangement only, even blue badge holders. No Car pass = No car = No excemptions.
tel: 01453 299426 - 07815 751484
website: www.ogrimcc.org
e-mail: [email protected]


28th – 31st August
National Rocket Run. Triumph Rocket 3 Owners Club UK
Ride out on Saturday all day. Sunday ride out to the National Motorcycle Museum. Monday lazy day. Camping available, also local hotels and b&bs. Food available for breakfast and evening meals.
venue: The Queens Head, Old Meriden Road, Midlands, CV7 7JP
price: £50 includes camping, breakfast and evening meals
tel: Mark 07973 257 537 or Diane 07966 405 745
facebook
e-mail: [email protected]
28th - 31st August
Thunder in the Glens
website: www.dunedinhog.com
facebook

28th August - 31st August
FUKTfest 2015
Fraternity of UK Trikers (FUKT) are holding their 3rd Annual Rally in Wrexham on August Bank Holday weekend 2015. Around 100 trikes are expected to attend. Bikes, Cars are welcome too. Bands booked included Pure/DC, Rubicon Hell Yeah and The Edge. Rock Disco in support. Trike and Bike Show with Trophies in all categories. Ride out, Fun and Games and BBQ. Exclusive use of the clubhouse with hot showers, Bars, 24hr security, Disabled friendly. Gate Limit of 300.
venue: The Clubhouse, Oak Road, Wrexham Industrial Estate, Wrexham. LL139RG
price: Pre-book: £15.00 by 19th July. OTG: £20. Subject to maximum of 300 not being achieved on pre-sold tickets.Day tickets for Saturday £5, Day ticket for Sunday £5, overnight ticket for Saturday with camping £10.
tel: 07719 067 550
website: www.fraternityofuktrikers.co.uk
facebook
e-mail: [email protected]
28th - 31st August
Shipley Harley Rally
Bands on Fri/Sat/Sun night and dj. Excellent camping, trade stands, great food and beer. Bike show and charity ride on Sunday.
venue: Baildon Cricket and Rugby Club, Jenny Lane, Baildon, Shipley, West Yorkshire, BD17 6RS
price: Pre-book: £20 by 21st August. OTG: £25. Rally pin for first 300. Open Day on Sunday after massive charity rideout. Custom bike show, extra trade stands, attractions, hog roast, etc…
tel: Pete 07764 273677 or Mick 07917 206461
website: www.shipley-harley-rally.co.uk
facebook
e-mail: [email protected] or [email protected]
29th and 30th August
Nailsea 6th International Bike Show
A weekend for motorbike fans and all the family, live bands, kids village, licensed bars, great street food and cultural cuisine, trade stands, local craft stands, over 100 bikes on display. Raffle and much, much more. Charity in aid of the Children's Hospice South West
venue: Nailsea & Backwell Rugby Club, West End Park, West End, Nailsea, North Somerset BS48 4BY
price: Free event
tel:
website: www.nsbikers.com
facebook
e-mail: [email protected]

29th August
Charity Biker Event
Live music, good food, Custom bike show, raffle and more... In aid of Ambiwlans Awyr Cymru - Air Ambulance Wales. Organized by Valley Commandos Motorcycle Club.
venue: Black Lion, Llanbadarn, Aberstwyth, SY23 3RA
price: Free admission. Camping @ £5 per bike.
tel: 07792 210437
29th August
BIG COUNTRY
This is an outdoor event. Rock legends Big Country are coming to The Vic! Marquee, Burger van , outdoor bar (real ale ) main venue open until 3am, disco, camping , glamping, hotel rooms and caravan hire is available - please call for availability. Security cameras on car parks. Stall pitches available.
venue: The Victoria Bikers Pub, Whitwick Rd, Coalville, Leicestershire, Midlands, LE67 3FA
price: £20. This price includes free entry to the main venue.
tel: 01530 814718
website: www.vicbikerspub.co.uk
facebook
e-mail: [email protected]
30th August 2015
Roughleys Bike Show
15th Annual Stockport Bike Show. Bike show, live bands, trade stalls, face painting, bouncy castle, Rodeo Bull, tombola, raffle, Roughleys Bar and more… All welcome, including bikes, trikes and scooters. Fundraising for NABD, Rainbow Family Trust and The Together trust.
venue: St Petersgate, Stockport, (near Manchester) Cheshire, SK1 1HE. Midday until 10pm.
price: £2
website: www.roughleysbikeshow.com
facebook

30th August 2015
44th Cheshire Classic Car & Motorcycle Show

Inc NW Mercedes Day & American Autoclub GB Regional Day. 100's of classic cars and motorcycles displaying on the lawns in front of Capesthorne Hall.
venue: Capesthorne Hall, Macclesfield, Cheshire, SK11 9JY
price: Adult: £. Child (7-14yrs): £. Under 7's free
tel: 01484 667776
website: www.classicshows.org
e-mail: [email protected]
30th August 2015
Harley Day with Warr's @ Ace Cafe
venue: Ace Cafe, Ace Corner, North Circular Road, Stonebridge, London, NW10 7UD
price: free tel: 020 8961 1000
website: www.ace-cafe-london.com - www.acecafeevents.com
facebook
e-mail: [email protected]
30th August
Blackbird family Fun Day & Motorcycle Rideout
A Family Fun Day and motorcycle rideout, organised by the Honda Blackbird Club. The Fun Day will kick-off at 2pm with the TrialStar motorcycle stunt team, bouncy castles, face painting, clowns, BBQ, BikeSafe, Charles Hurst road show, live music and other attractions. The event will finish with a spectacular seaborne firework display.
Highlight of the day for bikers will be a rideout from Carnlough to Portrush and back, leaving at 10:30 and returning in time for the Fun Day. A charity raffle will be held on the day with some fantastic prizes donated by our very generous sponsors. The day's activities are supported by Mid and East Antrim Council and The Big Lottery Fund and organised in conjunction with Carnlough Community Group and Antrim Coast Lions' Club
venue: Harbour Road, Carnlough, Co. Antrim, Northern Ireland, BT44 0EU
facebook
e-mail: [email protected]
30th - 31st August 2015
10th Blenheim Festival of Transport
Including Sunday - Classic Car Show , and Monday - Classic Cars & Motorcycles, Minis & VW's, Customs, Hot Rods & Americans, Kit & Sports Cars etc,
venue: Blenheim Palace, Woodstock, Oxon, OX20 1PP
price: Adult: £. Child (7-14yrs): £. Under 7's free
tel: 01484 667776
website: www.classicshows.org
e-mail: [email protected]
31st August 2015
The 43rd Notts Classic Car, Bike & Mini Show
The Notts Classic Event will be a stunning gathering of over 600 classic vehicles assembled at Thoresby Park, as usual we expect an array of motorcycles including BSA's, Norton's and Triumph's of the British era to Honda and Kawasaki of the Japanese era. Classic cars will however take precedence with all the great names in British motoring represented including MG, Mini, Triumph and Jaguar etc.
venue: Thoresby Park, Ollerton, Notts NG22 9EP
price: Adult: £. Child (7-14yrs): £. Under 7's free
tel: 01484 667776
website: www.classicshows.org
e-mail: [email protected]
31st August 2015
Kent Chrome and Cruisers Custom
Custom / Classic bike and car show. Autojumble, Bill Haley tribute, stalls, trophies, food and bar, swap meet. Gates open 10am.
venue: Abbey school, Faversham, Kent, ME10 8RZ. Local Accommodation
price: £5. Kids under 16 free admission.
tel: 07903 339 466
facebook
facebook event
e-mail: [email protected]
..................................
THE BIKER GUIDE® are not responsible for any incorrect information or cancelled events. We include events which are sent to us via the on-line form.
All information was correct at time of being published. Please check details with the organisers.

To be included in these listing simply fill in the on-line form.

WARNING: If you do not send in this format your event may not be listed! We include information in text format as flyers are not picked up by search engines.

Biker Rallies, Bike rally, harley rally uk, motorbike rally, biker rally's, motorcycle rallies uk, bike rallies in the uk, super rally, portugal rally, biker nites uk, motorcycle rallies uk, motorcycle toy run uk,

www.thebikerguide.co.uk

, bike events and rallies uk, motorbike party, motorbike meets north west, nabd chelford, nabdness, NABDness, motorcycle rally guide, bike shows, motorcycle shows and events uk, motorcycle shows uk, ride safe events, toy runs, charity events motorcycle, biker rallies england, wales, scotland, ireland, *bikers welcome, 2015,