Biker Events 2018 | April
Biker Rallies, Ride-outs, Motorcycle Shows, Swap Meets, Rock nights, Charity runs, Toy Runs, Bike Meets, Biker Party, Bike Rally and more... Please check with organisers before you pack your tent!
For facebook and twitter links - if it is in green click it! For more top tips on how to use the website - Go Click!

KICKBACK | BOMB RUN | SWM & Mash Launch Party plus New Showroom Opening | from 6th April | from 13th April | from 21st April | from 27th April | Main 2018 | may | june | july | aug | sept | oct | nov | dec | list your event
BOMB RUN 2018 - 14th April - In aid of injured veterans with BRAVE, Bikers Respect All Veterans Equally
Motorbike Run in aid of injured veterans with BRAVE, Bikers Respect All Veterans Equally. Arranged and run by an injured Veteran.

Meet from 11am. Start at 1pm. Brews, Loos and social two min walk from start at the Woolpack Pub, can arrive there from 11am. Riding a scenic and fun route around the local area, about 55 miles.

Food, drink and entertainment at the end of the run and a lot of us will be camping the night after to socialise and have some fun. BRAVE Merchandise available at end. All monies passed to smaller specialist Vetran Chairties.

Cheap Camping available night before and night after. Contact Waldegraves Call 01206 675562 or [email protected] - to book your camping - State BRAVE

venue: Meet at Coggeshall Ind Estate, 9 Priors Way, Coggeshall, Essex, CO6 1TW. Woolpack Pub, CO6 1UB.
price: £10 suggested donation.
website: www.brave.support
facebook
facebook event
e-mail: [email protected]
.

Launch Party for SWM and Mash Motorycles, with great deals on bikes and accessories, massive discounts from the workshop on services and 20% Off all Tyre prices.

Mega Raffle with the top prize of a BRAND NEW bike as well as prizes from R&G, LiquiMoly, McAMS and Mutt with ALL proceeds going to the Dorset DocBike Charity.

The return of the SEGA Manx TT Arcade Game with prices for the fastest lap and awesome BBQ Food from Dozzers Smoker and Grill.

venue: Bournemouth Bikes Ltd., Units 16-18 West Howe Industrial Estate, Elliott Road, Bournemouth, Dorset, BH11 8JU. Open from 10am to 5pm
price: Free event
tel: 01202 576 648
website: www.bournemouthbikes.com
facebook
facebook event
twitter
e-mail: [email protected]
1st April 2018
Glasgow Children's Hospital Charity Easter Egg Run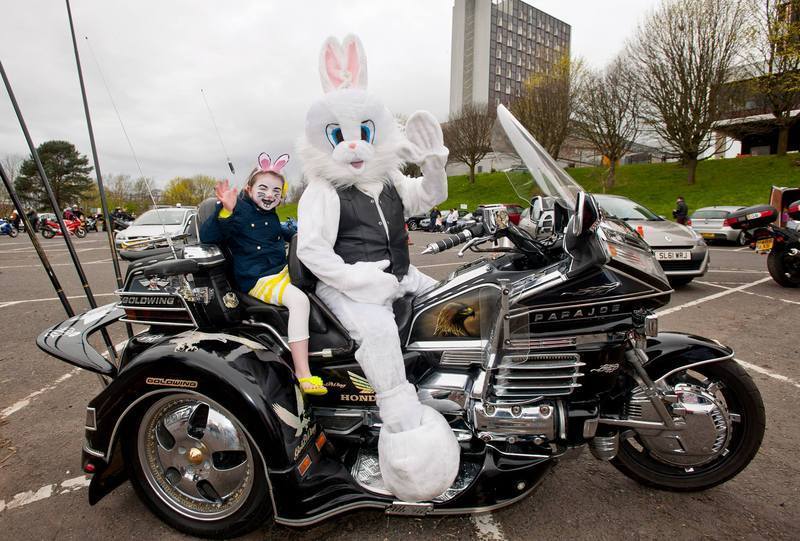 The annual Motorcycle Run in aid of Glasgow Children's Hospital Charity (formally Yorkhill Children's Charity). One of Scotland's largest motorcycle runs as thousands of motorbikes, trikes and scooters parade through the streets of Glasgow to help raise funds.
The route takes in the city centre and west end, including the traditional, spectacular ride-out along Great Western Road, before finishing at Royal Hospital for Children, Glasgow to ring a smile to the face of the children, entertainment, stalls, games and family fun.
venue: Bikers are invited to assemble at the Greendyke Street, Glasgow Green, G1 5DB from 10am, leaving at 11am and finishing at the Ogilvie Car Park opposite the Royal Hospital for Children.
price: We would encourage bikers to make a donation rather than bring eggs - the hospital is inundated with treats that most of the children cannot enjoy due to special diets or being 'nil by mouth'. Suggested donation of £10 per bike. Spectators free of charge.
tel: 0141 201 6917
website
facebook
facebook event
e-mail: [email protected]
1st April 2018
Reading MAG Easter Bike Show
All bikes, trikes, scooters welcome. Evening party includes bands music till late and camping, £5.
venue: Reading Abbey Rugby Club, Peppard Road, Emmer Green, Reading, Berkshire, RG4 8XB
price: £3. Children under 16 free.
facebook
facebook event


6th April 2018
Bike Night - Jacks Hill Cafe
All styles of bikes welcome. Cafe & bar open from 6pm. Food served to 8.30pm and a bar with alcohol and soft drinks until 11pm. Bike Nights held the 1st Friday of every month.
venue: Jacks Hill Cafe, A5 Watling Street, Towcester, Northants, NN12 8ET
price: free
tel: 01327 351350
website: www.jackshillcafe.co.uk
facebook
e-mail: [email protected]

6th April 2018
Security Night
An evening of information, news and advice on motorcycle security. Motorcycle Action Group are partnering with West Midlands Police and Streetbike to give you the opportunity to ask questions of the Police and their work, find out about what MAG is working on in this area, and get significant discounts on security devices.
venue: Streetbike, 91-107 Dudley Road, Halesowen, West Midlands, B63 3NS
price: Free
facebook
facebook event
e-mail: [email protected]uk.org
7th - 8th April 2018
KICKBACK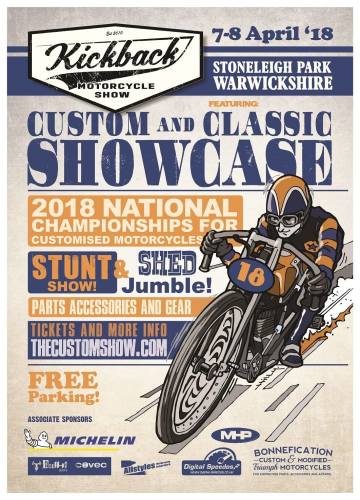 An invitational showcase featuring a comprehensive display of the most exquisite, classics, beautifully engineered customs, rare vintage race bikes and stunning specials. Trade stands. Also hosting the 2018 National Championship of Custom Bike Building, plus professional stunt show and Shed Jumble.
venue: Stoneleigh Park, Warwickshire, Birmingham, CV8 2LZ. Local accommodation
price: Pre-book: £9.50. OTD: £12. Children under 16: Pre-book; £2. OTD: £3. Under 5's free. All tickets are valid for the whole weekend. Free car and bike parking.
tel: 07758 368 072
website: www.thecustomshow.com
facebook
facebook event
twitter
e-mail: [email protected] p
8th April 2018
British & Classic Bike Day + BSA Special
venue: Ace Cafe, Ace Corner, North Circular Road, Stonebridge, London, NW10 7UD
price: free
tel: 020 8961 1000
website: london.acecafe.com
facebook
e-mail: [email protected]
8th April 2018
Malvern Festival of Transport
400 privately owned and club vehicles on display. Full concours overseen by leading commentator Les Clayton, trade and autojumble stalls and quality food and drink options. The event is located inside the Wye Hall and Avon Halls and on the surrounding hardstanding and grass.
venue: Three Counties Showground, Malvern, Worcs, WR13 6NW. 10am - 3pm. Local accommodation
price: Adult: £9. Child (7-14yrs): £3. Under 7's Free
tel: 01484 667 776
website: www.classicshows.org
facebook
facebook event
e-mail: [email protected]
8th April 2018
Normous Newark Autojumble
venue: The Showground, Drove Lane, Winthorpe, Newark, Nottinghamshire, NG24 2NY
price: Early bird (before 8am) £10 – Standard admission (After 10am) £7 – under 12s free. Free parking.
tel: 01507 529435 - 07887 051652
website: www.newarkautojumble.co.uk
facebook
twitter
e-mail: [email protected]
8th April 2018
Motorbike Awareness Day
Come and have a chat with Carmarthenshire's Road Safety Unit, Dyfed Powys Police, Mid and West Wales Fire and Rescue Service, RoADAR, IAM, MAG and Blood Bikes Wales. Enhanced Rider Scheme Taster session available and you can also pick up a CRASH Card.
venue: Owl's Nest Tea Room Diner, Lower Road, Llandovery, Carmarthenshire, SA20 0DJ. 11:00 – 15:00. Local Accommodation
price: free event
website
facebook
facebook event
e-mail: [email protected]
14th - 15th April 2018
Prescott Bike (plus EV) Festival - Now two days! Two Amazing Days - One Winning Weekend.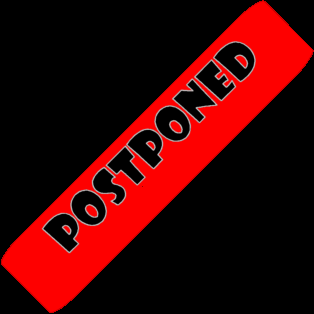 Prescott Bike Festival due to take place at Prescott Hillclimb, Cheltenham on the weekend of 14-15 April has been postponed due to adverse ground conditions. New dates - Saturday 16th – Sunday 17th June 2018
..................................
Please note - Events only confirmed with 2018 included
THE BIKER GUIDE® are not responsible for any incorrect information or cancelled events. We include events which are sent to us via the on-line form.
All information was correct at time of being published. Please check details with the organisers.

To be included in these listing simply fill in the on-line form.

WARNING: If you do not send in this format your event may not be listed! We include information in text format as flyers are not picked up by search engines.

Biker Rallies, Bike rally, harley rally uk, motorbike rally guide, biker rally's, motorcycle rallies uk, bike rallies in the uk, super rally, portugal rally, biker nites uk, motorcycle rallies uk, motorcycle toy run uk,

www.thebikerguide.co.uk

, bike events and rallies uk, motorbike party, motorbike meets north west, nabd 2015, april, may 2015, chelford, nabdness, NABD 21, motorcycle rally guide, bike shows, motorcycle shows and events uk, motorcycle shows uk, ride safe events, toy runs, charity events motorcycle, biker rallies england, wales, scotland, ireland, *