Biker Events 2020 | October
Motorcycle events, Rallies, Ride-outs, Motorcycle Shows, Swap Meets, Rock nights, Charity runs, Toy Runs, Bike Meets, Biker Parties, Bike Rallys and more... Please check before you pack your tent!
For facebook and twitter links - if it is in green click it!

This is the holding page for October - See main 2021 section for any events included for 2021
| from 4th October | from 11th October | from 18th October | from 25th October | Halloween events | nov | dec | Main 2020| list your event | Weekly Bike Meets | Main WHATS ON section |
There are a large amount of events cancelled due to the Covid-19 pandemic. Please check the event before travel.

October 2020
25th October 2020
All Day Rat, Brat, Bobbers, Choppers (& Rat Rods)

venue: Ace Cafe, Ace Corner, North Circular Road, Stonebridge, London, NW10 7UD
tel: 020 8961 1000
website: london.acecafe.com
facebook
e-mail: [email protected]
25th October 2020
South of England Classic Bike Show & Jumble
Large indoor motorcycle only show for pre-1980 motorcycles with Club Stands and hundreds of machines on display. Large indoor and outdoor Bikejumble with new and used spares, bikes, clothing & accessories for sale. Free BikeMart display-to-sell area for private vendors. The Royal British Legion will be providing a Helmet Park in aid of the RBL. Great range of catering (previous events featured local free-range Hog roast, fantastic Italian smokerie, a bakers stall, toasty sandwiches and Real Coffee in addition to standard burgers). Well-behaved dogs on leads welcome.
venue: South of England Showground, Ardingly, West Sussex, RH17 6TL (Eight miles from M23 junction 10, sign-posted SOE / Wakehurst Place) Free parking, including disabled parking facilities and priority disabled access scheme so you don't have to queue!
price: OTG: £6 adults, £5 65+ over, kids under 16 free. Cheap garage clear-out stalls available – just £10, contact to pre-book. If you'd like to enter your pre-1980 classic into the Show and can do so before 1st October, then you'll be sent a pass which will let you in for absolutely nothing.
tel: 01797 344277
website: www.elk-promotions.co.uk
facebook
facebook event
e-mail: [email protected]
8th – 11th October 2020 - CANCELLED
Original Cruisers Halloween Extravaganza
With Rock bands, Rock DJ, lots of trade stalls, charity raffle for the Northwest Air Ambulance, last man standing bars, all you can eat brekies and dinners, happy hours and a swimming pool!
venue: Pontins, Coastal Road, Ainsdale, Southport, Lancashire, North West, PR8 2PZ
price: Pre-book: £18. Chalets from £30 pp (must be pre-booked.
tel: Charlie: 07732 696 438
website:
facebook
facebook event
e-mail: [email protected]
st - nd November 2020 - CANCELLED
Unwanted MCC's Halloween weekend
Two bands on over the weekend. Booze Brothers Rock Disco, food, fancy dress, fireworks, late bar, disabled access and proper loos. Free camping. MAG, NABD and BMF Affliated.
venue: The Rockbar, Shobnall Social Club, Shobnall Road, Burton on Trent, Staffordshire, DE14 2BB
price: Pre-book: £10. OTG: £13
tel: Tango 07761 931 226 | Ruth 07988 521 400
website: www.unwantedmcc.co.uk
facebook
facebook event
e-mail: [email protected]
31st October 2020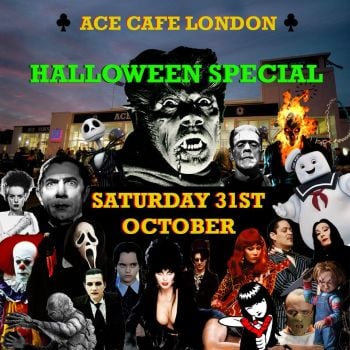 Halloween Special


Attention all of you vampires! All you werewolves! All the Harley-riding witches, undead boy racers and hot-rodding zombies! 👻
It's the Halloween All-American Cruise-In and Oldsmobile Special. From 4pm for a safe, socially-distanced spookfest and Rhythm 'n' Cruise record hop with our own demon of the decks, DJ Bill Guntrip in our outside gazebo! 💃🎶 Also cooking up a one-off menu with some really frightful specials...🍗🔥 And have some horrifically splendid prizes for those in the best costumes, including best dressed vehicles! 🏎️
We will be closing promptly at 9:45pm - so get down to the Ace in your best cape and fangs! 💀
venue: Ace Cafe, Ace Corner, North Circular Road, Stonebridge, London, NW10 7UD
tel: 020 8961 1000
website: london.acecafe.com
facebook
e-mail: [email protected]
* Please note - only events with 2020 included are confirmed
Main 2020 - Click to be redirected
23rd October 2021
Staffordshire Triumph Double Birthday Bash!
Celebrating 20 years of Triumph and 30 years of BS Bikes / Staffordshire Triumph with a big party on-site and you're invited🎉
We want to thank you all for supporting us and being part of our family, so lets do what we do best... SHOW OFF OUR BIKES AND PARTY!
ON THE DAY: Complimentary Hog Roast / Food & Refreshments. Open work shop. Charity stand and raffle. Anniversary 'Triple Tipple' Bottled Ales (18+) and stickers available.
Charity Raffles include: *A Brand New Triumph Trident 660 *Triumph Adventure Centre Tickets *BSB Tickets and many more...
venue: 525 High Street, Staffordshire, ST6 5PB
price: Raffle tickets are £5 each or 3 for £10, available instore. 100% of ticket sales will go to the Midlands Air Ambulance.
tel: 01782 813866
website: www.staffordshiretriumph.co.uk
facebook
facebook event
e-mail: [email protected]
22nd - 24th October 2021
Kindred Spirit Rally - The event is now fully booked
200 limit Disco Live Music, good catering, stalls. Great coastal village location.
venue: Staithes Athletic Club, Staithes, North Yorkshire, TS13 5AY
price: £15
tel: 07533 204 101
e-mail: [email protected]
23rd - 24th October 2021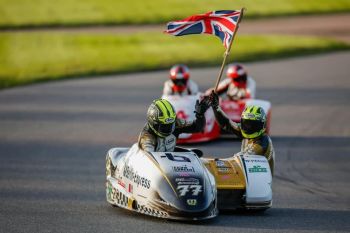 Lord of Lydden - Sidecar Burn Up
Lord of Lydden - Sidecar Burn Up is a weekend race meeting first held in 1966. Over the weekend during the day there are races for many classes of solo bikes and sidecars. The fastest go through to Sunday afternoons finals to decide the new Lord and Sidecar champions.
With a fully stocked bar and tasty food during the day, classic bikes and ex-Lords to chat with and live entertainment in the evening its an event not to be missed. Camping available.
venue: Lydden Hill Race Circuit, Wootton, Canterbury, Kent, CT4 6RX
price: See the website
tel: 01304 830 557
website: www.lyddenhill.co.uk
facebook
facebook event
twitter
e-mail: [email protected]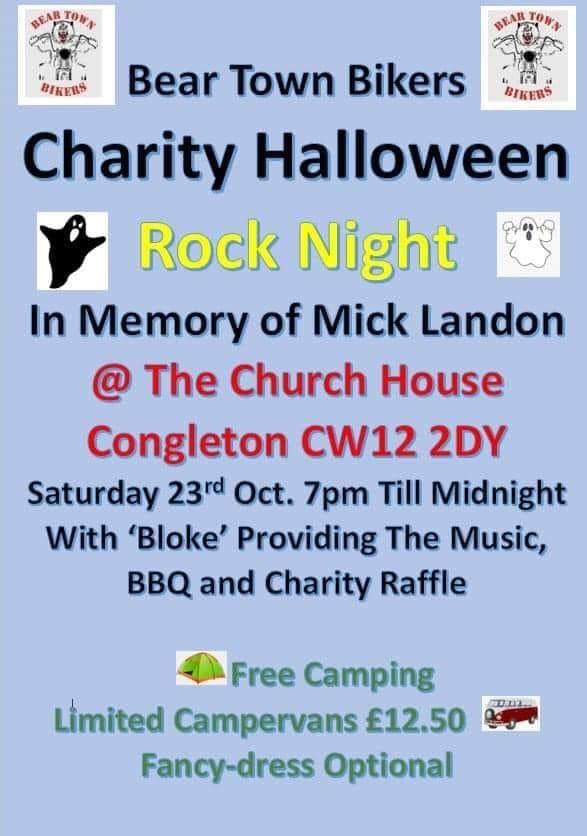 THE BIKER GUIDE® are not responsible for any incorrect information or cancelled events. We include events which are sent to us via the on-line form.
All information was correct at time of being published. Please check details with the organisers.

To be included in these listing simply fill in the on-line form.

WARNING: If you do not send in this format your event may not be listed! We include information in the first instance in text format as flyers are not picked up by search engines. To include a flyer simply choose the premium listing.

"We want to be free! We want to be free to do what we want to do! We want to be free to ride. And we want to be free to ride our machines without being hassled by the man."

Biker Rallies, Bike rally, harley rally uk 2015, motorbike rally guide, biker rally's, motorcycle rallies uk, bike rallies 2015 uk, super rally, portugal rally, biker nites uk, motorcycle rallies uk, motorcycle toy run 20145uk, www.thebikerguide.co.uk, bike events and rallies uk, motorbike party, motorbike meets north west, nabd may, nabdness, NABDness, Harley-Davidson International Rally, motorcycle rally guide, bike shows, motorcycle shows and events uk, motorcycle shows 2015 uk, ride safe events, toy runs, charity events motorcycle, biker rallies england, wales, scotland, ireland, bikers are welcome,