Biker Events 2022 | June
Biker Rallies, Ride-outs, Motorcycle Shows, Swap Meets, Rock nights, Charity runs, Toy Runs, Bike Meets, Biker Party, Bike Rally and more... Please check with organisers before you pack your tent! |

july | aug | sept | oct | nov | dec | main 2022 | list your event
Barring the Zombie Apocalypse, we're (definitely) running Bike Fest on June 26th 2022 and we're rolling back to better days.

Back to a one day event with lots of Motorbikes running the hill (your own and our invited special stuff) and loads of bikes to look at and talk about over a beer, coffee and some decent food.

Bikes, bikes and more bikes... marvellous!

As you know, Bike Fest and your support play a huge part in topping up the Blood Bikes coffers and believe us when we say they need it more than ever.

venue: Prescott Hill Climb, Gotherington, Cheltenham, Gloucestershire, GL52 9RD
price: Pre-book: from £15. OTG: from £20. Run the Hill (advance tickets only) from £39.
Sunday day tickets from £15 in advance. On the Day tickets available. Under 16's go free
tel: 01285 405429
website: www.prescottbikefestival.co.uk
facebook
facebook event
twitter
e-mail: [email protected]
2nd June 2022
Margate Meltdown Run
The Margate Meltdown is the most recently established of Ace Cafe London's, major annual ride-outs. The ride-out from the cafe to this popular seaside resort in Kent is held each year on occasion of the annual Spring Bank Holiday. Working closely with our chosen charity for the event, the Royal British Legion Riders Branch, the town and Thanet District Council, Margate not only has everything that a great ride-out requires, it has a great beach and plenty of heritage to include a legacy from the 1960's that is of world renown relating to motorbikes, scooters and the Mods & Rockers that rode them.
Depart Cafe: 10.30am Route: A406 - A13 - M25 - A2 - M2 - A299 to Margate Seafront
venue: Ace Cafe, Ace Corner, North Circular Road, Stonebridge, London, NW10 7UD
price: free
tel: 020 8961 1000
website: london.acecafe.com
facebook
facebook event
e-mail: [email protected]
3rd June 2022
OVERLORD Military Spectacular
With hundreds of military vehicles and reenactors from the Great War all the way through to modern day, accompanied by militaria traders from all over the country, it is a great day out for vehicle enthusiasts and history buffs alike. A great selection of food stands and our onsite beer tent mean you can easily spend the whole day to enjoy the hopefully sunny weather, arena events and professionally re-enacted battles.
Military bikes welcome as display.
venue: The Lawns, Forest Road, Denmead, Hampshire, PO7 6HS
price: £13 adult, £8 child (5-15 years), Family (2 adults, up to 3 children) £35. Concessions (Over 60's, Disabled/Caregivers): £10. Active HM Armed Forces* and Veterans**: £10. Armed Forces Family*** (2+4): £30.
tel: 07768 170 445
website: www.overlordshow.co.uk
facebook
facebook event
e-mail: [email protected]
4th June 2022
B - fest
Special Wueen's jubilee celebration, vintage & classic bikes on display, bands and food & beer festival.
venue: The Old Railway Station, Church Road, Stamford Bridge, York, East Riding of Yorkshire, YO41 1DG
price:
tel: 07718 420630
website:
facebook
facebook event
e-mail: [email protected]
5th June 2022
Queens Jubilee Lark in the Park
Loads of events including a portion to display motorcycles. There is a trophy for the best in show.
The best in show will be judges by Wayne Watson who is paralysed after a bike accident. It would be great to get alot of riders to attend, as bikes is still his passion.
If you wish to take part in the show, contact Andy Neal as below.
venue: Mildenhall Jubilee Playing Field, Mildenhall, Suffolk, IP28 7HG
price: free entry
tel: 07884 493 292
website: n/a
facebook n/a
e-mail: [email protected]
5th June 2022
Haynes Breakfast Club
Calling all motoring enthusiasts! On the first Sunday of each month* we are running a breakfast club open to all marques. As well as meeting other vehicle owners, participants can chat over a coffee and a hearty breakfast (from a full English to a bacon roll) in Cafe 750. The very popular Museum cafe will be open from 9am. Please do come and join us for a likeminded get-together.
These events are free to attend and are a real opportunity for vehicle owners to show off their prized possessions at the front of the prestigious Museum.
Future dates: 3rd July, 7th August, 4th September, 2nd October, 6th November, 4th December
venue: Haynes International Motor Museum, Castle Cary Road, Sparkford, Yeovil, Somerset, BA22 7LH
price: Entrance into the museum; Adult £14.50, Child £9.00, Concession £13.50, Family A (1 adult and 1 child) £21.50 and Family B (2 adults and 3 children) £48.50.
tel: 01963 440 804
website: www.himm.co.uk
facebook
facebook event
twitter
e-mail: [email protected]
16th - 19th June 2022
Barnstormer Rally
3 nights camping with Late Bar & Disco with live bands Fri & Sat. Excellent catering unit in attendance throughout.
Variety of stalls inc tattooist, Bike Show & Other Awards & much more...
venue: Catto Farm, High Lane, Northallerton, North Yorkshire, DL6 3FT
price: Pre-book: £15. OTG: £20. Price includes entry ticket raffle. Young people under 16 yrs free.. All 4 + Wheeled Vehicals £10. Patches/Yr Bars available.
tel: Biff 07533 204 101 JuJu 01642 289 153 Mark 07928 428 322
facebook
e-mail: [email protected]
16th - 19th June 2022
Race the Waves & Steampunk Weekend
The unique to the UK: Vintage Style Beach Racing on Bridlington South Beach & Steampunk Emporium in The Royal Hall of Brid' Spa.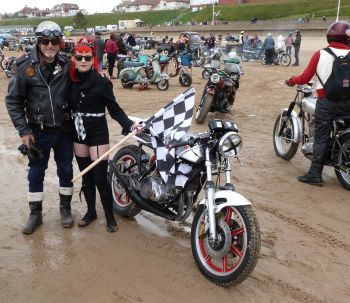 venue: Bridlington Promenade, South Marine Drive, Bridlington, East Riding of Yorkshire, YO15 3JH
price: Free for attending public.
tel: 07718 420 630
website: www.backfirepromotions.com
facebook
facebook event
e-mail: [email protected]
18th - 19th June 2022
Motorfest
One of the UK's biggest all-action family events, Motorfest 2022 is not one to be missed... You'll be amazed from the moment you step into this action-packed event. From adventurous monster truck rides to the opportunity to take to the skies in a helicopter ride, there's so much to see, and do!
Check out the main arena to see monster trucks having a tug of war, the thrills of two wheel magicians on motorcycles and awesome motoring displays. There's something for everyone, all day long!! Kids will love our inflatable village and full size funfair at this years Motorfest! Bounce all day for free, play on the dodgems, or check out the amazing Wall of Death.

That's just a taste of what we have to offer at this years show! You can relax and take in the shopping village and once you've built up an appetite, head over to one of our locally-based artisan street food and drink vendors. Fancy a little rest after all that excitement? Take in the chilled vibes and soak up the sun whilst listening to live music on stage.
venue: Kings Farm, Margaretting Road, Writtle, Chelmsford, Essex, CM1 3PJ
price: see website
website: www.motorshowevents.com
facebook
facebook event
e-mail: [email protected]
19th June 2022
The Banbury Run
Now in its 72nd year, it is the largest gathering (500+) of pre-1931 motorcycles and 3-wheelers in the world. Visitors will be able to see the motorcycles start and finish at the British Motor Museum at Gaydon.
The Banbury Run is aimed at those who enjoy the thrill of riding with other Vintage, Veteran and Pioneer bikes. In addition to the Run, there will also be Club and Trade Stands, 100 Autojumble pitches and special interest displays within the Museum grounds. Camping is also available on the Saturday and Sunday night.
The museum will be open from 9am to 5pm with the Banbury Run beginning at 10am. Riders will start at five per minute.
venue: British Motor Museum, Banbury Road, Gaydon, CV35 0BJ
price: See the museum website below
tel: 01283 540 557
website: www.britishmotormuseum.co.uk - www.banbury-run.co.uk
facebook
e-mail: [email protected]
19th June 2022
Globe MCC Father's Day Bike Show 2022
This year we're back to our usual Father's Day Sunday
18 categories with the winner of each receiving a trophy and a rosette. Food, stalls, music and the usual Sunday large car boot sale is on too.
Camping available from 6pm on the Saturday - check facebook for prices.
All proceeds to be given to the RNLI - Royal National Lifeboat Institution.
venue: Great Harwood Showground, Whalley Rd, Great Harwood, Blackburn, Lancashire, BB6 7TD. 10:15 to 16:00.
price: £2 to enter your bike, trike or scooter into the show.
tel: 07853 983 220
facebook
facebook event
e-mail: [email protected]
23rd - 26th June 2022
Goodwood Festival of Speed
venue: Goodwood Estate, Chichester, West Sussex, PO18 0PX. Local Accommodation
website: www.goodwood.com
facebook
facebook event
24th - 26th June 2022
Summer Solstice Rock Fest Rally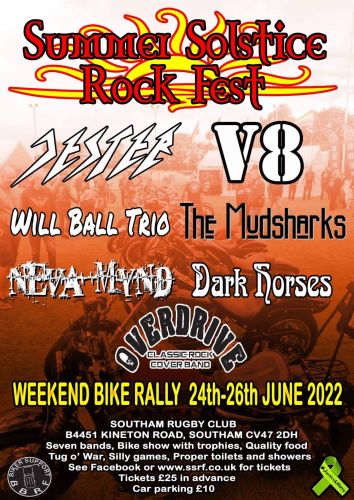 Fri: The Will Ball Trio, Jester. ​
Sat: Overdrive, Dark Horses, The Mudsharks (Led Zep tribute), Nevamyd, V8. That is seven bands over over the weekend!
Plus DJ's playing a mix of metal, rock and blues from the last five decades.

Bike show with trophies. Tug of war competition. Silly games with free drinks involved. Proper flushing toilets! Showers. Quality food available all weekend.
All profits and parking fees split between Justice 4 Harry and British Bikers Relief Foundation - Registered Charity Number 1161587. For more updates check the website.
venue: Southam Rugby Club, B4451 Kineton Road, Southam, Warwickshire, CV47 2DH. Gates open 12 on Friday. 24 hour secure site.
price: Tickets £25 available from www.ssrf.co.uk. First 50 tickets get a free patch. Buy 10 tickets, get one free. Car parking £10 per vehicle. (Limited space available). Blue badge holders free. No fires, no pets, no caravans. (trikes with teardrop trailers are ok). Campervans only allowed at Organisers discretion. Please contact prior to arriving in a campervan or you may be refused entry.
tel: 07968 644 159
website: www.ssrf.co.uk
facebook
facebook event
e-mail: [email protected] p
26th June 2022
Prescott Bike Festival
Barring the Zombie Apocalypse, we're (definitely) running Bike Fest on June 26th 2022 and we're rolling back to better days.

Back to a one day event with lots of Motorbikes running the hill (your own and our invited special stuff) and loads of bikes to look at and talk about over a beer, coffee and some decent food.

Bikes, bikes and more bikes... marvellous!
As you know, Bike Fest and your support play a huge part in topping up the Blood Bikes coffers and believe us when we say they need it more than ever.
venue: Prescott Hill Climb, Gotherington, Cheltenham, Gloucestershire, GL52 9RD
price: Pre-book: from £15. OTG: from £20. Run the Hill (advance tickets only) from £39.
Sunday day tickets from £15 in advance. On the Day tickets available. Under 16's go free
tel: 01285 405429
website: www.prescottbikefestival.co.uk
facebook
facebook event
twitter
e-mail: [email protected]
24th - 26th June 2022
Adventure Bike Rider 2022
The Adventure Bike Rider Festival is the UK's greatest celebration of adventure biking. Join thousands of like-minded riders for three days of non-stop adventure biking action.
Set in the magnificent grounds of the Ragley Hall Estate, enjoy live music, meet biking celebrities, ride the 20km AX41 Adventure Trail and see the latest adventure and touring bikes. Plus, much more.
Whether you're looking for inspiration and advice for your next motorcycle adventure, or you simply want to enjoy a weekend of biking fun with a great bunch of people, don't miss the 2022 Adventure Bike Rider Festival.
venue: Ragley Hall, Park & Gardens, Ragley Hall, Alcester, Warwickshire, B49 5NJ
price: Weekend Ticket (Discount) – £114, save £15. OTG - On the Gate price: £229.99.
Day Ticket (Friday & Saturday) - £75. On-site Trail Access - £15. Thursday Night VIP Party - £59. Car/Van/Camper supplement - £29
tel: 01789 450 000
website: www.abrfestival.com
facebook
facebook event
e-mail: [email protected]
26th June 2022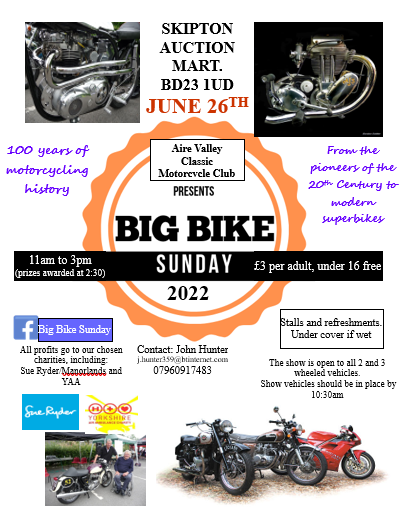 Big Bike Sunday
Show for all 2 and 3 wheeled vehicles, from autocycles to monster trikes, classics to brand new. The show is run by the Aire Valley Classic Motorcycle Club (formerly the Girder Fork and Classic MC).
All proceeds to charity. Stalls, cafe on site. Under cover if wet.
venue: Skipton Auction Mart, Gargrave Road, Skipton, North Yorkshire, BD23 1UD
price: £3 per adult, accompanied children free.
tel: 07960 917 483
facebook
facebook event
e-mail: [email protected]
July | August | September

October | November | December
For facebook and twitter links - if it is in green click it! For more top tips - Go Click |

..................................

THE BIKER GUIDE® are not responsible for any incorrect information or cancelled events. We include events which are sent to us via the on-line form.
All information was correct at time of being published. Please check details with the organisers.

To be included in these listing simply fill in the on-line form.

WARNING: If you do not send in this format your event may not be listed! We include information in the first instance in text format as flyers are not picked up by search engines. To include a flyer simply choose the premium listing.

"We want to be free! We want to be free to do what we want to do! We want to be free to ride. And we want to be free to ride our machines without being hassled by the man."

Biker Rallies, Bike rally, harley rally uk 2016, motorbike rally guide, biker rally's 2016, motorcycle rallies 20156uk, bike rallies 2016 in the uk, super rally, portugal rally, biker nites uk, motorcycle rallies uk,

www.thebikerguide.co.uk

, classicshows, bike events and rallies uk, motorbike party, motorbike meets north west, motorcycle rally guide, bike shows, motorcycle shows and events uk, motorcycle shows 2016 uk, ride safe events, toy runs, charity events motorcycle, biker rallies england, wales, scotland, ireland, * 2016,