Biker Friendly Meeting Places | Shropshire
Here follows a list of regular Motorcycle meets, hangouts and general gatherings throughout the area. If there is any we have missed please forward them for inclusion... Photos always welcome! Main Meeting Places section
Dale End Cafe, Dale Road, Coalbrookdale, Telford, Shropshire, TF8 7DS. Open daily.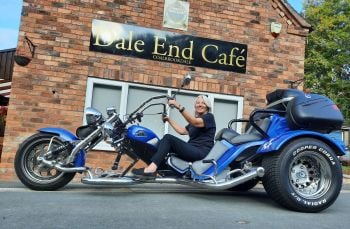 Dinkys Dinah
, Welshpool Road, Ford, Shrewsbury, Shropshire, SY5 9LG. Open daily.
Fast Trak Rider Training - Diner, 14 Yeomanry Road, Shrewsbury, Shropshire, SY1 3EH. A training and touring company with 25+ years experience. The Diner is open 8am until 2pm, Mon - Sat.
Jena Pit Stop
, Chester Road, Tern Hill, Market Drayton, Shropshire, TF9 3QD. A lady Biker owner, with fab food and free tea and coffee for Bikers. Open 8am - 1pm, Monday to Friday.
Kirsty's Cafe
, New St, Bishops Castle, Shropshire, SY9 5DQ. Open Monday - Friday 8.30 -3.
MA Baker's Cafe/Bar, Heath Road, Prees Heath, Whitchurch, Shropshire, SY13 3JT. Plenty of parking and ease of access. Open Monday/Weds, 8.30-3pm. Closed Tuesday. Thursday 8.30-8.30pm+. Friday/Sat/Sun 8.30-5pm. Bike night Thursday.
Shropshire Hills Discovery Centre
, School Road, Craven Arms, Shropshire, SY7 9RS. Open 7 days a week 10am - 5pm. Award winning café
serving
a delicious selection of home-cooked dishes, freshly prepared sandwiches, home-baked cakes and frothy coffees. Indoor and outdoor seating available. Free entry to this great visitor centre with its grass roof, the only admission charge applies to see the Shropshire mammoth in the exhibition.
The Food Stop Cafe
, A442 Quatford, near Bridgnorth, Shropshire, WV15 6QJ. Open daily.
Recommended by Karl Freeman: "Great food and drink at reasonable prices. Cheerful staff of which Karen (the owner I think) is the most cheerful and cheeky too. Always makes you welcome with a smile.
Summer weekends are always full, so park sensibly."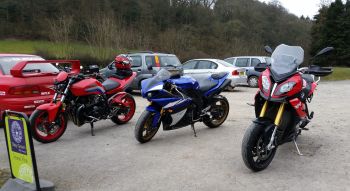 The Malt Shovel Inn
, Woodhill Road, Highley, Bridgnorth, Shropshire, WV16 6HT. Regular live music nights and bikers are always welcome at the pub. Large car park, no frills camping field March to Oct, regular events and summer music festival. American style Grills menu, Sunday Carvery and bar snacks.
The Old Cart Shed Cafe
, Wrekin Spirit Distillery, Sydney House Farm, Kynnersley, Telford, Shropshire, TF6 6EB. Cafe open Saturday & Sunday 10-3pm.
The Raven Cafe
, Junction A41/149 Preesheath, Whitchurch, Shropshire, SY13 2AF

* Please note, that the above list is mainly put together from visitor recommendations and is by no means a complete list of Meeting Places in the area stated. We encourage visitor feedback and recommendations, so if there is somewhere you have been and would like to
tell others about it
, then please do.
...
We strive to check listings at least yearly for any updates, closures or change of business. However, we would advise that before you head off to any of those listed for a specific visit that you check ahead - otherwise have a great ride!
...
Weekly Biker meeting place, Biker hangouts, where do Bikers meet, Biker cafes, Biker food, Motorcycle hang outs, Ace Cafe, Popular Biker places, Motorcycle cafe, motorcycle meet, bikers are welcome

, 21jul 16 - jul 17 - 19