Biker Friendly Meeting Places | Shropshire
Here follows a list of regular Motorcycle meets, hangouts and general gatherings throughout the area. If there is any we have missed please forward them for inclusion... Photos always welcome! Main Meeting Places section
Dale End Cafe, Dale Road, Coalbrookdale, Telford, Shropshire, TF8 7DS. Open daily.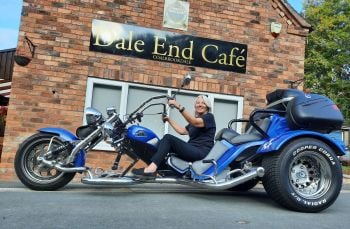 Dinkys Dinah
, Welshpool Road, Ford, Shrewsbury, Shropshire, SY5 9LG. Open daily.
Fast Trak Rider Training - Diner, 14 Yeomanry Road, Shrewsbury, Shropshire, SY1 3EH. A training and touring company with 25+ years experience. The Diner is open 8am until 2pm, Mon - Sat.
Haybridge Road Cafe, 87 Haybridge Road, Hadley, Telford, Shropshire, TF1 5JJ. Plenty of parking space. Open everyday, apart from Tuesday.
Kirsty's Cafe
, New St, Bishops Castle, Shropshire, SY9 5DQ. Open Monday - Friday 8.30 -3.
MA Baker's Cafe/Bar, Heath Road, Prees Heath, Whitchurch, Shropshire, SY13 3JT. Plenty of parking and ease of access. Open from 8.30am, closed Wednesday. Bike night Thursday.
Midway Truck Stop
, Prees Heath, Whitchurch, Shropshire, SY13 3JT
OK Diner
, Mile End Roundabout, Shrewsbury Road, Oswestry, Shropshire,
SY10 8NN
. Open daily, 9am-8pm.
The Food Stop Cafe
, A442 Quatford, near Bridgnorth, Shropshire, WV15 6QJ. Open daily.
Recommended by Karl Freeman: "Great food and drink at reasonable prices. Cheerful staff of which Karen (the owner I think) is the most cheerful and cheeky too. Always makes you welcome with a smile.
Summer weekends are always full, so park sensibly."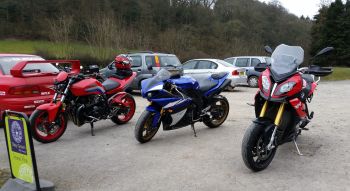 The Raven Cafe
, Junction A41/149 Preesheath, Whitchurch, Shropshire, SY13 2AF

* Please note, that the above list is mainly put together from visitor recommendations and is by no means a complete list of Meeting Places in the area stated. We encourage visitor feedback and recommendations, so if there is somewhere you have been and would like to
tell others about it
, then please do.
...
We strive to check listings at least yearly for any updates, closures or change of business. However, we would advise that before you head off to any of those listed for a specific visit that you check ahead - otherwise have a great ride!
...
Weekly Biker meeting place, Biker hangouts, where do Bikers meet, Biker cafes, Biker food, Motorcycle hang outs, Ace Cafe, Popular Biker places, Motorcycle cafe, motorcycle meet, bikers are welcome

, 21jul 16 - jul 17 - 19 22