Biker Friendly Meeting Places | Worcestershire
Here follows a list of regular Motorcycle meets, hangouts and general gatherings throughout the area. If there is any we have missed please forward them for inclusion... Photos always welcome! Main Meeting Places section
A favourite with Bikers, for the quality food, great parking, outdoor seating and friendly, welcoming staff...

Breakfast menu, Pies, Burgers, daily specials, vegan range, Sunday lunch, great toasties, milkshakes, tea and quality coffee served.

Great reviews, including "Wonderful place. Fabulous breakfast. Good prices. Definitely on my come-again list." "Great food, lovely staff - We'll definitely be back."
"Lovely coffee good food friendly staff. Very clean." "Lovely Food, great portions and friendly service."

Bike Night Saturdays, 4pm till 8pm, live DJ, with loads of food and drink available. Free entry - See here

Open Wednesday/Thursday, 8.30am - 10pm, Friday 8.30am - 5pm, Saturday 8am - 5pm, Sunday 8am - 2pm, Monday 8.30am - 2pm. Tuesday closed. Last Saturday of the month, 8am - 10pm.

where: Unit 1, Cheltenham Road, Ashton Business Centre, Ashton under Hill, Worcestershire, WR11 7QP
tel: 01386 881 374
facebook
e-mail: [email protected]
Cally's Lounge, Unit 1, Cheltenham Road, Ashton Business Centre, Ashton under Hill, Worcestershire, WR11 7QP. Open Wednesday/Thursday, 8.30am - 10pm, Friday 8.30am - 5pm, Saturday 8am - 5pm, Sunday 8am - 2pm, Monday 8.30am - 2pm. Tuesday closed. Last Saturday of the month, 8am - 10pm. Special Bike Night Saturdays. As above.
Old Rose And Crown, Worcester Road, Stourport-on-Severn, Worcestershire. DY13 9PA. Bike night every Friday from 6pm, all year. Summer BBQ and weekly specials. Large flat gravel free car park.
The Anchor Inn, Caunsall Road, Caunsall, Kidderminster, Worcestershire, DY11 5YL. Popular with Bikers for many years, with a Bike Night on Wednesdays. A historic country pub with highly rated food, draft beer, real ales, fruit cider and a genuine welcome to all. c
The Fleece Inn, The Cross, Bretforton, Evesham, Worcestershire, WR11 7JE. Vintage/Classic bikes can park in the courtyard or orchard. Open daily from 11am.

The Ivy Inn, Arrow Lane, North Littleton, Evesham, Worcestershire, WR11 8EF. Large car Park and green out front. Open Tuesday 16:00 - 22:00 Wednesday - Sunday 12:00 - 11:00.
The Lock Inn, Wolverley Road, Kidderminster, Wolverley, Worcestershire, DY10 3RN
The Riverside Cafe, 87 Teme Street, Tenbury Wells, Worcestershire, WR15 8AE. Plenty of parking and benches outside by the river. Recommended by Matthew Aldridge: "Great location - next to the river, excellent food and great service. Free parking in the heart of Tenbury Wells. Genuinely nice and caring people whom couldn't do enough to make sure you were ok."
The Talbot at Knightwick, Bromyard Road, Knightwick, Worcestershire, WR6 5PH w

The Tea Set, 1 The Huntings, Church Close, Broadway, Honeybourne, Evesham, Worcestershire, WR11 7AH
Wildmoor Oak Country Pub and Dining, Top Road, Wildmoor, Bromsgrove, Worcestershire, B61 0RB. Open daily. Large car park. Bike Night Tuesday.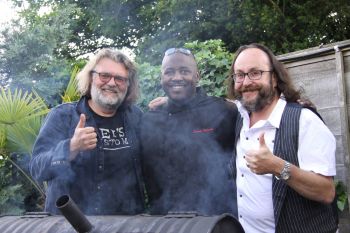 * Please note, that the above list is mainly put together from visitor recommendations and is by no means a complete list of Meeting Places in the areas stated. We encourage visitor feedback and recommendations, so if there is somewhere you have been and would like to
tell others about it
, then please do.
...
We strive to check listings at least yearly for any updates, closures or change of business. However, we would advise that before you head off to any of those listed for a specific visit that you check ahead - otherwise have a great ride!
...
Weekly Biker meeting place, Biker hangouts, where do Bikers meet, Biker cafes, Biker food, Motorcycle hang outs, Ace Cafe, Popular Biker places, Motorcycle cafe, motorcycle meet,

21 jul 16 - jul 17 -+ nov 18