Biker Friendly Meeting Places | Suffolk
Here follows a list of regular Motorcycle meets, hangouts and general gatherings throughout the area. If there is any we have missed please forward them for inclusion... Photos always welcome! Main Meeting Places section
Café 33, Bury Road, Stradishall, Newmarket, Suffolk, CB8 9XX. Open daily from 7:30 to 15:00.
Deben Cafe Bar on HMS Vale, Dock Lane, Melton Boatyard, Melton, Woodbridge, Suffolk, IP12 1PE. Open 9am to 5pm. Thursday - Monday (closed Tues, Wed).
Signs say 'No parking on the boatyard except with prior permission from boatyard'. The boatyard owner is very biker friendly and gives permission for all motorbikes to come on to his yard. If you see him give him a friendly wave. Instructions: Stop at railway gates. Wait for green light. Open gates. Cross. Close gates. Turn right through line of boats until you get to boat residents carpark. You will see the ship. Park bikes thoughtfully. Walk over river wall to ship.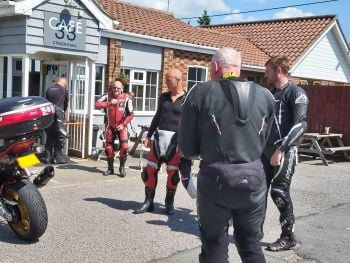 Krazy Horse Cafe
, Empire House, Lamdin Road, Lark Valley Business Park, Bury St Edmunds, Suffolk, IP33 6NU. A great
motorcycle shop
with a spacious showroom and a
café
, that specialises in bringing an alternative view to the motorcycle world. Also a collection of custom bikes, workshop, clothing and parts departments. Their aim is to offer all customers a memorable and stimulating experience. A popular Bike night, 1st Thursday of every month, April - Oct, 6 - 10pm.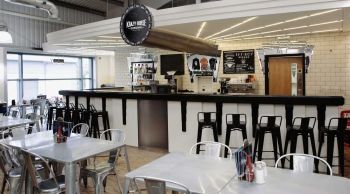 The Limeburners, Ipswich Road, Willisham, Offton, Ipswich, Suffolk, IP8 4SF. Bike night, first Wednesday of the month, all year. Open daily - Mon - Thurs 4.30pm - 11pm, Fri - Sun 12pm - 11pm. Fish and Chip shop adjacent and a 30 seater restaurant.
TTT Motorcycle Village, Unit 6 Brundon Lane, Sudbury, Suffolk, CO10 7HJ. Monday Nights late night, regular outside events, live music. Showroom with new and used bikes, workshop, Gear, Dyno and Cafe. Open Monday 8.30 till late. Monday to Saturday 8.30 to 17.00. Sundays 10 to 16.00.

* Please note, that the above list is mainly put together from visitor recommendations and is by no means a complete list of Meeting Places in the area stated. We encourage visitor feedback and recommendations, so if there is somewhere you have been and would like to
tell others about it
, then please do.
...
We strive to check listings at least yearly for any updates, closures or change of business. However, we would advise that before you head off to any of those listed for a specific visit that you check ahead - otherwise have a great ride!
...
Weekly Biker meeting place, Biker hangouts, where do Bikers meet, Biker cafes, Biker food, Motorcycle hang outs, Ace Cafe, Popular Biker places, Motorcycle cafe, motorcycle meet, bikers welcome,

13th July 2016 - jul 17 +18 19 - 22