Biker Friendly Meeting Places | Lincolnshire
Situated in the quiet rural Lincolnshire village of Corby Glen, between the towns of Stamford, Bourne and Grantham.
Outdoor seating at the front and also in the secret garden, where you can enjoy various breakfast rolls, sandwiches, afternoon tea, home-made sausage rolls and amazing cakes. Open daily, 9am - 3pm.

Great reviews including "The customer service is fantastic, the ladies who were working when we turned up were just awesome. They had a big range of cakes, the coffee was ace and it's in a really nice place with great roads all around."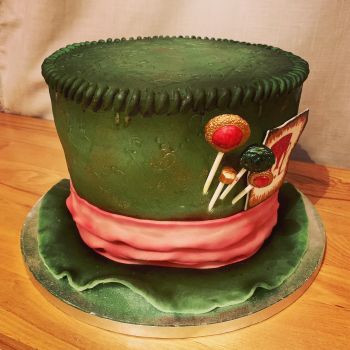 "Always friendly. Good simple food and great cakes. Popular for cyclists and motorcyclists. Its been a little oasis during the covid era!"
Ideally located for a stop off North to South as just off the A1 and for visiting Spalding, Melton Mowbray, Grimsthorpe Castle Park & Gardens and 30 miles to the East of England Showground in Peterborough.
Stay over in the apartment above, with three rooms, lounge, kitchen and large bathroom.
Parking is just outside the building in the village Market square.
where: 6a Market Place, Corby Glen, Grantham, Lincolnshire, NG33 4NH
tel: 01476 550 108
website: www.madhattersbnb.com
facebook
e-mail: [email protected]
Offering a friendly service with a variety of freshly prepared food from a Full English breakfast served all day, burgers, toasties, home cooked meals and puddings with custard!

Located on the former RAF Hemswell base at Hemswell Cliff. Outdoor seating and parking right in front of the café.

Great reviews including -"Great food with a good selection, very clean and smart looking, comfortable seating, friendly staff. I can not rate Faun Cafe high enough, this is the gold standard."

"Bike ride out for Coffee and Cheese burger, good food good value."

Open Sun - Fri, 9.30 - 2pm (later once Covid restrictions are lifted).

where: Gibson Road, Caenby Corner Estates, Gainsborough, Lincolnshire, DN21 5TL
tel: 01427 667 787
facebook
e-mail: [email protected]
A1 Truckstop/Stadium Diner,
Colsterworth Truck Stop
, A1/A151 Bourne Road, Colsterworth, Lincolshire, NG33 5JN. Open Mon - Sat.

* Please note, that the above list is mainly put together from visitor recommendations and is by no means a complete list of Meeting Places in the areas stated. We encourage visitor feedback and recommendations, so if there is somewhere you have been and would like to
tell others about it
, then please do.
...
We strive to check listings at least yearly for any updates, closures or change of business. However, we would advise that before you head off to any of those listed for a specific visit that you check ahead - otherwise have a great ride!
...
Weekly Biker meeting place, Biker hangouts, where do Bikers meet, Biker cafes, Biker food, Motorcycle hang outs, Ace Cafe, Popular Biker places, Motorcycle cafe, motorcycle meet, 26/4/16 - 13th July 16 - jun - sept 17 + 19