Biker Friendly Meeting Places | Lancashire
Here follows a list of regular Motorcycle meets, hangouts and general gatherings throughout the area. If there is any we have missed please forward them for inclusion... Photos always welcome!
Elaine's Tea Rooms | The Old Springs Main Meeting Places section
Baileys Grill And Bar CIC, 25 Heath Road, Ashton In Makerfield, Wigan, Lancashire, WN4 9HH. Secure parking at rear of building and side for Bikes to park. Open Tuesday - Thursday 12 - 10pm, Fridays & Saturdays 9am - 10pm.
Bennys Diner
, The Singing Ringing Tree, car park overlooking Crown Point, Burnley, Lancashire, BB11 5NP. Open daily, 9am - 3pm. Great food and hospitality.
Bridge House Farm Tearooms, Wray, Lancashire, LA2 8QP. Bike night, 1st Thursday of the month 5pm onwards (April - September). Biker friendly tearooms, plenty of parking space. Friendly staff, freshly made hot and cold food available. Hog roast and bbq on Bike nights.
Bull Beck Snack Bar
, Bull Beck Picnic Site, Hornby Road, Caton, near Lancaster, Lancashire, LA2 9QR
Coast Riders Kitchen
, Wimbourne, Cropper Road, Blackpool, Lancashire, FY4 5LB
Elaine's Tea Rooms
, Home Barn, Feizor, near Austwick, Lancashire, LA2 8DF. As above.
Flyde Coast Bike Meets
. See Bikes at Blackpool Piers pretty much all year round.

GhostBikes
, Fishwick Park, Mercer Street, Preston, Lancashire,
PR1 4LQ
. Tuesday Bike meet, 3 - 9pm, all year.
The Destination
cafe within the store, for drinks and great food. Open daily from 9am.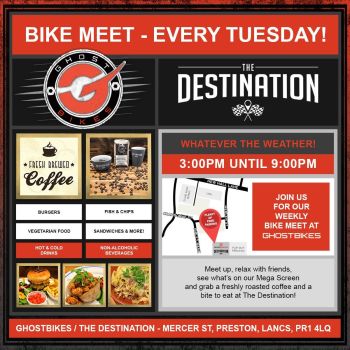 Glasson Dock
, Lancaster, Lancashire,
LA2 0AW
. Marina, Cafe, shop, pub and seating - a great ride to and from.
Great Harwood Bike Meet
, Town Gate, near Blackburn, Lancashire, BB6 7DE. Local meeting point in the Town Square. Meets from 6pm first and third Thursday of each month. Food and beverages from the pub opposite - Duke of Wellington, also other food outlets nearby.
Knott End Café
, 3 Ramsay Court, Knott End-on-sea, Lancashire, FY6 0AB. Biker nights on a Wednesday in the summer and popular on Sundays.
Lock Keepers Rest
, Glasson Dock, Tithebarn Hill, Lancashire, LA2 0BX. A caravan that has tables outside and for Bacon baps, burgers, tea and coffee. Wednesday and Sundays are popular with Bikers.
Lytham St Annes
, Flyde Bike Meet. Monday evenings from 6.30pm.
Railway Hotel
, 20 Steeley Lane, Chorley, Lancashire, PR6 ORD. Live Bands every Saturday. A small amount of space in the yard to store bikes overnight after closing, if need be. Otherwise, lots of street parking. Open Sunday and Wednesday noon until 11pm, Monday, Tuesday, Thursday noon until midnight, Friday & Saturday noon til 1am.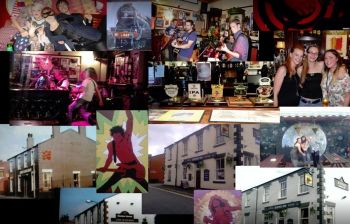 Southport front, near the Carousel. Popular all year.

The Black Dog Inn
, 2-6 Church Street, Belmont, Bolton, BL7 8AB. Two miles from Rivington Barn. Car park, outdoor seating, food, ice-cream and snacks.
The Chequered Flag Cafe, 131 Golden Hill Lane, Leyland, Lancashire, PR25 3XJ. Run by bikers, for bikers. Planet Rock radio playing all day, with plenty of bike parking out front. Bike night, Tuesdays in the Summer. Open Weekdays 06:00 - 14:30. Weekends 08:00 - 14:30.
The Destination cafe, within GhostBikes, Fishwick Park, Mercer Street, Preston, Lancashire, PR1 4LQ. Tuesday Bike meet, 3 - 9pm, all year.
The Food Shack
, inside
Bowker Harley-Davidson
, West Strand Park, Strand Road, Preston, PR1 8UY. Authentic memorabilia, great food and atmosphere. Open daily - 9am to 4pm Monday to Saturday, 11am to 3.30pm Sundays.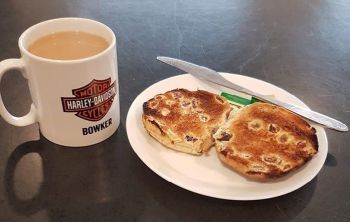 The Gasket
, adjacent to 51 Skull House Lane, Appley Bridge, West Lancashire, WN6 9DR
The Marton Arms
, New Road, Thornton in Lonsdale, Carnforth, LA6 3PB.
The Old Springs
, 126 Spring Road, Orrell, Wigan, Lancashire, WN5 0JJ. A family run business that have biker events all for charity, bike meets and a bike club run from here called Brigantia Rebels Mcc.
w

* Please note, that the above list is mainly put together from visitor recommendations and is by no means a complete list of Meeting Places in the areas stated. We encourage visitor feedback and recommendations, so if there is somewhere you have been and would like to
tell others about it
, then please do.
...
We strive to check listings at least yearly for any updates, closures or change of business. However, we would advise that before you head off to any of those listed for a specific visit that you check ahead - otherwise have a great ride!
...
Weekly Biker meeting place, Biker hangouts, where do Bikers meet, Biker cafes, Biker food, Motorcycle hang outs, Ace Cafe, Popular Biker places, Motorcycle cafe, motorcycle meet, bikers welcome, 18 jul 16 - jun +sept 17