Biker Friendly Accommodation in Monmouthshire - Wales
Usk | Main Wales |
A

traditional 18th century stone-built country pub with ten en-suite

rooms

, situated in the heart of rural Monmouthshire, offering individual character, charm and history... Where a warm, cosy, friendly Welsh welcome is guaranteed!

Kelly, Steve and their team are proud of the great reputation they have for their delicious, home-cooked food and for the relaxed, friendly atmosphere. Here they pride themselves on being great value for money, whilst offering the best in quality.

Near the picturesque small town of Usk, South Wales, within a short ride to Tintern Abbey, Newport, Pontypool, Crickhowell, Monmouth and the Big Pit National Coal Mine, within an hour to Hereford, Cardiff, Chepstow and Bristol - over the Severn Bridge.

With beautiful gardens and glorious summertime floral displays - perfect for enjoying a drink or something to eat on warmer days and evenings. For cooler days, there are roaring log fires and cosy bars.
Whether you stay over, enjoy a meal or a bar snack, or just pop in for a drink, you are always assured of the warmest of welcomes. Free Wi-Fi. Drying room and Motorcycle washing facilities. Private parking.

where: 10 Strand Street, Llantrisant, near Usk, Monmouthshire, NP15 1LE
tel: 01291 672 505
website: www.greyhound-inn.com
facebook
e-mail: [email protected]
a
The Greyhound Inn & Hotel
A traditional 18th century stone-built country pub with ten en-suite rooms, situated in the heart of rural Monmouthshire, offering individual character, charm and history... Where a warm, cosy, friendly Welsh welcome is guaranteed!
Kelly, Steve and their team are proud of the great reputation they have for their delicious, home-cooked food and for the relaxed, friendly atmosphere. Here they pride themselves on being great value for money, whilst offering the best in quality.
Near the picturesque small town of Usk, South Wales, within a short ride to Tintern Abbey, Newport, Pontypool, Crickhowell, Monmouth and the Big Pit National Coal Mine, within an hour to Hereford, Cardiff, Chepstow and Bristol - over the Severn Bridge.

With beautiful gardens and glorious summertime floral displays - perfect for enjoying a drink or something to eat on warmer days and evenings. For cooler days, there are roaring log fires and cosy bars.
Whether you stay over, enjoy a meal or a bar snack, or just pop in for a drink, you are always assured of the warmest of welcomes. Free Wi-Fi. Drying room and Motorcycle washing facilities. Private parking.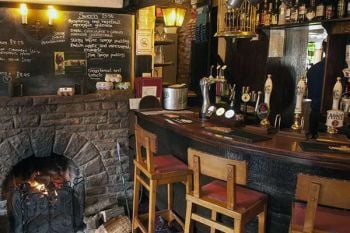 where: 10 Strand Street, Llantrisant, near Usk, Monmouthshire, NP15 1LE
tel: 01291 672 505
website: www.greyhound-inn.com
facebook
e-mail: [email protected]

Abergavenny, Monmouth, Newport, South Wales, Big Pit National Coal Museum, Visit Wales, Welsh Show, on

Offa's Dyke

in the beautiful border countryside of England and Wales overlooking river meadows, sheep dotted hillsides and the Black Mountain range, within the

Wye Valley

and Vale of Usk. An ideal base for touring

Monmouthshire

and close
to the Brecon Beacons,

Tintern Abbey

, Chepstow, Hereford and the Forest of Dean, the

Wye Valley

, the historic towns of Chepstow and Usk and the Roman remains of

Cearleon

. Cardiff,

Newport Wetlands

and Bristol - over the

Severn Bridge

.. Hotels, B&B, guest houses, cottages, hostels, camping. Ideal for touring! Motorcycle, Biker B&B, bikers welcome, foothills of the Black Mountains, in the heart of the

Brecon Beacons National Park

, In the beautiful surroundings of the Skirrid,

Sugar Loaf

and Blorenge mountains, just 3.5 miles from Abergavenny town centre, with easy access to Hereford, Hay on Wye, Newport, Cardiff, Crickhowell, Pontypool, Usk, Chepstow, Monmouth

and Bristol - over the

Severn Bridge

.

The Crown

at Pantygelli and Skirrid Mountain Inn – Wales Oldest Inn,

Chepstow and the

Severn Bridge

.

Chepstow Racecourse and a

village pub

, located half way between Chepstow Castle and

Tintern Abbey

at the foot of the Wye Valley Area of Outstanding Natural Beauty and within an easy ride to the market town of

Monmouth

,

Cardiff, Newport and Bristol.
Chepstow,
Llanvihangel Crucorney,
Monmouth