Motorbike Events 2019
Biker Rallies, Ride-outs, Motorcycle Shows, Swap Meets, Rock nights, Charity runs, Toy Runs, Bike Meets, Biker Party, Bike Rally and more... Please check with organisers before you pack your tent!
For facebook and twitter links - if it is in green click it! For more top tips - Go Click
Main 2018 | list your event | bottom of menu | Weekly Bike Meets














23rd - 24th March 2019
Manchester Bike Show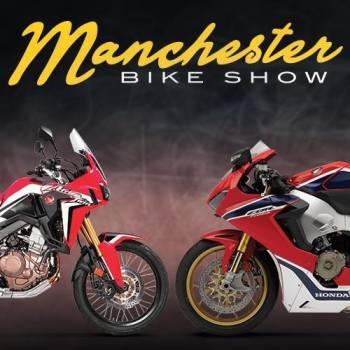 Back for the 8th year, giving the motorcycling community in the North West a major indoor motorcycle show to be proud be part of and attend... and in March, when hopefully the weather should have started to improve with the anticipation of a good summer to follow...
The event has various zones covering over 24,000 sq meters of space - about the size of four football pitches making the Manchester Bike Show the largest indoor motorcycle show in the North of England. Attending will be a large variety of exhibitors and traders including Ducati, Honda, Indian, Kawasaki, Yamaha, Suzuki amd Triumph, local and national dealers, clothing and helmets, parts and accessories, touring holiday companies, along with many other exhibitors that you would expect to see at a bike show of this size and stature.
Also see 100's of rare, exotic, modern, classic, custom and Streetfighter machines from clubs and private individuals, music and entertainment, stunt shows, DJ's, special guest stars and much much more...
Lots of Motorcycle clubs attended last year, including Rainy City Harley-Davidson, Goldwing Misfits, Mid life Crisis MCC, North West Motorcycle Club, Vulcan Riders Association, West Yorks VJMC, Suzuki Owners Club, Chunky Tread Motorcycle Adventure Club and BMF. Clubs and individuals are welcome to display their bikes. Entry forms on the website.
venue: EventCity, Phoenix Way, off Barton Dock Road, Urmston, Manchester, M41 7TB. Free parking.
price: ???
Pre-book: Adult: £14. Senior 65+: £12. Child (5-14): £4. Two adults & two children: £32. OTD: Adult: £17. Senior 65+: £15. Child (5-14): £4. Two adults & two children: £37.
tel: Organisers number 01484 667 776
website: www.manchesterbikeshow.com
facebook
facebook event
e-mail: [email protected]
11th May 2019
Rogue Jesters MCC - Razornight
Charity night. Live band. Bloke DJ.
venue: Knypersley Sports Club, 230 Tunstall Road, Knypersley, Staffordshire, ST8 7AH
price: Pre-book: £6. OTG: £8.
tel: 07941 333 247
facebook
facebook event
e-mail: [email protected]
17th May - 18th May 2019
Victory Rally
Relaxed rally with Friday night band, Saturday night 2 bands, stalls, raffles, best bike, best trike, furthest travelled, food from award wining chef, discounted breakfast and two course evening meal when bought with rally ticket.
venue: Huntly Arms Hotel, Charlestown Road, Aboyne, Aberdeenshire, AB34 5HS
price: Pre-book: £20, by 1st May 2019. OTG: £25 on the gate. Camping included in hotel garden. Night ticket to see bands Friday or Saturday night £10 - no camping included in these tickets. No single day tickets.
tel: 07562 422 472
website: www.victoryrally.co.uk
facebook
e-mail: [email protected]
17th - 19th May 2019
The REALLY Rally
Charity Rally in aid of East Anglian Air Ambulance and ECHO. A weekend of fun, frolics, mayhem and shenanigans!
Bands, Rally Virgins, games, stalls and food stalls. Myth and Magic fancy dress Saturday night. Real Ales at real prices! Cider, lager and spirits also available. Lovely camping site.
venue: Elveden Village Hall, Elveden, near Thetford, Norfolk, IP27 3TJ
price: Pre-book: £20, by 10th May. OTG: £25. Cars £25 OTG. Children free but must be with an adult. Ticket limit of 250.
tel: 07588 743 334
facebook
facebook event
e-mail: [email protected]
21st - 23rd June 2019
10th Estonians Mcc - Barnstormer Rally
Great bands both nights. Cheap late bar. Excellent catering. Bike show. Stalls. Awards. Saturday afternoon entertainment. Ca.rekin. ( thursday camping avbl.)
venue: High Farm, Coal Lane, near Elwick, Hartlepool, Teesside, Durham, North Yorkshire, TS27 3HD
price: Pre-book: £15, by 20th June. OTG: £20. Day ticket: £10. Limited pre-booked car/camper parking available @ £10. Under supervised 15's free. First 200 receives 10th Anniversary pack.
tel: John 07534 911 887 | Juju 01642 289 153 | Biff 07533 304 101
facebook
e-mail: [email protected]