Biker Events 2017 | November
Motorcycle events, Rallies, Ride-outs, Motorcycle Shows, Swap Meets, Rock nights, Charity runs, Toy Runs, Bike Meets, Biker Parties, Bike Rallys and more... Please check before you pack your tent! For facebook and twitter links - if it is in green click it!
Ilfracombe Rocks Festival | Motorcycle Live 2017 | dec | list your event | Weekly Bike Meets | Main WHATS ON section |
November 2017 - Please note only events listed below with 2017 on them have been confirmed
4th November 2017
The Rockers Revival

Rockers revival - An Authentic all day rockers event featuring top Bands from the UK & Europe. There will be a large variety of merchandise stalls along with food stalls, a fully stocked bar and a top quality sound system. This years Bands are; CRAZY CAVAN & THE RHYTHM ROCKERS, The Spunyboys (rockabilly band from France), The Jets and The Runawayz. DJ's Bill & Jimmy Guntrip + guests. The venue has a large car park and welcome bikes from any era. A non stop rock n roll event that you don't want to miss!
venue: Harrow Leisure Centre, Christchurch Avenue, Harrow, London, HA3 5BD
price: Pre-book: £20, until 30th September. OTG: £25. Under 16's free.
tel: 07760 727 874
facebook event
e-mail: [email protected]


3rd - 5th November 2017
Ilfracombe Rocks Festival

Festival season is far from over in November – Ilfracombe Rocks Festival in Devon is a must for every classic rock'n'roll fan who loves to dwell in nostalgia as well as discover what's new in the magnificent world of rock these days. Having grown over the years, Ilfracombe Rocks will accommodate up to 1,500 music lovers this November. Brought to life by iconic radio presenter DJ John Forster, known for hosting the number one unsigned rock music show on the net called 'Dr. John's Unsigned Rock Surgery' on Rockbandom Radio, this event is a true gem for admirers of handmade sonic bliss. Located in Iifracombe Holiday Park in Devon the annual celebration of gritty guitars and amplified solos is a perfect way to spend a rock'n'roll weekend not only for hardcore bikers in leather jackets, but for the whole family.
This year's headliners are some of the most excellent tribute bands in the scene - Whitesnake UK, Purple Years, Rainbow Rising, plus 20 other bands will be bringing back the days of rock revolution. While there's certainly a whiff of nostalgia in the air, the festival is also host to some of Europe's finest new unsigned rock bands. This is a brilliant way to get to listen to potential stars on the rise and the stadium fillers of tomorrow! Dr. John's motto is simple – the DJ wants to promote good quality music and says: "the unsigned scene is possibly the most under-listened aspect of rock music. In many cases it is far superior to the mainstream and more honest. Many of them don't get anywhere near the airplay and exposure they deserve." That is why he decided to extend his work at the radio and give emerging artists an additional platform to get heard.
venue: Ilfracombe Holiday Park, Marlbrough Road, Ilfracombe, North Devon, EX34 8PF
price: Pre-book; Weekend ticket £30. OTG; £40. Day Tickets; £15 per day. Accomodation £95 for 4 sharing. £60 for 2 sharing. Free parking. See website for full details.
tel: 01271 876031
website: www.ilfracomberocksfestivals.co.uk | Get tickets
facebook
facebook event
e-mail: [email protected]
12th November 2017
Poppy Day Parade & Service – Military Vehicle Meet

venue: Ace Cafe, Ace Corner, North Circular Road, Stonebridge, London, NW10 7UD
tel: 020 8961 1000
website: www.ace-cafe-london.com - www.acecafeevents.com
facebook
e-mail: [email protected]
13th November 201
Ring of Red around the M25 (London) and also the M60 (Manchester)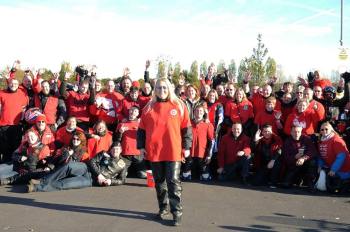 The idea was to create the biggest poppy ever attempted on Remembrance Sunday, in respect of our Armed Forces, past and present. Thousands of bikers met at service stations and designated nine meeting points at junctions around the M25 and by 12.30 hours on Sunday 10th November 2013, the bikers, all wearing something Red, rode onto the M25 Clockwise at 55mph. Section by section the riders met up and completed the circle, which if seen from the air would show the massive Ring of Red, symbolising the Poppy.

Ride of Respect website: www.therideofrespect.co.uk
facebook

10th to 12th November 2017
The Lancaster Insurance Classic Motor Show

Spanning 11 halls, the show features 1,500 classic cars, 300 classic motorbikes and much more.
venue: The NEC, Birmingham, B40 1NT
price: ticket prices range from £10 when purchased in advance
tel: 0844 854 1354
website: www.necclassicmotorshow.com
facebook
18th November to 26th November 2017
Motorcycle Live 2017



venue: The NEC, Birmingham
price: see website
tel: 024 7640 8020
website: www.motorcyclelive.co.uk
facebook
facebook event
twitter: @motorcyclelive
e-mail: [email protected]



19th November 2017
Ariel O.C. (Founded 1951 @ Ace) + Classic Bike Day

venue: Ace Cafe, Ace Corner, North Circular Road, Stonebridge, London, NW10 7UD
tel: 020 8961 1000
website: www.ace-cafe-london.com - www.acecafeevents.com
facebook
e-mail: [email protected]
25th November 2017
Bikerdown London
Biker Down is a motorcycle safety scheme in collaboration with the London Ambulance Service. They are aiming to reduce the casualty rate among motorcyclists in London by working with the London Ambulance Service, Metropolitan Police and Transport for London to deliver Biker Down London, a motorcycle safety scheme.

What is Biker Down?
The idea behind Biker Down London, is that when a motorcycle is involved in collision the first person on the scene is often a fellow biker who could provide early intervention at the roadside. LAS Motorcycle Response Paramedics will provide riders who take part in Biker Down - London, advice on collision scene management and first aid.
venue: West Norwood Fire Station, 210 Knight's Hill, London, SE27 0QA
price: Biker Down - London is free of charge for all riders
tel: 07795 542435
website: www.london-fire.gov.uk
facebook
26th November 2017
Malvern Drive-In Classic Car & Bike Autojumble
The Malvern Classic Bike Show always gets a decent amount of trade and autojumble to fill the Wye Halls and much of the outside. Attracting a good range of bike makes such as BSA, Norton, Velocette to display which fill the centre of Hall 3 and 4. There will be catering units and a cafe providing hot food and drinks and also a concours competition taking place throughout the day with expert commentary.
There will be displays from bike clubs, both local and from other regions. In addition to the 40+ Club machines on display, a number of private individuals will be attending the show to display their cherished classic bikes and be judged in their categories. There will be categories for Pre-1950's, 1950's, 1960's, 1970's, 1980's and 1990's vehicles, plus Racing & Off-Road bikes.
venue: The Three Counties Showground, Malvern, Worcs, WR13 6NW. Open 10am - 3pm.
price: Adult: £. Child (7-14yrs): £. Under 7's free
tel: 01484 667776
website: www.classicshows.org
e-mail: [email protected]
26th November 2017
Mud Pluggers Day

venue: Ace Cafe, Ace Corner, North Circular Road, Stonebridge, London, NW10 7UD
tel: 020 8961 1000
website: www.ace-cafe-london.com - www.acecafeevents.com
facebook
e-mail: [email protected]
th November
Christmas toy run to Childrens Hospice Southwest BARNSTAPLE
Meeting at the Kings Arms, Bideford from 10am, leaving at 10.30am. There will be a ride out before we get to Little Bridge House and depending on weather which route we take or how long the run will be. There is also a prize raffle raising money for fundraising for Sam which can be bought on the day or before.
venue: Meeting at the Kings arms, Bideford, Devon, EX31 2PZ
price: £1 minimum donation
facebook
facebook event
e-mail: [email protected]
Main 2017 - Click to be redirected
THE BIKER GUIDE® are not responsible for any incorrect information or cancelled events. We include events which are sent to us via the on-line form.
All information was correct at time of being published. Please check details with the organisers.

To be included in these listing simply fill in the on-line form.

WARNING: If you do not send in this format your event may not be listed! We include information in the first instance in text format as flyers are not picked up by search engines. To include a flyer simply choose the premium listing.

"We want to be free! We want to be free to do what we want to do! We want to be free to ride. And we want to be free to ride our machines without being hassled by the man."


Biker Rallies, Bike rally, harley rally uk 2015, motorbike rally guide, biker rally's, motorcycle rallies uk, bike rallies 2015 uk, super rally, portugal rally, biker nites uk, motorcycle rallies uk, motorcycle toy run 2014 uk, www.thebikerguide.co.uk, bike events and rallies uk, rally in a chalet 2015, manchester bike show, motorbike party, motorbike meets north west, nabd may, nabdness, NABDness, Harley-Davidson International Rally, motorcycle rally guide, bike shows, motorcycle shows and events uk, motorcycle shows 2015 uk, ride safe events, toy runs, charity events motorcycle, biker rallies england, wales, scotland, ireland, bikers are welcome,