Biker Events | May 2018
Biker Rallies, Ride-outs, Motorcycle Shows, Swap Meets, Rock nights, Charity runs, Toy Runs, Bike Meets, Biker Party, Bike Rally and more... Please check with organisers before you pack your tent!
For facebook and twitter links - if it is in green click it! For more top tips on how to use the website - Go Click! Please note - Events only confirmed with 2018 included
You've Been Nabbed 27 | from 6th May | from 12th May | from 19th May | from 26th May | june | july | aug | sept | oct | nov | dec | 2018 | list your event
26th - 29th May 201
Trikefest
Trikes R Us proudly present the 22nd 'Trikefest'. Entertainment will be running throughout the weekend, Rally Games, lots of stalls, clean showers and bars until late.
venue: Littleport Leisure Centre, Camel Road, Littleport, Ely, Cambridgeshire, CB6 1PU
price: Pre-book: £20. OTG: £25. Free Rally patch with pre-book tickets. 250 limit.
tel: 07815 784798 - 07931 724718
website: www.trikesrus.co.uk
e-mail: [email protected] p
26th - 29th May 201
No Bull just Beer and Bikes Show
Huge indoor venue, 9 live bands, rock disco, trade stands, tattooist, late bar and catering, free camping, silly competitions, bike/trike show, 100ft water slide, for loads of fun, splashes and spills (weather permitting). There will be the usual tractor ride to and from nearby Builth Wells where live bands play at the local pubs. Permanent toilets to include disabled, showers and hair drying facilities!
venue: Penmaenau Farm, Llanelwedd, Builth Wells, Powys, Wales, LD2 3RD
price: Pre-book, by 30th April: £20. OTG: £25. Children under 14 free when accompanied by paying adult. Cars £10. Blue badge holders free.
tel: 07500 850663
website: www.nobullbeerandbikes.co.uk
facebook
e-mail: [email protected]
26th May 2018
Bideford Bike Show
Static Bike Show with trade stands and stalls, a raffle and prizes for the best bikes. Raising money for The British Biker Relief Foundation, North Devon Cancer and Wellbeing Centre Appeal, Chemo Hero and Bideford College Racing. Entertainment from Brockabilly, The 5:15 and Bideford Massed Pipes and Drums.
venue: Bideford Quay, Opposite the Kings Arms, Devon, EX39 2HW. From 12 till 6pm. Local Accommodation.
price: £3 per bike/trike. Plus donations welcome.
tel: 01237 239 265
website: www.bidefordbikeshow.org
facebook
facebook event
twitter
e-mail: [email protected]
27th - 29th May 201
The Taliesin Brotherhood Custom & Classic Bike Show
The 1st Apocolypse Custon Show in conjunction with the Llangollen Red Dragon Music Festival is the first custom show with a diffence. The custom show will be held on the 27th May 2017, kicking off at 10am where on arrival you will be directed to you chosen class arena.
The classes will consist of - Custom Paint sponsored by Dreamers. Classic (pre dating 1990) sponsored by The Chandlers Chest. Rat Bike sponsored by Lynnes Raven Cafe. Streetfighter Sponsored by The Phoenix Knights Mcc. Chop sponsored by Tattoosmith. Trike sponsored by Talonted Feathers. Best in Show sponsored by Deeside Motorcycles & Scooters.
Also on site there will be Tattoosmith, Auto Jumble, Charity raffle, Food/various stalls and wares in line with the festival. More to be confirmed. The difference? As said there will be a music festival running alongside the custom show it is free entry to the show this ending at 4:30pm, if you would like to stay for the music festival please see info below:

The Llangollen Red Dragon Music Festival
Heavy Metal and everything in between: Folk, Rhythm & Blues, Punk, Grunge, Garage, Rock, Heavy Metal
venue: The Llangollen Red Dragon Music Festival, Llangollen Pavilion, Llangollen, North Wales, LL20 8SW. Saturday to Monday | 10:30-00:00 each day
price: Day tickets £6. Night tickets £6. Weekend £30. *Free onsite Camping (free entry into custom show. ***PLEASE NOTE Tickets can be purchased through the festival page and not through The Taliesan Brotherhood ***
tel: 07761 200 115
website: www.Llanreddragonmusicfest.com
facebook
facebook event
e-mail: [email protected] - [email protected]
26th - 28th May 2018
OVERLORD Military Spectacular
Vehicles, traders and re-enactors showing all aspects of 20th warfare through static and arena display.
Military bikes welcome as display. Bikers welcome to visit and enjoy a day in the beautiful Hampshire countryside. Good food, beer tent, clean toilets, free parking (on grass). In support of Scotty's Little Soldiers.
venue: The Lawns, Forest Road, Denmead, Hampshire, PO7 6HH
price: £10 adult, £5 child (5-15 years), Family (2 adults, up to 3 children) £25
tel: 07768 170445
website: www.overlordshow.co.uk
facebook
facebook event
e-mail:

28th - 29th May 201
Cheshire Classic Car & Motorcycle Show
Classic Cars, Motorcycles & Jaguars and Festival of Transport, inc. Classic Cars & Motorcycles, Minis & VW's, Customs, Americans, etc.
venue: Capesthorne Hall, Macclesfield, Cheshire, SK11 9JY
price: Adult: £. Child (7-14yrs): £. Under 7's free
tel: 01484 667776
website: www.classicshows.org
facebook
e-mail: [email protected]
27th May 2018
Pendle Powerfest

Charity Motorshow with an all vehicles welcome approach. Gathering together a wide range along with a changing theme. This year it is a celebration of TV & Movie Chases. Also family entertainment, live music, catering, trade and more.
On top of this they will have the ever popular range of around 250 vehicles, from motorbikes to motorhomes, supercars to tractors, classic cars and commercials. The aim of the show is to raise money for good causes, with profits from show going to buy gifts for hospitalised children to make their stay a bit more bearable.
venue: Nelson & Colne College, Barrowford, Lancashire, BB9 7YT. 10am - 3pm.
price: £5. Accompanied under 12's Free. All vehicles to be pre-booked with the exception of bikes depending on space left on the day.
tel: 07850 075 796
website: www.pendlepowerfest.com
facebook
twitter
e-mail: [email protected]
28th May 201
Erskine Motorbike Meet
Annual event to support the veterans cared for by Erskine with 100's of bikes taking part. Starting with a parade from Park Mains High School to Erskine's grounds for 1pm official opening. Live music, food, demonstrations, stalls and much more. All welcome.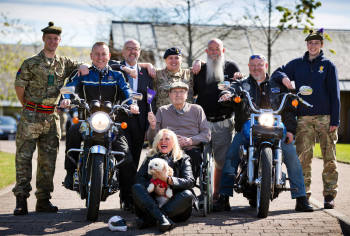 venue: Starting with a parade from Park Mains High School, PA8 6EY at 1240 to Erskine (Hospital) Bishopton, Renfrewshire, PA7 5PU
price: £5 per bike. £2 per adult. Free for children.
tel: 07814 984082
website: www.erskinemotorbikemeet.co.uk
facebook
twitter
e-mail: [email protected]

27th May 2018
RBLRB Day in aid of the Poppy Appeal @ Ace Cafe
venue: Ace Cafe, Ace Corner, North Circular Road, Stonebridge, London, NW10 7UD
price: free tel: 020 8961 1000
website: london.acecafe.com
facebook
e-mail: [email protected]
28th May 201
Watford to Norfolk
The 2nd annual charity rideout from Watford to Norfolk, in memory of Andrew Williams and to raise money for MacMillan Cancer Support. The ride will start at 9.30am from Eats and Treats Cafe, Watford and take a route avoiding motorways to Clementines Cafe, Cromer with stops along the way. Refreshments and food will be included for all participants both at the start and end of the ride.
Please register your interest on the Facebook event, so they can keep track of numbers for catering purposes.
venue: Meet: Eats And Treats Cafe, 241 St. Albans Road, Watford, WD24 5BQ. Destination: Clementines Cafe, 38 Cromer Road, West Runton, Cromer, Norfolk, NR27 9AD.
price: Donations on the JustGiving page
facebook event
e-mail: [email protected]
28th May 201
Rotary Club of Sowerby Bridge (RCoSB) 3rd annual Classic Bike and Scooter show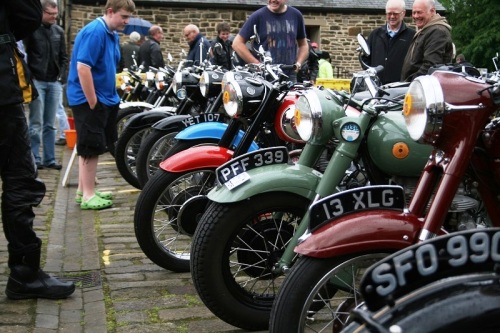 The Rotary club of Sowerby Bridge (RCoSB) 4th annual Classic Bike and scooter show promises to be bigger and better than before.
Pre 1980 scooter and bikes can be entered into the show with 16 categories there is a new one this year: post 1980 modern classics and custom bikes. See the website for details on how to enter. Bikes and scooters need to arrive on the day between 8am - 10am. Winners will be announced in the afternoon.
For the second year running there will have the Grand Classic Bike Show Raffle. First prize Is £500, second prize is £100 and third prize is £50. Tickets cost 20p each. Proceeds from the raffle and the event itself are to go to Rotary charities including Age (UK) Calderdale & Kirkless, and Calder Valley Search & Rescue Team (CVRST).
The uniqueness of this event is that it is a pure bike and scooter show making it one of the few in the area, with more classes than any other show (for example there are 2 classes of Japanese bike (2 stroke and 4 stroke). Every class winner receives a trophy as well as the overall best in show. The show is increasingly attracting pre 1950 bikes and there are 3 pre First World War Harley Davidsons are expected to be exhibited. This is a growing show with up to 50 bikes and we are looking for more including owners of Vincent Comet and Black Shadows. We have previously exhibited a Brough Superior, one of the most expensive bikes in the world. The hard standing historic surroundings of the Wharf and the Rochdale canal make this event even more atmospheric.
venue: The Wharf, Sowerby Bridge, West Yorkshire, HX6 2AG. 10.30am - 4pm
price: Pre-book: £5 until the day before. OTG: £6 for bikes. General public entry - £5, under 12s free.
tel: 07834 958 031
website: www.rotarysowerbybridge.org
facebook
facebook event
e-mail: [email protected]
28th May 2018
Margate Meltdown Run
The Margate Meltdown is the most recently established of Ace Cafe London's, major annual ride-outs. The ride-out from the cafe to this popular seaside resort in Kent is held each year on occasion of the annual Spring Bank Holiday. Working closely with our chosen charity for the event, the Royal British Legion Riders Branch, the town and Thanet District Council, Margate not only has everything that a great ride-out requires, it has a great beach and plenty of heritage to include a legacy from the 1960's that is of world renown relating to motorbikes, scooters and the Mods & Rockers that rode them.
Depart Cafe: 10.30am Route: A406 - A13 - M25 - A2 - M2 - A299 to Margate Seafront
venue: Ace Cafe, Ace Corner, North Circular Road, Stonebridge, London, NW10 7UD
price: free
tel: 020 8961 1000
website: london.acecafe.com
facebook
e-mail: [email protected]
29th May 201
Renal Ride 4th year
Combined Motorbikes, trikes and push bikes... Sometimes we arrive together sometimes not! A great day out. Food both ends, stalls at Nightjar. Cycles start 10:00. Motorcycles 10:30. Funds split between Royal British Legion Riders Branch and local Kidney Patients at Southmead Hospital.
venue: Start Southmead Hospital, Southmead Way, Avon, Bristol, City of Bristol, BS10 5NB
End Nightjar Pub, 14 Nightingale Court, Weston-super-Mare, Somerset, South West, BS22 8SX
price: £5 suggested donation. Renal Ride Patch £3.
tel: 07427 654 233
facebook
facebook event
e-mail: [email protected]
Every Thursday night from early May until late September
Weston Bike Night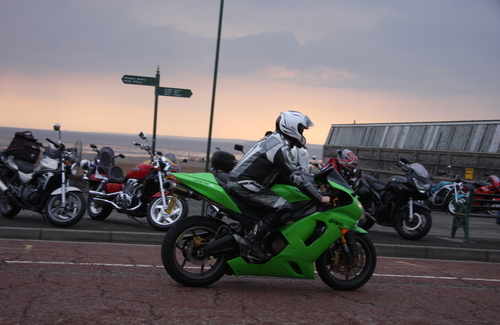 Charity event in support of the Poppy Appeal, organised by the Royal British Legion Riders Branch. 18:00 - 21:00. Events will incorporate live music, street artists, fancy dress and themed nights with Trophies: Jap Power, Scooter/125, American Power, Custom/street fighter, Trikes, European Power, Classic, Honda Goldwing and to finish Bike of the year.
venue: Weston sea front on the Beach Lawns, Weston Super Mare, Somerset. Local Accommodation.
price: A donation of £1 per bike attending there will be trade stands and food and drinks available.
tel: 01934 521496 - 07875 336814 - 07581 731307
website
facebook group
e-mail: [email protected]
..................................
Events only confirmed with 2018 included
THE BIKER GUIDE® are not responsible for any incorrect information or cancelled events. We include events which are sent to us via the on-line form.
All information was correct at time of being published. Please check details with the organisers.

To be included in these listing simply fill in the on-line form.

WARNING: If you do not send in this format your event may not be listed! We include information in text format as flyers are not picked up by search engines.


Biker Rallies, Bike rally, harley rally uk, motorbike rally guide, biker rally's, motorcycle rallies uk, bike rallies in the uk, super rally, portugal rally, biker nites uk, motorcycle rallies uk, motorcycle toy run uk,

www.thebikerguide.co.uk

, bike events and rallies uk, motorbike party, motorbike meets north west, nabd chelford, nabdness, NABDness, motorcycle rally guide, bike shows, motorcycle shows and events uk, motorcycle shows uk, ride safe events, toy runs, charity events motorcycle, 2015, biker rallies england, wales, scotland, ireland, *