Motorcycle Meeting Places - Wales
Carmarthanshire | Ceredigion | Clwyd | Conwy | Denbighshire | Flintshire | Glamorgan | Gwent | Gwynedd | Monmouthshire | Pembrookshire | Powys | Snowdonia | South Wales | The Valleys | Wrexham | Main Meeting Places |

The Doof Café
A favourite for the Biker Community, for the great roads to get there, good homemade food and a friendly atmosphere! An ever evolving menu with various breakfast fare, daily specials, tasty subs and great cakes. A popular Wednesday night Bike night (summer), events throughout the year (check facebook) and next door to MotoR, a Ducati specialist, who also do MOTs, tyres and servicing on all makes of Bikes.

Previous customers said: "Brill food and staff are nuts ;)" "Most excellent food and service. 11 out of 10." "Great food, lots of it and brilliant value for money."

Open Mon-Sat, 8am to 2.30pm. Sunday 10am to 2pm (ish). Closed on the last Sunday of the month. Biker owners Nick and Suzie welcome you. Large private car park.

where: Unit 1a, Lon Parcwr, Ruthin, Denbighshire, LL15 1LY
tel: 01824 709515
facebook
e-mail: [email protected]
The Cornhill Inn
A family run 16th century Inn, situated in the heart of Wales, offering some of the greatest riding in the UK, with a friendly atmosphere and popular with locals and tourists, with an emphasis on providing a pub experience not seen for many years with no tv or games machines. Sit in front of the log fire, sup on excellent ales and get lost from todays' modern world...

By popular demand owner Paul is now running great one to three day tours of the surrounding area named 'Wales via the back door'. On his BMW 1100 GS with Karoo-3 tyres, you will discover awesome routes, hidden places and stunning scenery, avoiding roads with a line in the middle! So stay over with reasonable room rates (£25 pppn).

Rhayader

is at the gateway to the spectacular

Elan Valley

, amidst stunning scenery, rich in wildlife. Paul and Michelle welcome you. Free Wi-Fi. Drying room and Motorcycle washing facilities. Garaged and private secure parking, with CCTV and security systems.

where: 13 West Street, Rhayader, Powys, Mid Wales,

LD6 5AB

tel: 01597 810853

website:

Please call to book rooms at just £25 pppn.

facebook

e-mail:

[email protected]
.
CarmarthanshireOwls Nest Tea Room Diner,
Llandovery Garden Centre, Lower Road, Llandovery, Carmarthenshire, SA20 0DJ
The Royal Oak Inn
, Rhandirmwyn, near Llandovery, Carmarthenshire, SA20 0NY
w
West End Cafe
, Broad Street, Llandovery, Carmarthan, Wales, SA20 OAR. Open daily. Popular on Sundays
Ceredigion
Aberystwyth


. Parking on the promenade, in the designated bike parking area.
Black Lion, Llanrhystud, Aberystwyth, Ceredigion, SY23 5DG
George Borrow Hotel, Ponterwyd, Aberystwyth, Ceredigion, SY23 3AD
Pd's Diner, Marine terrace, Aberystwyth
Red Kite Café and Grill, Llwernog, Ponterwyd, Aberystwyth, Ceredigion, SY23 3AB
Vale of Rheidol Railway, Devil's Bridge Station, Park Avenue, Aberystwyth, Ceredigion, SY23 1P
Y Caban Cafe, Devils Bridge, Aberystwyth, Mid Wales, SY23 3JL
Y Talbot, Tregaron, Ceredigion, Dyfed, SY25 6JL

Conwy - Flintshire
Bridge Inn, Pontblyddyn, Mold, Clwyd, Pontblyddyn, Flintshire, CH7 4HN a fb
Clwyd Kustom Nite, The Drovers Arms, Denbigh Road, Mold, Flintshire, CH7 1BP. Meets held every 2nd Wednesday, May - September.
Llyn Brenig Café, Llyn Brenig Visitor Centre, Llyn Brenig Reservoir, Cerrigydrudion, Conwy, North Wales, LL21 9TT
Ty Tan Llan Café, Cerrigydrudion, Corwen, Conwy, LL21 9SY

Denbighshire
Aqueduct Inn, Hollyhead Rd, Ffroncysyllte, Llangollen, Wrexham, Denbighshire, LL20 7PY
Blue Lion Inn, Bod Hamer, Cwm, near Dyserth, Denbighshire, LL18 7NY
Sam's Cafe, Spencer Industrial Estate, Denbigh, North Wales, LL16 5TQ. Open days and nights throughout the year. A&D Motorcycles is across the road.
The Doof Café, Unit 1a, Lon Parcwr, Ruthin, North Wales, LL15 1LY. Wednesday night Bike night in the summer. Open Mon-Sat 8am to 2.30pm. Sunday 10am to 2pm (ish). Biker owners. MotoR, a Ducati Specialist is next door. They also do MOTs, tyres and servicing on all makes of Bikes. Don Williams said "Visited the Doof Cafe, in Ruthin after seeing them in the booklet! Excellent food, very good choice and good value for money." As above.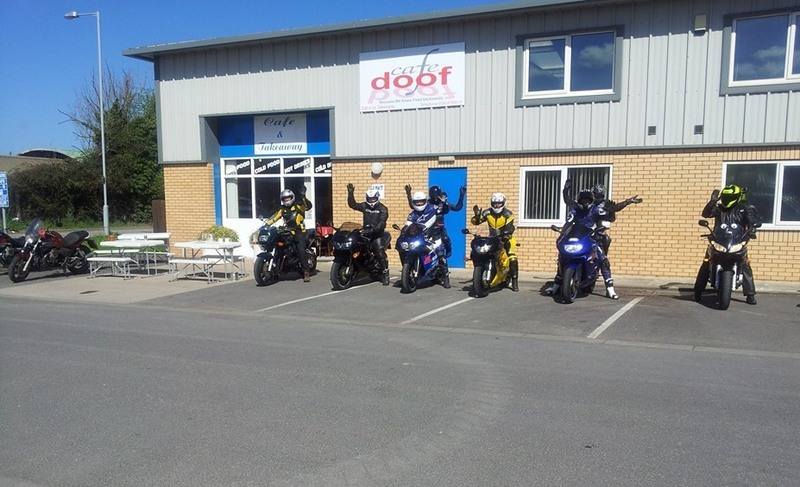 The Ponderosa cafe, Horseshoe Pass, Llangollen, Denbighshire, North Wales, LL20 8DR. Very popular.
The Sun Inn, Llangollen, Regent Street, Denbighshire, LL20 8HN. Suggested by Maggie Witherford; "Six real ales, continental beers, 30 malt whiskeys. Live music Fridays and Saturdays nights, games area, beer garden and an outstanding juke box." a fb
Whistlestop Cafe, HTM Business Park, Rhuddlan, Rhyl, Denbighshire, North Wales, LL18 5UZ. The Whistlestop MCC meet there Thursday evenings. All types of bikes turn up here so something of interest for everyone. Also a shop opposite selling used motorcycle gear.
Ancient Briton, Swansea, West Glamorgan, South Wales, SA9 1YY
Booths Cafe Bar, Kiosk 2 The Esplanade, Porthcawl, Bridgend, Mid Glamorgan, South Wales, CF36 3YW. Recommended by Mal Smith, "Excellent location on seafront. Ample parking on promenade. Friendly staff. Very popular on weekends with bikers even in winter".

The Hub @ Abercrave, 14 Heol Tawe, Abercrave, Swansea, SA9 1XP
The New Swan Hotel, 50 Gurnos Rd, Ystalyfera, Swansea, Vale of Glamorgan, SA9 2HY
Verdi's Cafe,
Knab Rock, Mumbles, Swansea, Wales, SA3 4EE
Village Farm Cafe, Village Farm Industrial Estate, Unit 20, Sturmi Way, Pyle, Bridgend, Mid Glamorgan, CF33 6BZ
Gwynedd - Snowdonia
A5 Bacon Bar, between Padog and Betws-y-Coed, Snowdonia National Park, Wales, LL24. Plenty bike parking places available.
Abbeyfield, Talybont, Bangor, Gwynedd, North Wales, LL57 3UR

Bangor, sea front, Gwynedd, Snowdonia, North Wales


Betws-y-coed, Snowdonia, North Wale - Bikers meet near the main parking and ice-cream shops

Eric Jones Cafe, Bwlch-y-Moch, Tremadog, Gwynedd, North Wales, LL49 9SN

Fitzpatricks Cafe, High Street, Bethesda, Gwynedd, Wales, LL57 3AY. Motorbikes and memorabilia on display in the cafe. Extensive menu, licenced and have a large balcony overlooking the River Ogwen and the Carneddi Mountain Range.
Lakeside Cafe, Tan y Grisiau Power Station, Blaenau Ffestiniog, Gwynedd, LL41 3TP. Excellent parking and excellent surrounding roads for bikers!
The Gadlys Country House Hotel & Restaurant, Cemaes Bay, Anglesey, North Wales, LL67 0LH
Pembrookshire
Stateside American Diner
, Bankers Walk, Commons Road, Pembroke, Pembrokeshire, SA71 4EA. Bike night, Wednesday 6pm - 9pm. Open Mon – Thurs; 9-7. Fri-Sat; 9-9. Sun; 9-5. Large car park opposite.

Tenby House, Tudor Square, Tenby, Pembrokeshire, SA70 7AJ

c

The City Inn, New Street, St. Davids, Pembrokeshire, West Wales, SA62 6SU
Powys
Bishops Meadow, Hay Road, Brecon, Mid Wales, LD3 9SW

w



Cafe Express (Crossgates Cafe), Crossgates Service Station, Crossgates, Llandrindod Wells, Powys, LD1 6RE
Dolwen Garage Cafe, Dolwen, Llanidloes, Powys, SY18 6LQ
Genie Fish and Chips, New Rd, (A483) Newtown. Powys, SY16 1BD. 'Magical' Fish and Chips, cheap full

breakfast and parking.

Hampton Hotel, Temple Street, Llandrindod Wells, Powys, LD1 5NA

w


Hennighan's Top Shop, 123 Maengwyn Street, Machynlleth, Powys, SY20 8HD
JDs Café, 10 Broad Street, Knighton, Powys, LD7 1BL
Mid Wales Inn, Pant Y Dwr, Rhayader, Powys, LD6 5LL c
Mynydd Ddu Tea Rooms, Cwmdu, Crickhowell, Powys, Wales, NP8 1RU
Severn Arms, Pen-y-Bont, Llandrindod Wells, LD1 5UA c
Sian's Park Kitchen, the corner of Princes Avenue & Western Promenade, Llandrindod Wells, Powys, LD1 5HU

a m

The Cornhill Inn, 13 West Street, Rhayader, Powys, Mid Wales, LD6 5AB

cl


The Elan Hotel, West Street, Rhayader, Powys, Mid Wales, LD6 5AF c
The Halt Cafe and Gardens, Doldowlod, Llandrindod Wells, Powys, LD1 6NN
The Harp Inn, Glasbury on Wye, Powys, HR3 5NR

cl



The Lion, Llanbister, Llandrindod Wells, Powys, LD1 6TN

w


White Lion Hotel, 10 Heol Pentrerhedyn, Machynlleth, Powys, SY20 8QH

w



The Valleys - South Wales
Oasis Snack Bar, Monmouth Road, Abergavenny, Monmouthshire, Gwent, NP7 5LH. Open 09:00 - 18:00 daily. Has been a Bikers haunt for years. It welcomes hundreds on the weekends and a couple of thousand over bank holiday weekends. Bike nights on a Wednesday night in the summer until 20:30.
Steel Horse Cafe, Llanvihangel Gobion, Abergavenny, Monmouthshire, NP7 9AY
Inn at Penallt, Penallt, Monmouth, Monmouthshire, NP25 4SE
The Riverside Hotel, Cinderhill Street, Monmouth, Monmouthshire, NP25 5EY
The Sloop Inn, Llandog, Monmouth, NP25 4TW
The Foresters, 110 High Street, Blackwood, Caerphilly, South Wales, NP12 1AF. Bike night with live music Sundays from 6pm.

Grandads Café, the south bound layby, A5 between Chirk, North Wales and the Orthopadic Hospital roundabout. Open Mon to Sat, 7am to 2pm.
The Limekilns Café, Holyhead Road, Froncysyllte, Wrexham, LL20 7RA
The Ponderosa Café
At 1,400 ft above sea level, with a great ride to and from with stunning views of the area AND extremely popular with Bikers for 30+ years… A superb

cafeteria

and dining room offering a choice of drinks, breakfast, snacks and meals with a fast service, great value and served by the friendly staff. The Ponderosa Café is a famous meeting place for Motorcycle enthusiasts, you can expect to see all types of bikers here from new young riders to born again bikers, from Harley to Honda, Scooters to Sports, Cruisers, Tourers, Customs, BSA, Triumph, AJS, Vincent, etc. If it has two wheels, you will probably see it here!




Weekly Biker meeting place, Biker hangouts, where do Bikers meet, Biker cafes, Biker food, Motorcycle hang outs, Ace Cafe, Popular Biker places, Motorcycle cafe, motorcycle meet, bikers welcome,