Biker Friendly Meeting Places | Warwickshire
Here follows a list of regular Motorcycle meets, hangouts and general gatherings throughout the area. If there is any we have missed please forward them for inclusion... Photos always welcome! Main Meeting Places section

Bell Inn, High Street, Hillmorton, Rugby, Warwickshire, CV21 4HD. Large car park and garden. Sundays are popular.

Grab 'A' Snack, Castle Mound Way, Central Park, Rugby, Warwickshire, CV23 OUZ. Open Mon - Fri 07:00 - 14:00. Bike Meet every 2nd & 4th Friday, from 6pm - 8.30pm. 7.30pm. Group Ride out. Starts last Friday in March and ends last Friday in September.

Hoar Park Farm, Ansley, Nuneaton, Warwickshire, CV10 0QU. Bike Meet on Wednesday mornings, throughout the year. A good mix of classic and vintage bikes also modern classics.
Stratford Bikers, Waterside, Stratford upon Avon, Warwickshire, CV37 6BB. In all good weather, every Wednesday evening from 5pm. A pedestrian area 5mph must be observed at all times.
The Bulls Head, Church Hill, Wolvey, Warwickshire, LE10 3LB. An extensive car park which also features a great beer garden. Many bikers attend the Grill Night, last Monday of every month (2-4-1 on all the Grills).
The Dog Inn, Dog Lane, Coleshill, Nether Whitacre, Warwickshire, B46 2DU. Bikers breakfast club from 9am every Wednesday morning, all bikes welcome. Currently about 40 mixed classic/modern bikes turn up for English breakfast and a chat with like minded people. Also side-cars for lunch. Bike Night, Tuesdays. Occasional runs out through the summer.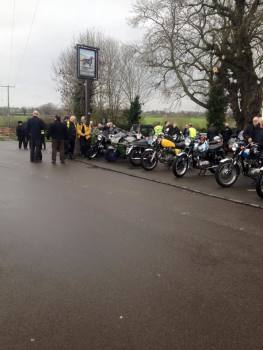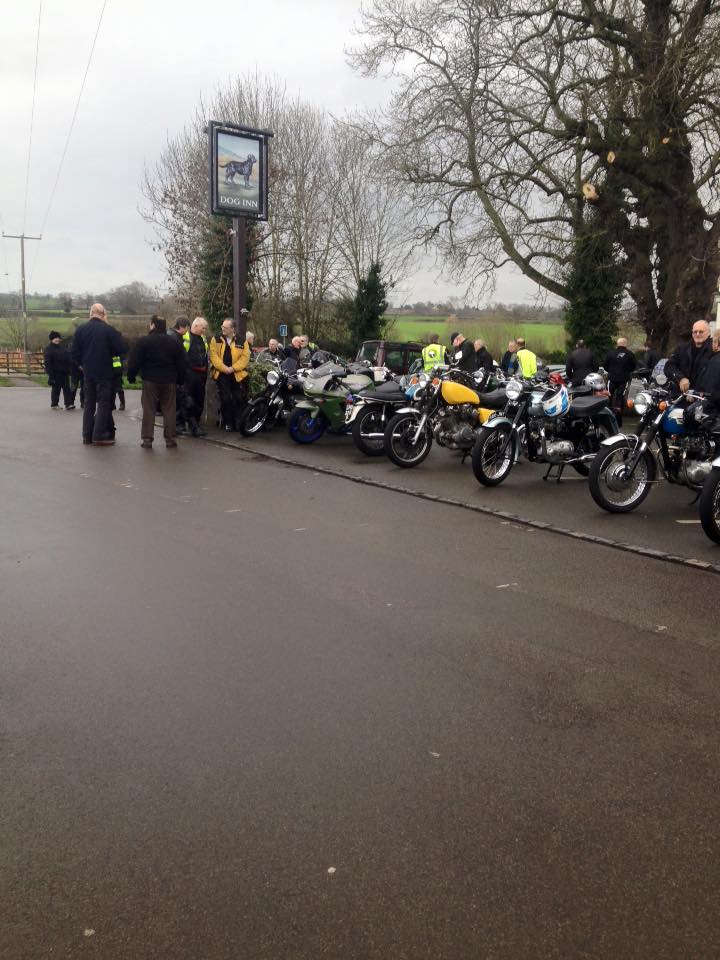 The Kingswood Tavern, Kingswood Road, Nuneaton, Warwickshire, CV10 8QH. Suggested by Maggie Witherford; "Nice pub, biker friendly, live music Friday and Saturday (great rock bands), great bar staff, general all round good biker pub - also has two large car parks."

The Long Itch Diner, Southam Road, Long Itchington, Southam, Warwickshire, CV47 9QZ. Thursdays, Bike night, in the summer.

The Wharf Inn, Wharf Road, Fenny Compton, Southam, Warwickshire, CV47 2FE. Recommended by Duncan Parked; "Fantastic food, very friendly, camping, B&B and free soft drink refills for Bikers". w




* Please note, that the above list is mainly put together from visitor recommendations and is by no means a complete list of Meeting Places in the areas stated. We encourage visitor feedback and recommendations, so if there is somewhere you have been and would like to
tell others about it
, then please do.
...
We strive to check listings at least yearly for any updates, closures or change of business. However, we would advise that before you head off to any of those listed for a specific visit that you check ahead - otherwise have a great ride!
...
Weekly Biker meeting place, Biker hangouts, where do Bikers meet, Biker cafes, Biker food, Motorcycle hang outs, Ace Cafe, Popular Biker places, Motorcycle cafe, motorcycle meet, biker welcome cafes,

13th July 2016 + nov 16 - jul 17 - oct18