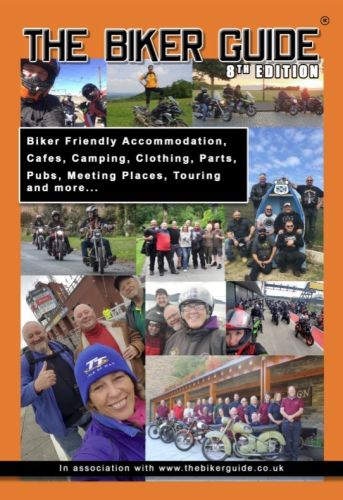 6 of - THE BIKER GUIDE® booklet - 8th edition - FREE (P&P £4.25 UK)
Ideal to take and keep on any Motorcycle!
Organised into an easy to use format, with a selection of Biker Friendly Accommodation, Cafes, Campsites, Clothing, Meeting Places, Pubs, Touring and more... ideal as a reference tool when planning, touring or travelling and in its easy to use and carry format, ideal to take and keep on any Motorcycle.
A great combination of modern design, organised format and content, along with the booklet being distributed for free.
So far, it has been a much wanted publication and we believe a much used and kept item for any Biker... In fact, we have every faith that it will continue to be as popular as our website, especially when out on the road.
Glossy, A5 in size and 52 gorgeous pages - Get one while you can...
Free - just the p&p to pay for!